The 25 Initiatives of 2022
These initiatives showcased strategies that had a greater purpose beyond profit-making to tackle the existential challenges our society faces today, such as climate change and income inequality.

Improving the livelihoods of motorcycle taxis
Angkas
There is no denying that traffic congestion in Manila has costs in terms of fuel wastefully consumed by idling vehicles, man-hours lost leading to wasted productivity, and pollution generated causing short-term and long-term health and environmental problems. By creating an app-based motorcycle taxi service that started five years ago, Angkas addressed these issues by providing an efficient and economical option for transportation while legitimising motorcycle taxis and providing livelihood to thousands of "habal-habal" riders, who were considered illegal. The model has been successful in neighbouring Southeast Asian countries. Motorcycles are now seen as a form of public transportation as it has been widely accepted in most rural areas in the Philippines.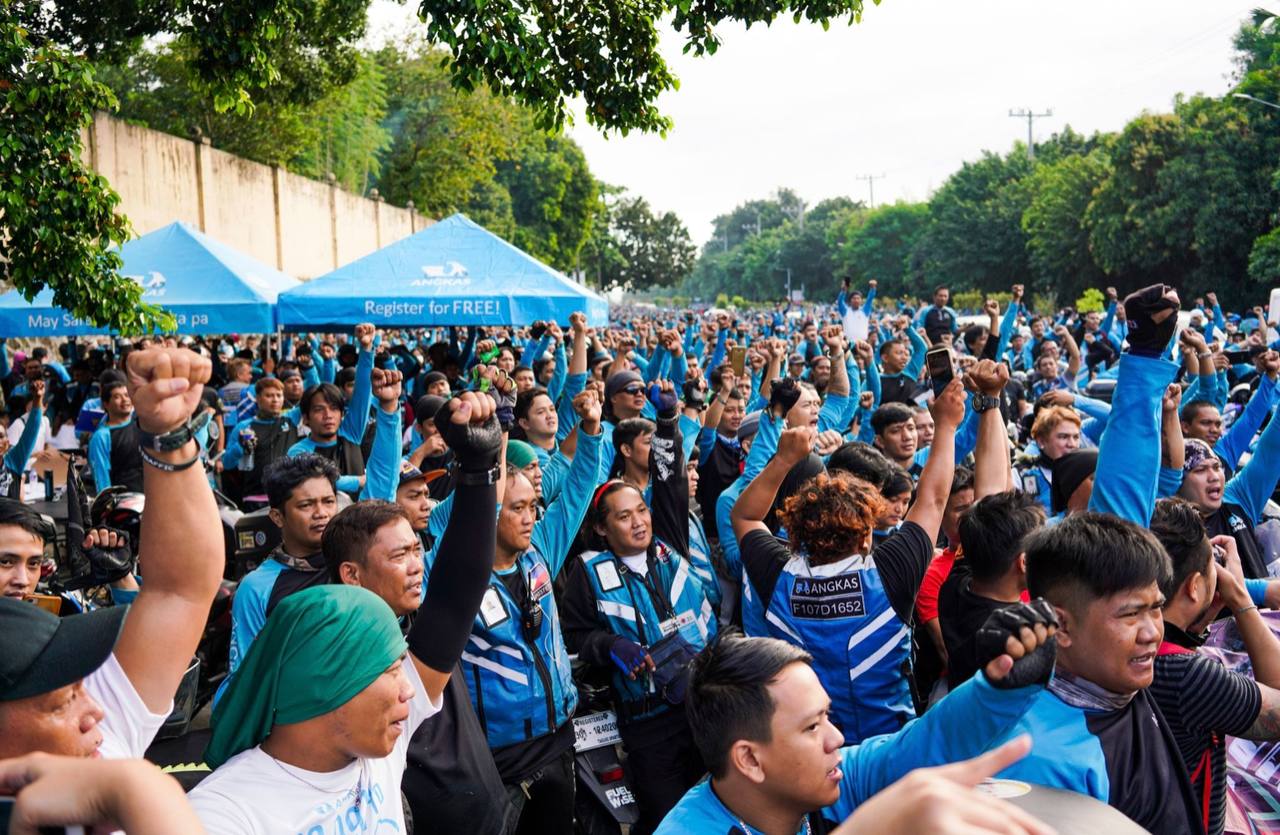 Angkas, the country's leading app-based motorcycle taxi ride-sharing service, has not only succeeded in providing countless job opportunities for Filipinos but also served as the voice of the 18 million-strong motorcycle industry.

Partnership model
In the Angkas business model, the riders who provide the company's primary service are independent partners, and they work on a percentage-per-fare system. They are transport entrepreneurs who have the power to control their own time while earning a decent living to take care of their families. This fosters an ownership mentality as the riders have absolute freedom to choose their work hours as they see fit. Angkas has created a plethora of micro-enterprises through the empowerment of these motorcycle riders.
On average, the riders make US$30 daily or about US$900 monthly. This is significantly higher than the current minimum wage in the Philippines. Angkas offers its partner bikers a means to lift themselves from poverty and provide a better life for their families. The company believes its success is attributed to genuine care and concern for its stakeholders. In line with this, Angkas plans to innovate to create mutual benefits for Angkas and its riders.
With seven million app downloads and a 99.997% safety record, Angkas now boasts 30,000 biker-partners and 117,000 biker applicants across the country and has revolutionised the average commute.

Expanding into logistics
After starting its motorcycle taxi service, Angkas branched out into logistics during the pandemic, focusing on delivery businesses like Angkas Padala (Padala refers to shipment) and Angkas Pabili (Pabili refers to purchase). At the height of the pandemic lockdowns, Angkas' riders helped deliver essential goods to the community. These services gave the riders a means to support themselves and their families. During the pandemic, Angkas was the mobility partner of the Philippine Red Cross. Its riders collected saliva samples for polymerase chain reaction (PCR) test kits and helped to transport them to laboratories. They also offered free rides to healthcare workers as transport restrictions eased.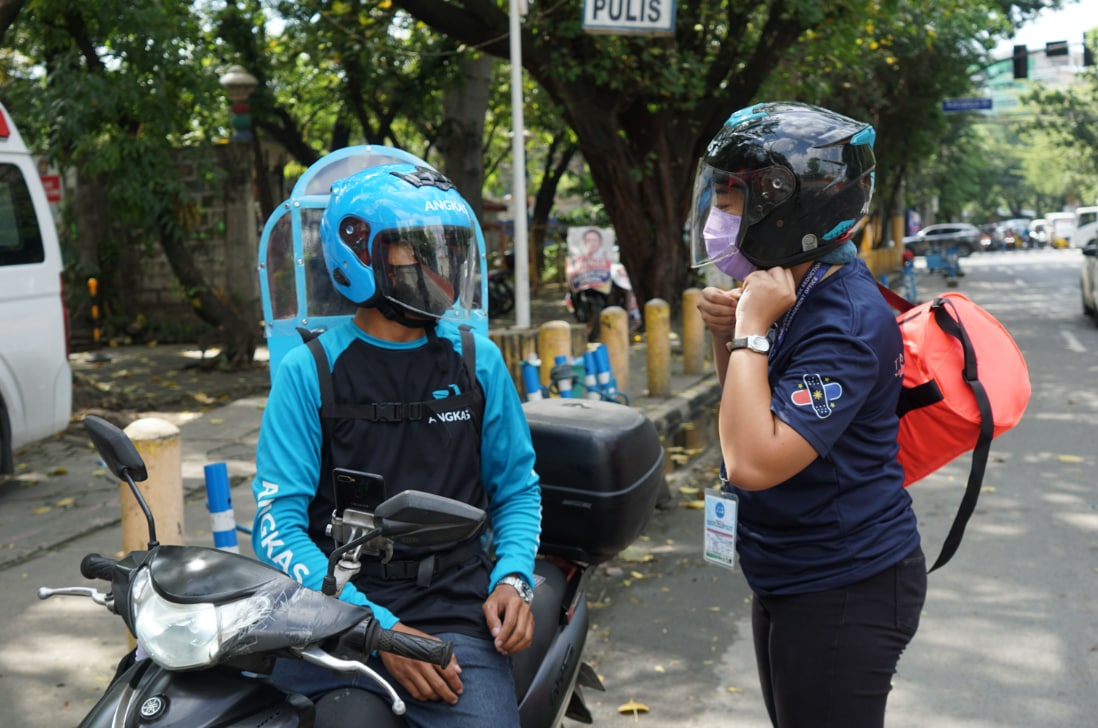 As a game-changer in the Philippine transport industry, Angkas, through the years, has trained bikers for free, developed an infrastructure for riders, gave free rides to the public in times of need, and initiated important dialogues with the government.
The company is now looking to expand further into logistics and partner with government agencies, enabling its riders to deliver government documents and medicines.
Paving the path forward
Angkas created the largest motorcycle taxi community, championing 18 million motorcycle owners in the nation and contributing towards professionalising motorcycles-as-a-businesses and bringing dignity to the riders' profession.
Angkas has contributed to changing the mindset of the general public concerning a stigmatised industry. This has also paved the way for discussions with the government regarding legalising and regulating the motorcycle taxi industry in the country. Angkas' goal now, with government support, is to eliminate poverty for 18 million families. Angkas believes that the first step in achieving this goal is passing a law regulating motorcycles for hire. The pilot programme has been successful to date in the participating areas of Metro Manila and Metro Cebu. The company is confident that this success can be replicated in other regions of the country.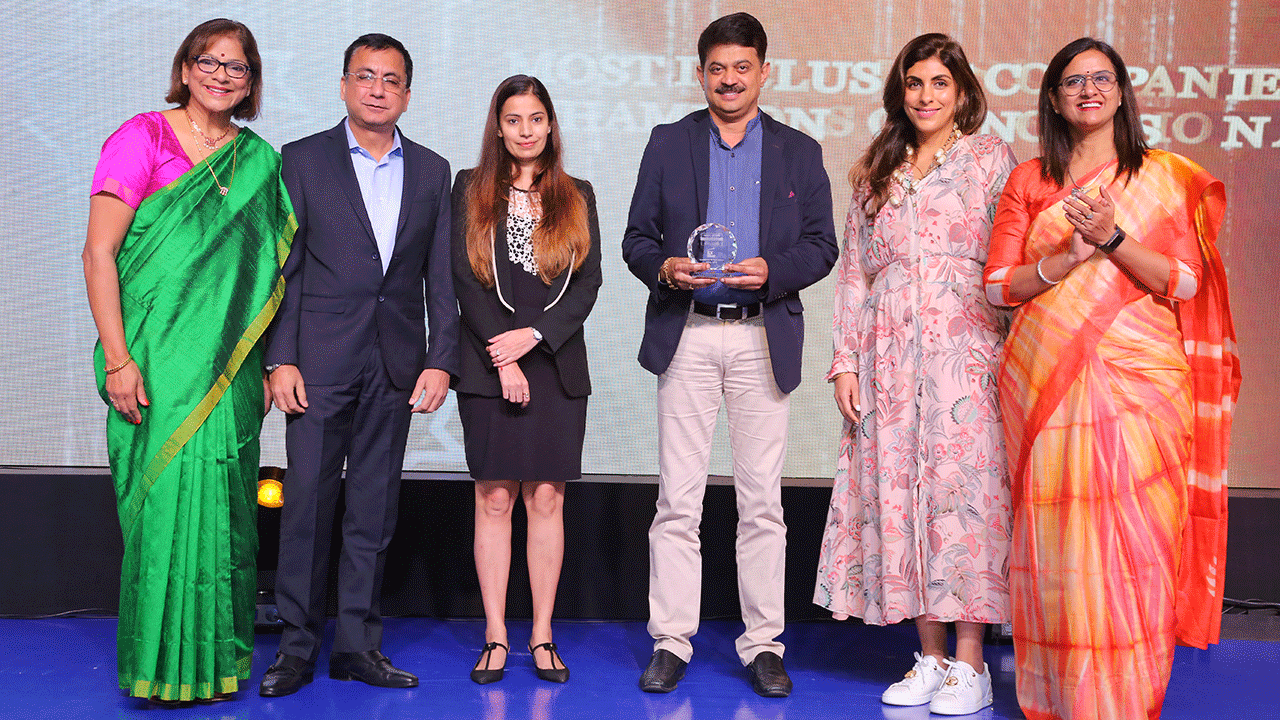 Transforming workplaces for gender inclusion
Avtar Group
India has one of the lowest women's workforce participation rates in the world despite its burgeoning economic progress. Avtar's purpose is driven by the immense social, financial and business implications of improved women's workforce participation in the country. Avtar creates job opportunities for underrepresented talent groups and enables large employers to implement diversity, equity and inclusion (DEI) measures in their workplaces.
Towards this vision, Avtar instituted corporate India's largest diversity analytics exercise called Avtar & Seramount Best Companies for Women in India (BCWI) in 2016. The initiative lists the 100 best companies alphabetically to encourage more companies to participate in the study and learn from best practices and market benchmarks without the fear of public ranking. It identifies and shares best practices for gender inclusion and provides benchmarks on women's employment across various industries, like IT/ITES (information technology/information technology-enabled services), BFSI (banking, financial services and insurance), FMCG (fast-moving consumer goods), pharmaceuticals and manufacturing.
Over the past six years, the BCWI, the first of its kind in India, has become the key reference for every organisation that believes in an inclusive culture.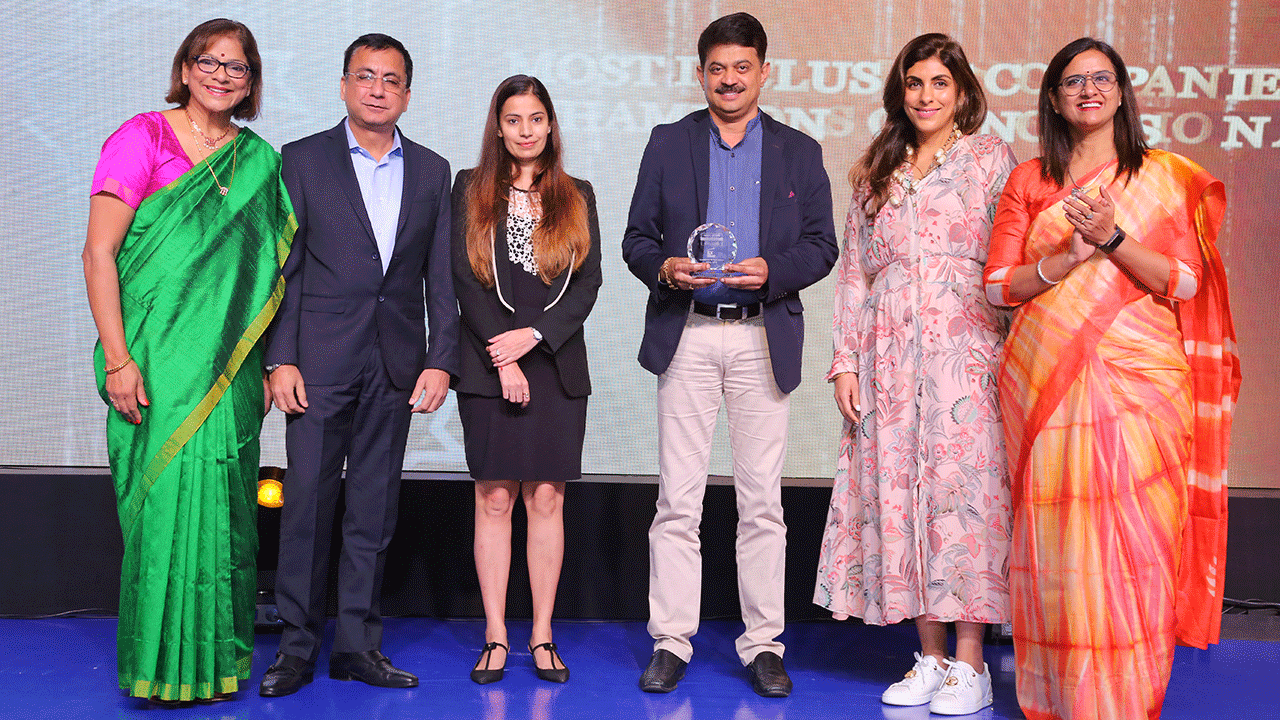 Ernst & Young at the BCWI 2018

The BCWI does not charge for participation. The study has had six successful editions from 2016 to 2021, creating a new list of the 100 Best Companies for Women in India each year. Based on diversity data submitted through standardised application forms, the companies are chosen for their policy impact towards improving women's workforce participation, such as recruitment practices, safety and security, flexible work, childcare support, and management accountability towards DEI.
Even as Avtar evangelises the concept of equitable practices and creates career opportunities for underrepresented talent pools, it also works with leaders to build diversity thinking as a meta-competence. Leadership gains greater perspective with the ability to recognise similarities within differences and arrive at pluralistic solutions that serve diverse groups. In part due to widespread dissemination of information about DEI emerging from the BCWI, the Indian C-suite is becoming convinced of the value of DEI, and leaders are striving for cultural interventions within their organisations.
In a world united by the tailwinds of similar experiences spanning across geographic boundaries, it is essential for leaders to not only be role models of agility or innovation but also builders of consensus and empathy.
The impact
From 2016 to 2021, the initiative continued to influence policies for including women at the workplace in India, resulting in an increase of women's representation in the 100 best companies from 25 per cent in 2016 to 34.5 per cent in 2021. Avtar's long-term view is to enable gender balance in corporate India, ably supported by inclusive and equitable work cultures. In 2019, the initiative expanded to recognise organisational efforts in other strands of diversity, including Persons with Disabilities (PWDs), members of the LGBTQ+ community, and regional diversity, through the "Most Inclusive Companies Index." The percentage of companies on the Index focusing on PwDs rose from 58 per cent in 2019 to 88 per cent in 2021, while the focus on the LGBTQ+ community rose from 23 per cent in 2019 to 83 per cent in 2021.
Both the BCWI and MICI initiatives have been able to influence the "social" pillar of ESG critically. The study has led to increased women's representation and greater company focus on diversity strands of PWDs and LGBTQ+. The number of Best Companies on the BCWI providing programmes to hire women on career breaks rose from 53 per cent in 2019 to 71 per cent in 2021. This is in direct correlation with the employment equality and gender diversity pillar of ESG.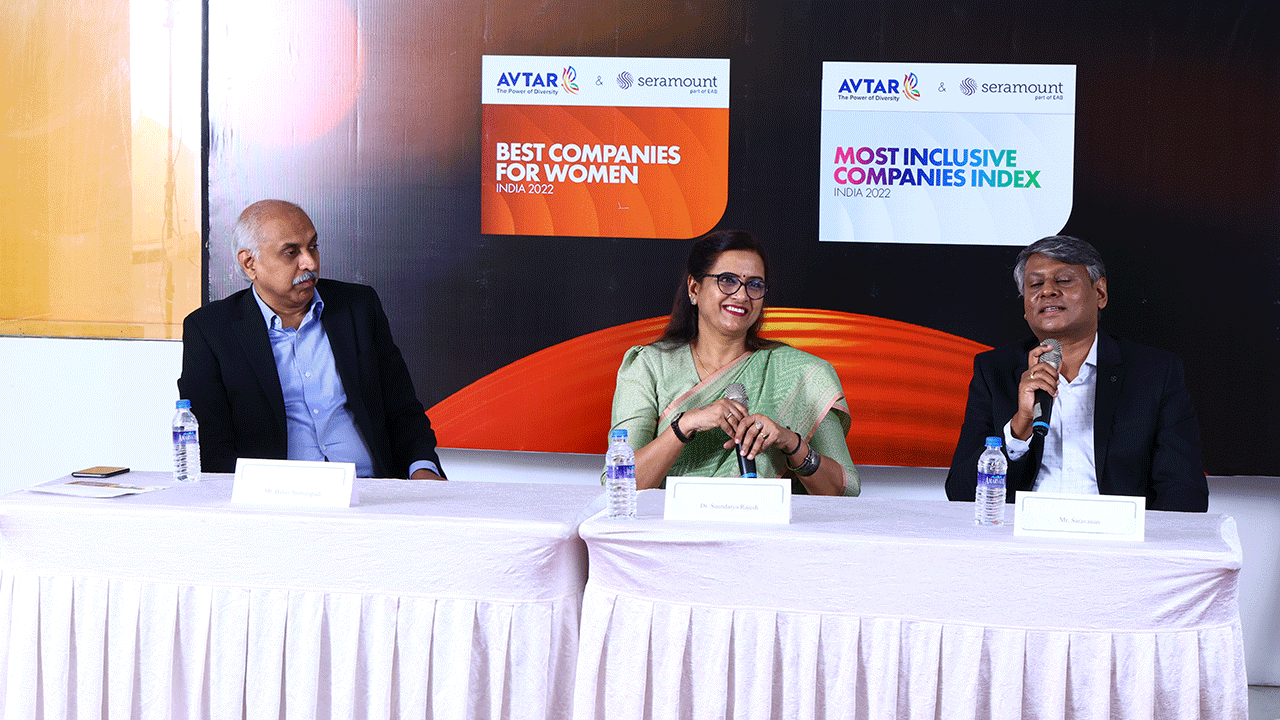 Press conference for the BCWI and MICI initiatives 2022
The initiative has also led to better DEI governance in organisations that participated in the study. In 2019, 30 per cent of companies held their managers accountable towards their team goals of gender diversity. In 2021, 46 per cent of companies reviewed commitment to DEI during performance reviews of managers. The number of companies focused on supplier diversity also rose by 13 percentage points, from 33 per cent in 2019 to 46 per cent in 2021.
Innovation highlights
Being corporate India's first and only large format study that tracks diversity metrics and contributes to national benchmarks on gender diversity, the BCWI has enabled generous sharing and showcasing of several best practices towards gender inclusion. The initiative bases itself on one of the most strategic leadership aids of our times – data – helping leaders in discerning organisations and devising informed strategies for a DEI agenda.
Future of BCWI-MICI
Even in years disrupted by the Covid-19 pandemic, the study continued to draw hundreds of Indian companies. A genuine focus on DEI has become a highly respected and tracked key result area for all C-suite leaders. Towards moving closer to our vision and purpose of improving women's workforce participation, we hope to increase the number of participants in BCWI-MICI in India and help them with appropriate market benchmarks and best practices to identify, recruit and develop more diverse talent. We also plan to create similar studies for corporate markets in the Middle East and Singapore.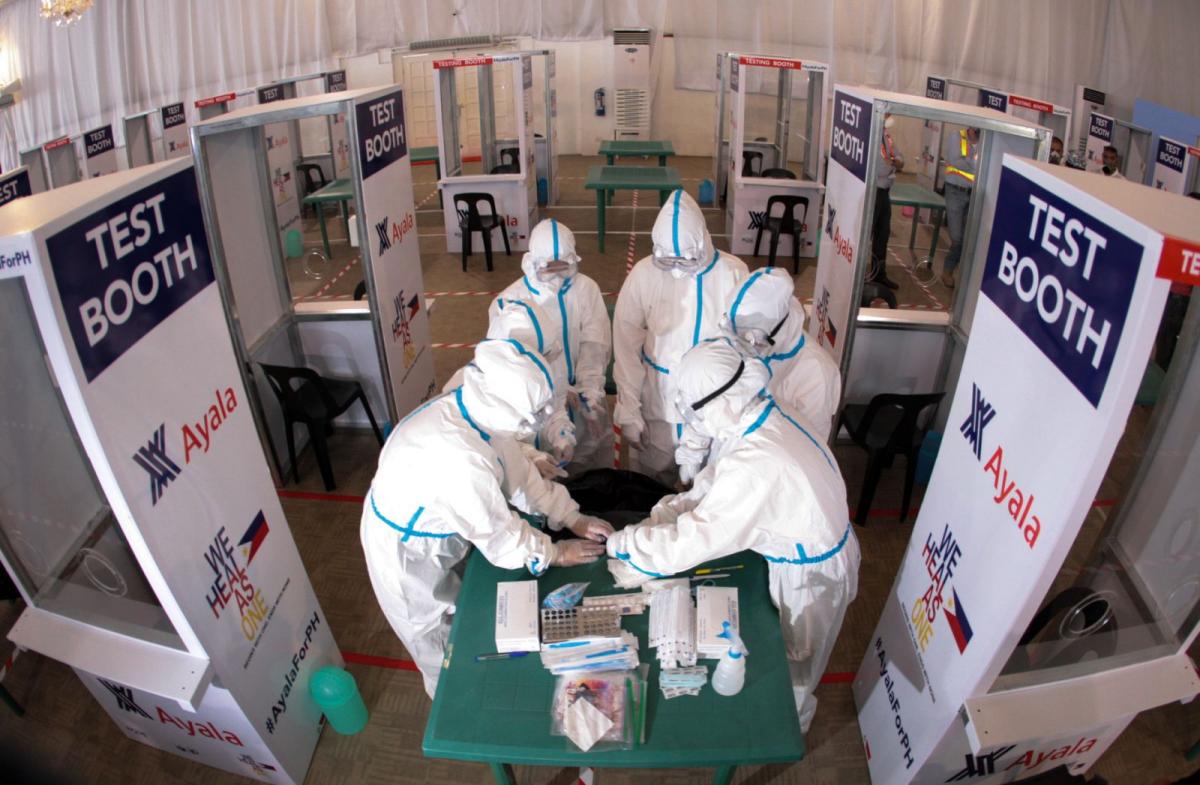 Steering a collective Covid-19 response
Ayala Corporation
As the Covid-19 pandemic ensued, Ayala acted as a catalyst that allowed the emergence of several impact initiatives by its subsidiaries and projects in cooperation with external peers. AC Health, the Ayala Group's healthcare arm, played a critical role. Since August 2022, Ayala has deployed over 24 billion Philippine pesos (US$480 million) for this holistic Covid-19 response.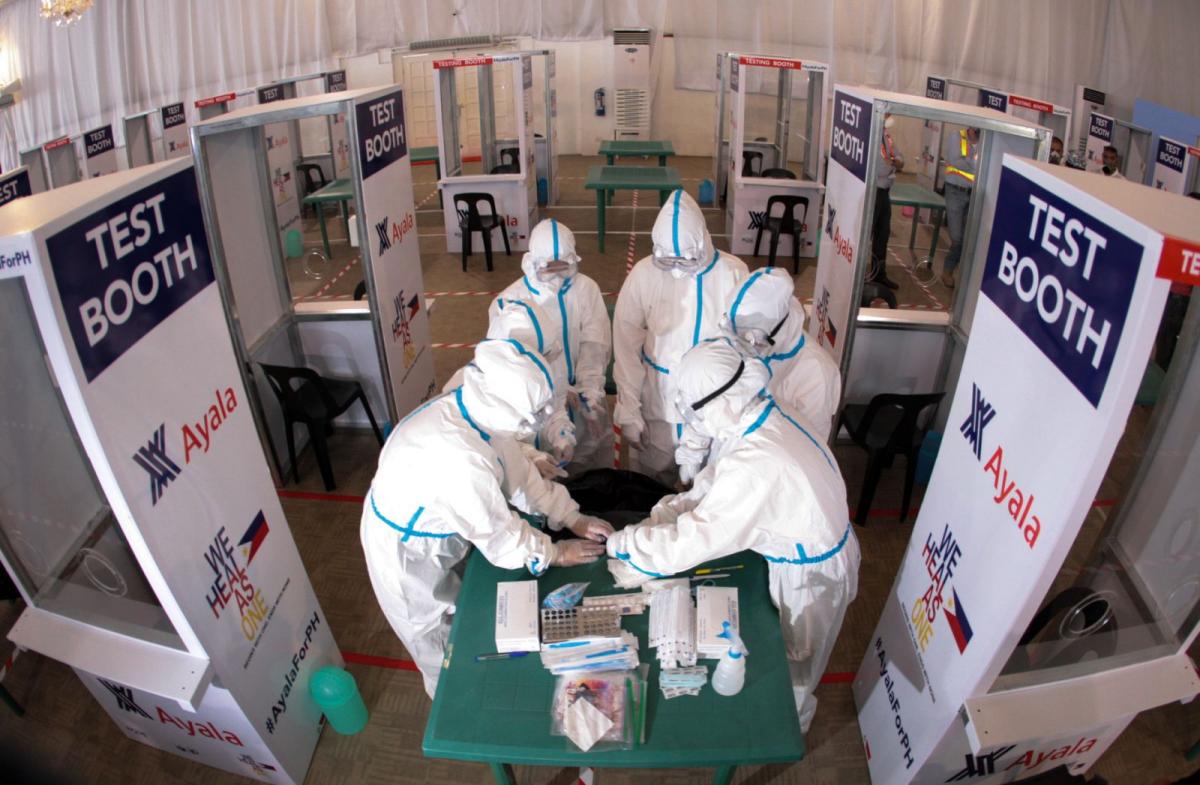 Swabbing booths at Palacio de Manila

When the pandemic was declared and the Philippines went into lockdown, Ayala's response covered three priorities:
The first phase was to protect employees, ensuring they were financially secure and healthy. An emergency response package was released that covered wage continuance, leave conversions and loan deferments to direct employees. Dedicated medical facilities were built where infected employees and their families could recover. Stipends were provided to partners on daily wage, "no work, no pay" arrangements – including 70,000 construction workers and some employees of agency providers – to help them ride out the lockdown.
The second phase was to support Ayala's economic ecosystem of customers, suppliers and partners. Mall tenants were given rent reprieves, and Ayala's bank and utility companies provided loans and payment deferments. The Ayala Enterprise Circle was also established to help more than 250,000 small and medium enterprises (SMEs) get upskilling support and easier access to relevant products and services. These SMEs were partners or clients of Ayala.
The third phase was to bridge the community's needs at large. Ayala became part of several initiatives with private sector peers and the government. Ayala was one of the catalysts behind Project Ugnayan, a private-sector partnership between 270 firms that provided emergency food packages, grocery vouchers and medical assistance to 2.8 million economically vulnerable families, or 14 million individuals. Ayala was also part of Task Force T3 (Test, Trace, Treat), a government-private sector partnership that started as an initiative to expand testing capacity and personal protective equipment (PPE) supply. Task Force T3 eventually moved into data analytics, surveillance, contact tracing, healthcare worker recruitment, communications and became the National Vaccine Deployment Program.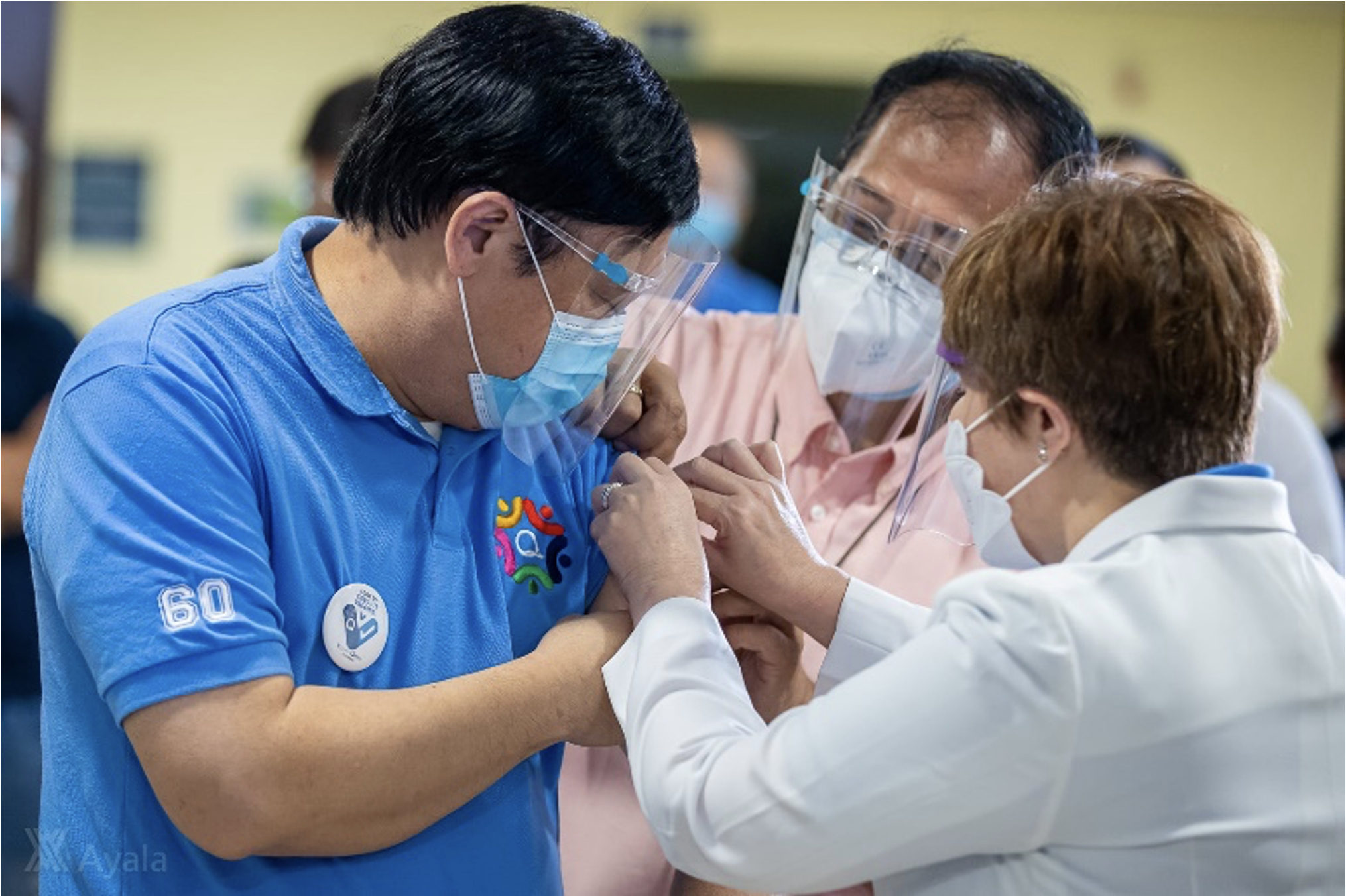 AC Health and the Philippine government collaborated to extend Covid-19 vaccination sites across the country

Across these three priorities, AC Health was a constant presence, leveraging its broad ecosystem to address gaps; provide quality, affordable, and accessible healthcare; and provide guidance and support to the Philippine government's National Task Force for Covid-19. In the earliest months of the crisis, AC Health led a consortium to build seven testing labs nationwide. Its clinics and hospitals became triage sites and Covid referral facilities. Its pharma arm was the first to bring into the Philippines Molnupiravir, an oral antiviral treatment for mild Covid-19. It also worked with sister company Globe Telecom to develop KonsultaMD, a telemedicine super app that enabled teleconsultations, medicine delivery, and eventually Covid vaccination scheduling.
Collaboration towards a common goal
When Covid vaccines arrived in 2021, AC Health collaborated with its sister companies to administer over 770,000 doses of Covid vaccines for the Ayala Group and other partner institutions and corporates. Vaccinations were held across over 30 Ayala Land facilities nationwide that were AC Health-managed. AC Analytics helped monitor case trends and provided data-informed guidance on on-site management and vaccination schedules. Through this synergistic approach, AC Health became one of the Philippines' largest private-sector vaccine administrators.
This collaborative and comprehensive approach allowed AC Health to reach a wide patient base while forging linkages with several corporate partners. This lets AC Health offer its range of healthcare services across pharma, clinics, hospitals and telemedicine to a larger post-pandemic market while helping improve patient outcomes and generating sustainable value for the company. Due to many other initiatives, AC Health continues to perform strongly and is moving towards profitability.
Building trust across institutions
While the holistic Covid-19 response is specific to the current pandemic, the partnership model and the trust established across institutions and stakeholders will continue. AC Health also emerged as a high-potential and high-growth enterprise for Ayala, given the gaps revealed by the pandemic.
The partnership model within Ayala, between private sector peers, and with the government, is already being applied to address other developmental challenges. With the new Philippine administration taking office, a private sector advisory council was established to help draft recommendations across priority areas of infrastructure, agriculture, job generation and healthcare, among others. AC Health currently leads the healthcare subcommittee, while Ayala Corporation actively participates in the job generation subcommittee.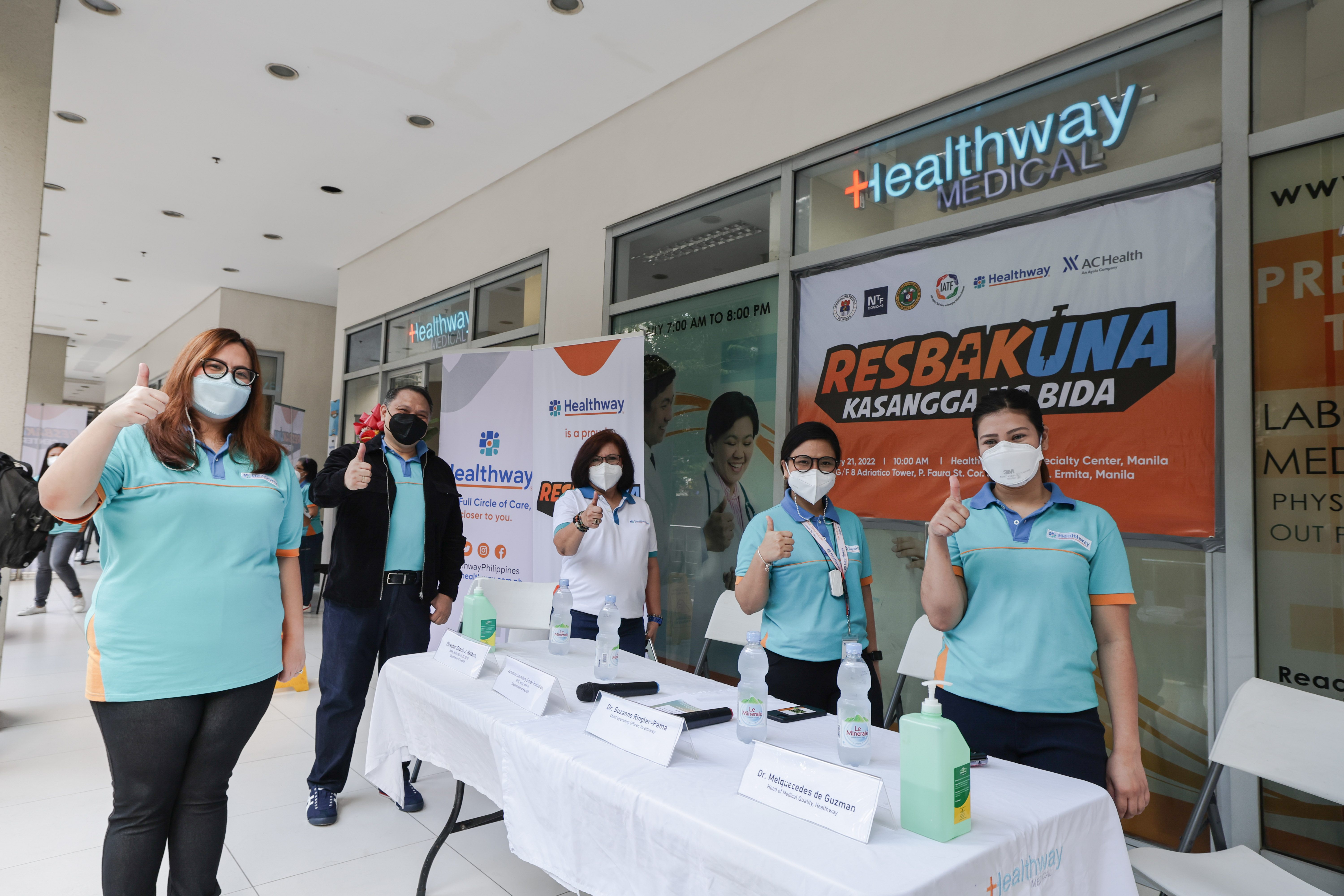 Healthway clinics participate in the National Government's in-clinic Covid-19 vaccination pilot programme

Meanwhile, Ayala continues to ramp up support for AC Health. The partnerships and rapport among private sector peers could contribute to the development of corporate healthcare services that AC Health may provide. The KonsultaMD superapp continues to touch a broader base of patients and doctors while expanding the reach of medicine delivery.
Additionally, as validation of Ayala's organisational purpose and healthcare strategy, in November 2021, AC Health received a US$100 million investment from the International Finance Corporation through the Philippines' first healthcare-focused Social Bond. The funds will finance the development of the first dedicated cancer hospital in the Philippines, expand AC Health's network of primary and multispecialty care clinics, and accelerate the roll-out of digital technology initiatives.
Ayala collectively launched various initiatives to help stakeholders amidst Covid-19 and other national emergencies

Climate action through voting and engagement
BNP Paribas Asset Management
BNP Paribas Asset Management (BNPP AM) is committed to using its investments and influence with companies and policy-makers to advocate for low-carbon, environmentally sustainable and inclusive economies.
It believes engagement is generally more effective than exclusion, but divestment can be effective as a last resort. BNPP AM sees collaboration with other long-term investors and stakeholders as an effective way to achieve common environmental and social aims, particularly when engaging with companies and regulatory bodies.
Coal policy
BNPP AM's Stewardship Policy tackles environmental, social and governance (ESG) factors through different actions. One of the ways it contributes to climate change mitigation in Asia within the environmental pillar is through its stewardship initiative involving corporate engagements with companies in relation to its coal sector policy.
A fundamental aspect of BNPP AM's efforts to gradually align its portfolios with the goals of the Paris Agreement is its coal policy, defined in the Responsible Business Conduct (RBC) policy. In 2021, BNPP AM opposed 605 resolutions due to the RBC, including its sector policy on coal.
At the heart of the policy is the alignment between the carbon intensity for power generation in its portfolios and the International Energy Agency Sustainable Development Scenario (SDS) by 2025. The need for a transition from high-carbon to low-carbon power is particularly acute in Asia, where coal is a dominant source of electricity generation, and utilities account for 23 per cent of global greenhouse gas emissions. BNPP AM engages with portfolio companies involved in coal-fired power generation to verify their emissions intensity and to encourage them to raise the ambition of their decarbonisation strategies.
Engaging companies for decarbonisation
In 2021, BNPP AM took a co-lead role in engagements via the newly launched Asian Utilities Engagement Program, an initiative by the Asia Investor Group on Climate Change (AIGCC). Through its engagement, BNPP AM achieved resounding success with Hong Kong-listed CLP Holdings.
BNPP AM's training video featuring CLP Holdings as a case study.

The company has several coal-fired power generation assets but is also committed to sustainability, with robust climate governance in place. BNPP AM drove the discussion with the company alongside another asset manager. Through multiple constructive meetings with the company's sustainability and investor relations teams and the board member in charge of climate issues, BNPP AM stressed the need for the company to enhance its climate approach by integrating a commitment to phase out coal and a net-zero emissions target.
In September 2021, the company announced it would exit coal-fired power generation by 2040 and target net zero emissions by 2050, a critical market signal in Asia's transition towards net-zero power.
BNPP AM has embraced its role as a "future maker," using its influence and investments to tackle three key issues: energy transition, environmental sustainability, and equality and inclusive growth.
Engagement related to cutting the use of coal and strengthening its coal policy are key aspects of BNPP AM's strategy and commitment toward supporting energy transition. In 2021, it committed to the Net Zero Asset Managers initiative and published its Net Zero Roadmap in 2022, which describes in further detail the asset manager's associated targets and strategy toward net zero.
BNPP AM is continuously strengthening its stewardship efforts to support this commitment.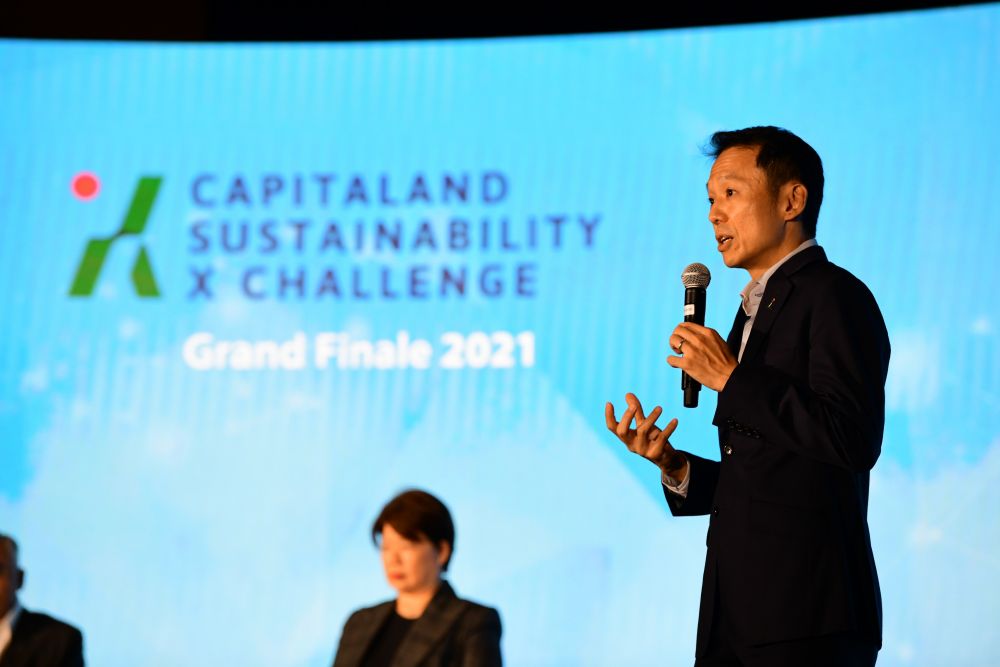 Innovating sustainability for the built environment
CapitaLand Investment Limited
CapitaLand unveiled its 2030 Sustainability Master Plan (SMP), an environmental, social and governance (ESG) blueprint for its business, in 2020. It aims to build resilience in CapitaLand's real estate portfolio to mitigate climate change risks and future-proof against premature obsolescence. It also directs CapitaLand to use its resources efficiently as a good corporate steward, improve its operational efficiencies, and provide a healthy and safe environment for its employees, tenants and communities to thrive. CapitaLand Investment (CLI), the real estate investment management arm of CapitaLand, has elevated its commitment to sustainability by aiming to achieve net-zero emissions by 2050. To realise this commitment, CLI aims to reduce its absolute Scope 1 and 2 greenhouse gas emissions by 46 per cent, up from 28 per cent, by 2030 from a 2019 base year. These new targets to reduce greenhouse gas emissions are validated by the Science Based Targets initiative (SBTi) to limit global warming to 1.5 degrees Celsius as per the goals of the Paris Agreement. CapitaLand is one of the few Singapore-based companies with SBTi-approved carbon targets (Scope 1 and 2) aligned to the 1.5 degrees Celsius scenario for its extensive global operations.
To accelerate the achievement of CapitaLand's 2030 Sustainability Master Plan targets and innovation in the built environment, CapitaLand launched initiatives such as the CapitaLand Sustainability X Challenge (CSXC), opened the Smart Urban Co-Innovation Lab in 2020 and set up a S$50 million CapitaLand Innovation Fund in 2021.
Tapping global insights for innovative sustainability solutions
CSXC is the first global sustainability-focused innovation challenge in the built environment by a Singapore real estate company. Held annually since 2021, start-ups globally are invited to submit their sustainable innovations. CapitaLand has committed up to S$650,000 (US$461,000) in 2022 to pilot 10 chosen innovations at CapitaLand's diversified range of properties worldwide, allowing participants to apply their solutions in varying climatic conditions and asset types as well as demonstrate conclusively how their systems will function under real-world conditions.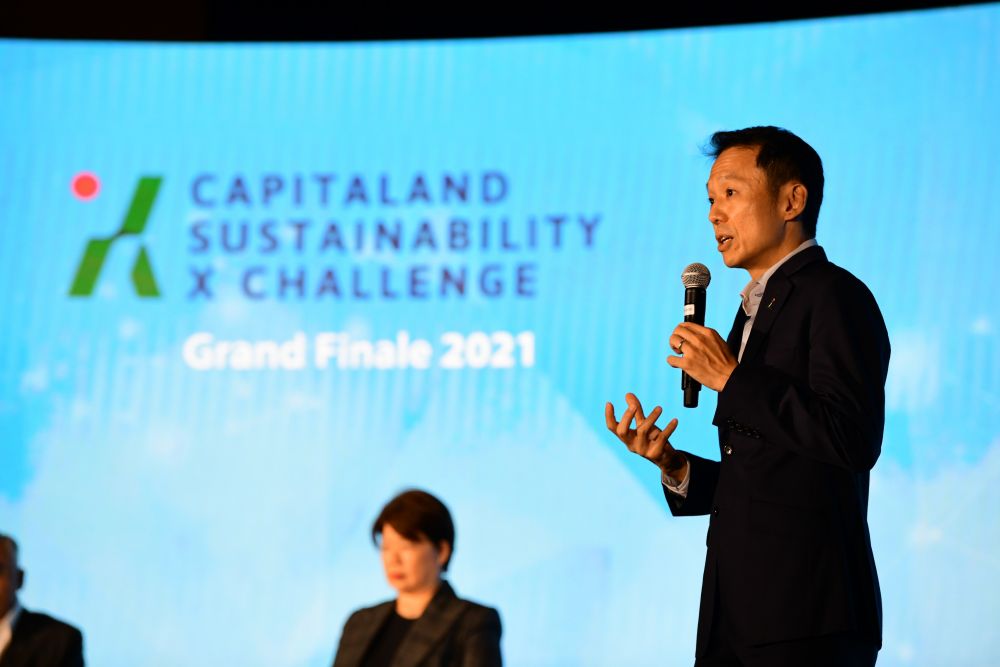 Two winners were crowned amongst six finalists at the inaugural CSXC 2021 Grand Finale, where CapitaLand Investment's Group Chief Executive Officer, Mr Lee Chee Koon, announced a S$50 million CapitaLand Innovation Fund.

The inaugural Challenge attracted over 270 entries from more than 25 countries, with seven innovations being tested, while the second edition attracted over 340 entries from 50 countries, with 10 innovations under discussion.
One of the successful innovations from the inaugural Challenge was conducted at LogisTech, the first logistics building in Singapore to receive the Building Construction Authority Green Mark Platinum Super Low Energy Award. The innovation, the CONTINEWM®-patented ceramic net emitting infrared, achieved up to 51 per cent reduction in fan energy usage, a 16 per cent reduction in cooling load energy usage, and 153 kWh per day of energy savings across two air handling units.




Collaborating with industry partners and the community
The Smart Urban Co-Innovation Lab, supported by the Infocomm Media Development Authority and Enterprise Singapore, is Southeast Asia's first industry-for-industry, platform-agnostic, multi-disciplinary lab for smart city solutions development. The first lab was launched at the Singapore Science Park. Its purpose is to enable collaboration between users and providers of technology in a real-world setting to identify, develop and demonstrate innovative close-to-market solutions. Since its inception in October 2020, the lab has welcomed over 700 companies and onboarded more than 70 members to identify opportunities and co-create solutions for smart, sustainable cities.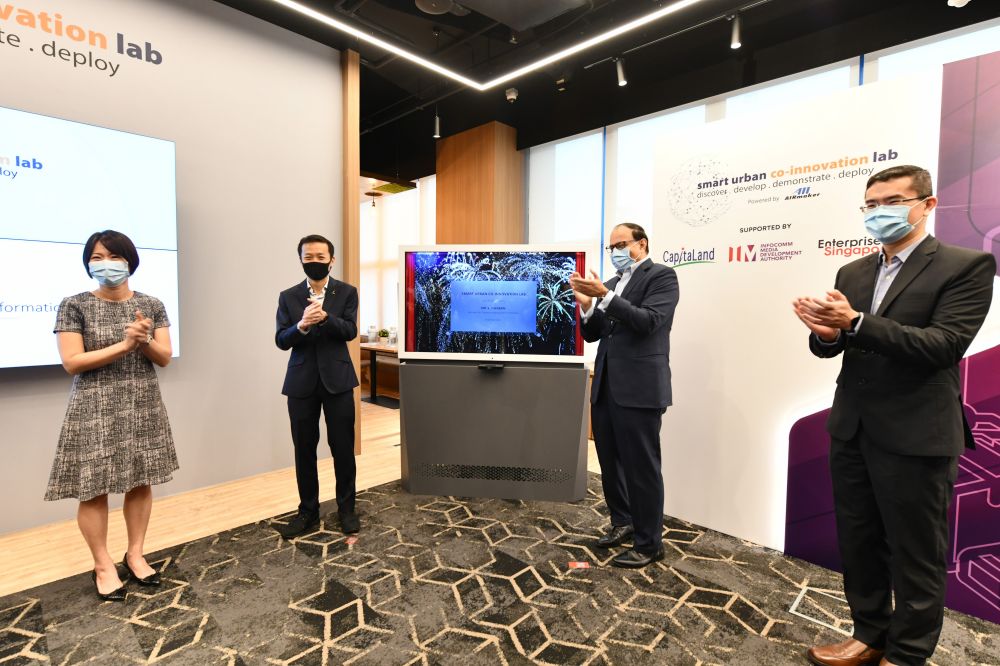 Mr S Iswaran, Minister for Transport, who was then Minister for Communications and Information (centre right), and Mr Lee Chee Koon, CapitaLand Investment's Group Chief Executive Officer (centre left), unveiling the plaque to mark the official opening of the Smart Urban Co-Innovation Lab in 2020, together with Mr Lew Chuen Hong, Infocomm Media Development Authority's Chief Executive (far right) and Ms Eunice Koh, Enterprise Singapore's Assistant Chief Executive Officer (far left).

On 30 October 2021, the Smart Urban Co-Innovation Lab @ East Coast launched a community initiative with eight partner companies, including Amazon Web Services, Huawei International and Rohde & Schwarz, to provide corporations and residents with the opportunity to collaborate and co-innovate solutions on community and business issues, as well as to equip students with future-ready skills.
Building a culture of innovation
Innovation can only thrive if businesses have a culture that is supportive of it. CapitaLand not only places sustainability at the core of what it does but also empowers its employees to be creative in deploying solutions that have a positive impact on the environment. In 2021, CapitaLand set up a S$50 million CapitaLand Innovation Fund to further support the test-bedding of sustainable and other high-tech innovations in the built environment over the next five years. At least half of it has been earmarked to fund staff pilots of promising sustainability solutions.


Innovation is key to CapitaLand's business and culture as it seeks to deliver sustainable value to its stakeholders. CapitaLand continues to push the frontiers of innovation through CSXC, the Smart Urban Co-Innovation Lab and the CapitaLand Innovation Fund, creating a conducive environment for budding start-ups, sector players and CapitaLand staff on the journey towards a more sustainable future.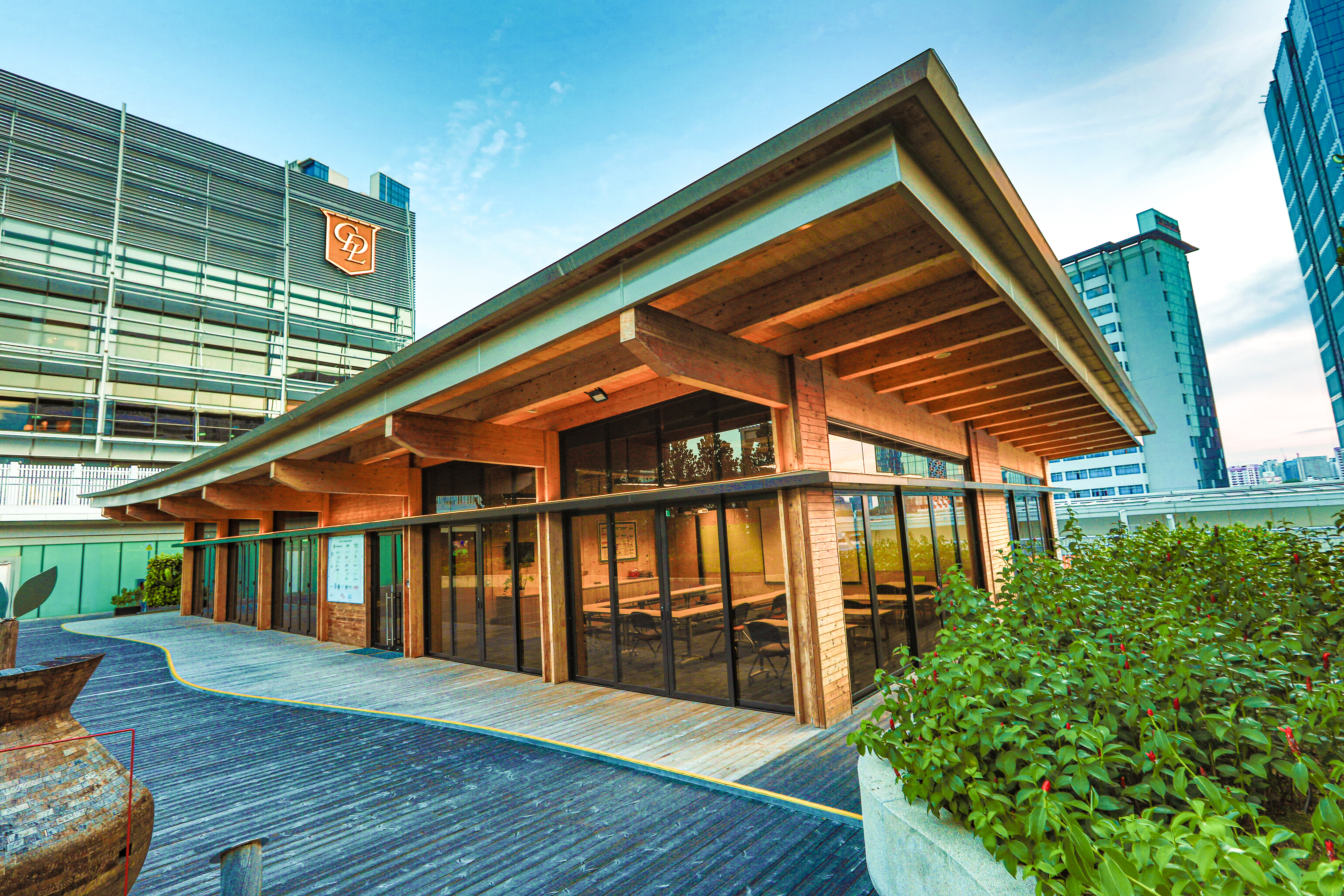 Constructing collaborative spaces to empower sustainability
City Developments Limited
The Singapore Sustainability Academy (SSA) was jointly launched by City Developments Limited (CDL) and the Sustainable Energy Association of Singapore (SEAS). The SSA is Singapore's first major People, Public and Private ground-up initiative in support of global Sustainable Development Goals (SDGs) and national goals to tackle climate change. It also marks the first collaboration among a local private-sector property developer, government agencies and non-governmental organisations to create a major training and networking facility on sustainability.

The Singapore Sustainability Academy is the first ground-up initiative and zero-energy facility in Singapore dedicated to capacity building and thought leadership for climate action.

Located at the Sky Park of City Square Mall in Singapore, the 4,300 square feet facility aims to promote a low-carbon economy, resource efficiency and sustainable practices among businesses and the community. The net-zero SSA was conferred the Green Mark Platinum Award by Singapore's Building and Construction Authority. Involving an extensive partnership with 6 government agencies and 15 founding industry and non-governmental organisation partners, SSA provides a hub for climate action and the SDGs through:
Thought leadership, advocacy and networking
Capacity building through education, training and mentorship
Collaborations for innovation, research and development, and resource and solutions sharing
Stakeholder and community engagements
Solar panels and responsible sourcing
The SSA features 3,200 square feet of solar photovoltaic panels on its roof, generating 60,000 kWh per year, which is more than enough energy to fully power the academy's average annual consumption of 50,000 kWh. It is the first building in Singapore to have its construction materials, Cross Laminated Timber and Glued Laminated Timber, verified by the Nature's Barcode™ system as coming from responsible forest sources. Over 80 per cent of the facility is built with structural materials from sustainable sources.
Championing the SDGs
As a hub for SDG learning and networking, the SSA provides an active platform for industries, youths and the community to share knowledge and build partnerships towards sustainable development. This includes supporting national environmental and climate plans, such as the Singapore Green Plan 2030, Singapore's Long-Term Low-Emissions Development Strategy, and championing the SDGs' global achievement.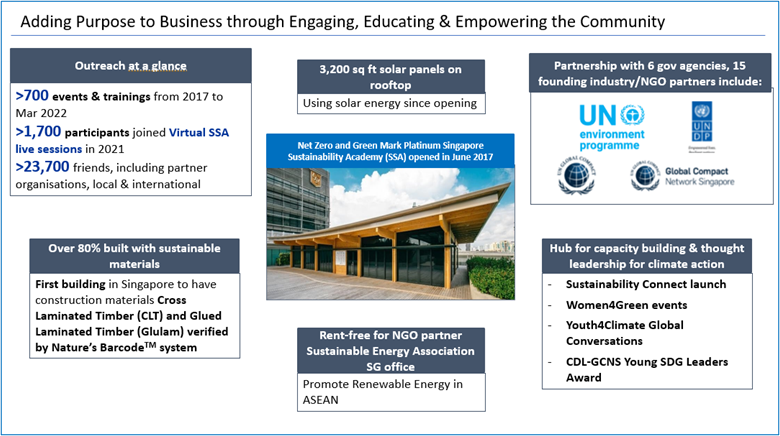 The SSA engages, educates and empowers the community through multiple streams.

The SSA has hosted over 700 events and training sessions and welcomed over 23,700 attendees to its events since its opening. Through its signature initiatives such as the Women4Green Network, Youth4Climate and the CDL-Global Compact Network Singapore's Young SDG Leaders Award, CDL reaches out to diverse demographics amongst its local and regional communities to promote climate action and the adoption of the SDGs.
Events and programmes held at the SSA

Training and building sustainability capabilities
An active hub for training sustainable energy professionals, SSA's partnership with SEAS has contributed to building capacity and to the training of sustainable energy professionals in Southeast Asia. SEAS' partnership with the Asian Development Bank has extended its training to energy practitioners in ASEAN. More than 3,200 energy and sustainability professionals have been trained at the SSA.
While providing rent-free space for SEAS' offices and a classroom for training and hosting events, the construction of this space allowed the partners to use new and effective sustainable energy technologies and create solutions for the industry, supporting the Singapore Green Plan and Singapore's pledge for Net Zero by or around 2050.
With sustainability on the mainstream global agenda, the demand for skilled and experienced environmental, social and governance (ESG) practitioners has risen dramatically. In partnership with Global Green Connect (GGC), the SSA launched Sustainability Connect in January 2022, a platform where sustainability practitioners can share practical knowledge and best practices to transform and future-proof businesses for long-term success. Leveraging SSA's and GGC's extensive networks of experts, Sustainability Connect aims to facilitate a rapid expansion of a global ecosystem of partnerships, contributing to professional capacity building. Through this, CDL hopes to train and nurture the next generation of sustainability leaders to tackle the ever-changing ESG landscape.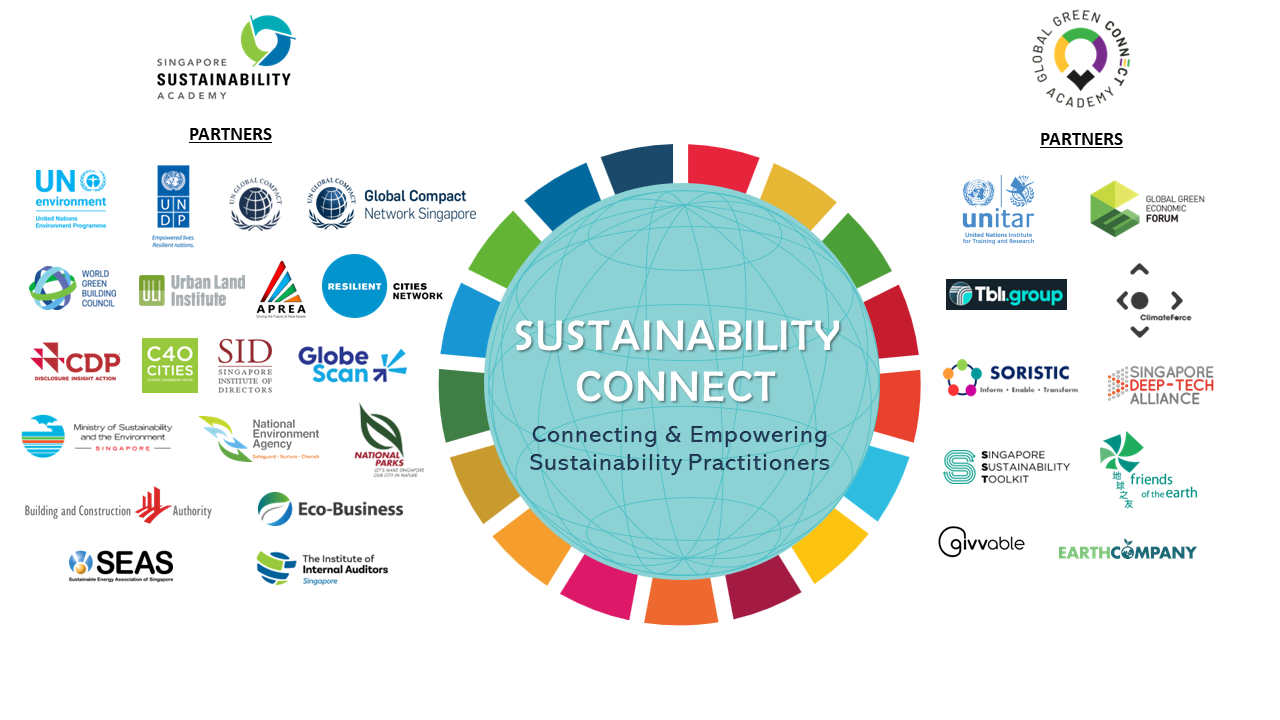 Sustainability Connect, a new platform that leverages a global network of experts and partners to connect and scale up skills for sustainability professionals, is featured with its network of partners.

Looking ahead, CDL will continue to harness the collective knowledge and expertise of industry and thought leaders through multiple training and engagement initiatives. Through the SSA, CDL strives to build capacity further and increase collaborations with industry, businesses, supply chains and ESG technology adopters as well as youths, academics, practitioners and solution providers.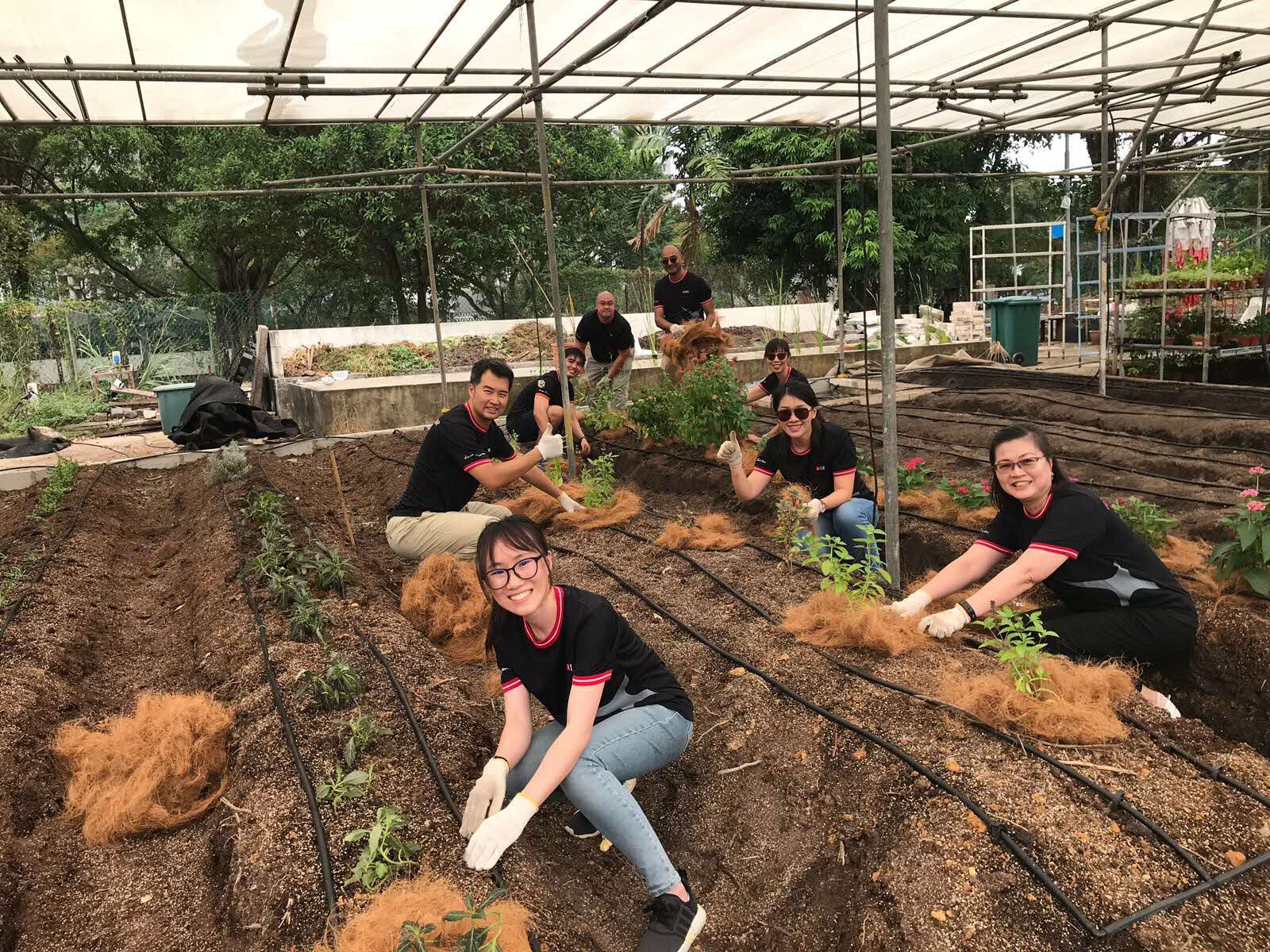 Creating impact beyond banking
DBS Bank Limited
DBS believes its licence to operate comes from civil society. Thus, it ensures that it addresses the needs of multiple stakeholders, not just the current generation but future generations. Its approach to sustainability is guided by its purpose: to create value for the long term by managing its business in a balanced and responsible way.
DBS' broader sustainability agenda is built around three pillars – responsible banking, responsible business practices, and impact beyond banking. DBS seeks to create impact beyond banking through the work of DBS Foundation as well as its People of Purpose employee volunteerism movement.
Increased funding for DBS Foundation
In 2014, DBS Foundation (DBSF) was formed with a S$50 million (US$35.3 million) fund to mark the bank's commitment to champion social entrepreneurship for impact in Asia. It supports innovative social enterprises (SEs) across six markets in Asia, engaged in various social and environmental causes, such as children and youth, women and girls, elderly, disabilities and special needs, rural communities, healthcare, urban poor, environment, capacity building, and heritage and culture.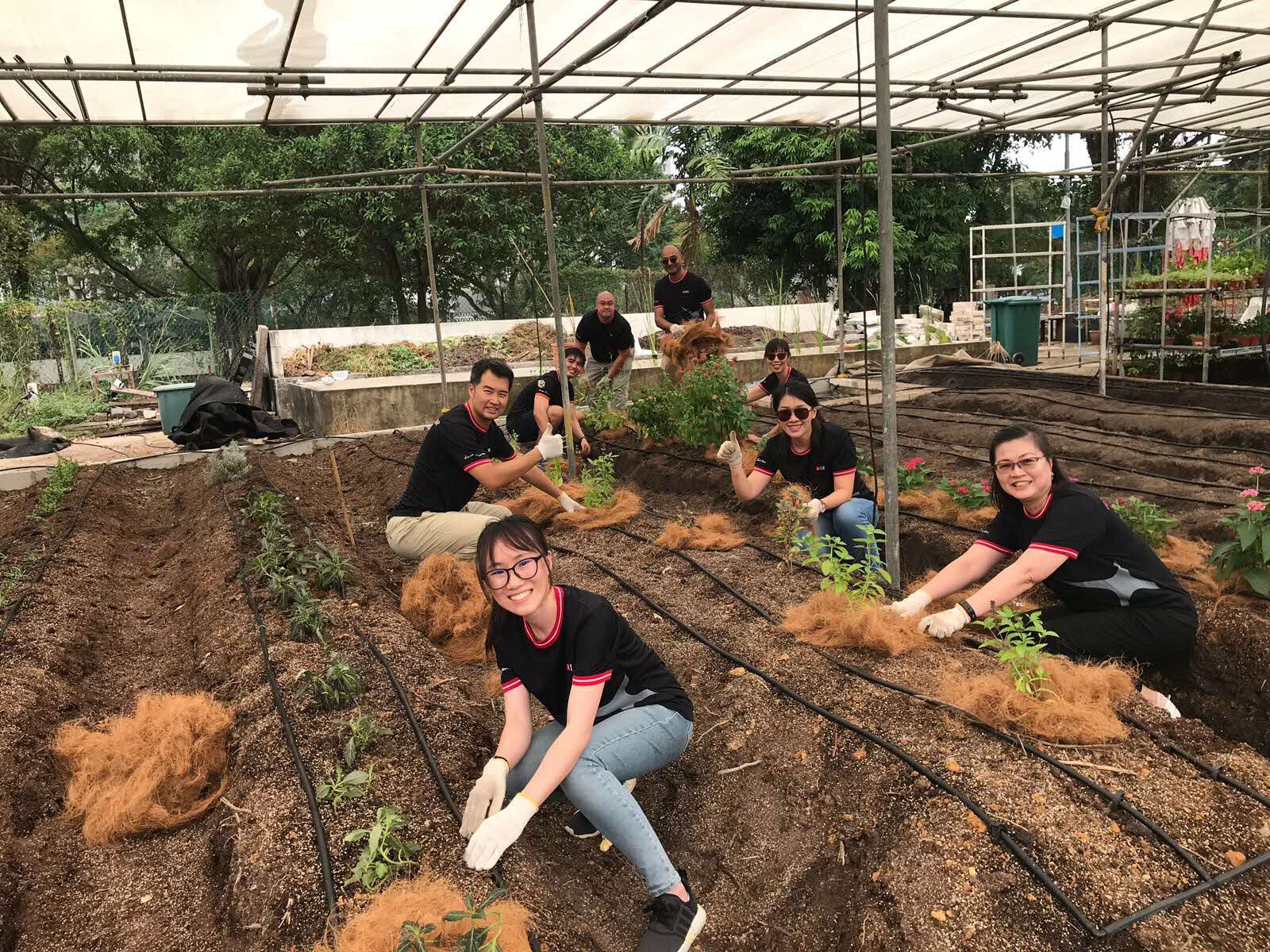 DBS employees volunteer at an urban farm with Edible Garden City, a social enterprise supported by the DBS Foundation. Urban farming cultivates a greener and more inclusive environment that nourishes citizens' minds and health.

With the pandemic upending livelihoods and casting a spotlight on a wide range of social issues, the bank has recently set aside an additional S$100 million to further its efforts to improve lives in Asia. Beyond deepening DBS Foundation's efforts in supporting social enterprises under its existing "Business for Impact" chapter, this will also go into expanding DBS Foundation's scope through the formation of a "Community Impact" chapter. This looks to support communities by equipping them with essential skills for a better future, specifically financial and digital literacy skills. It also aims to tackle climate change with a focus on food waste reduction.


DBS Foundation champions social entrepreneurship

Towards Zero Food Waste (TZFW)
The "Towards Zero Food Waste" movement unifies all three sustainability pillars to address the growing food waste problem and build a more climate-resilient future. Since DBS started on this journey in 2020, it has been rallying employees, customers and members of the public to play a part in creating a more sustainable future. Through galvanising various internal and external stakeholders into action towards zero food waste, DBS has redistributed, reduced or recycled over 800,000 kg of food waste across Asia.


DBS saved 800,000 kg of food across six markets


DBS Adopt-A-Hawker Centre
As Singapore was battling the second and third waves of the Covid-19 pandemic, DBS launched a new and unique initiative. The DBS Adopt-A-Hawker Centre programme was started from an observed need on the ground to support hawkers who had been badly affected by the Covid-19 pandemic, having had to adapt to various changes that arose from safe measurement measures in 2020 and 2021.
The initiative onboarded the hawkers onto DBS' digital payment platform to enable them to be future-ready and improve customer access to these businesses. Hawkers could then be supported through sponsored group buys, supplemented by workshops on online marketing and digital payments. Meals from the sponsored group buys went to frontline workers at hospitals, polyclinics and vaccination centres. In other locations, the food was delivered to lower-income individuals or families.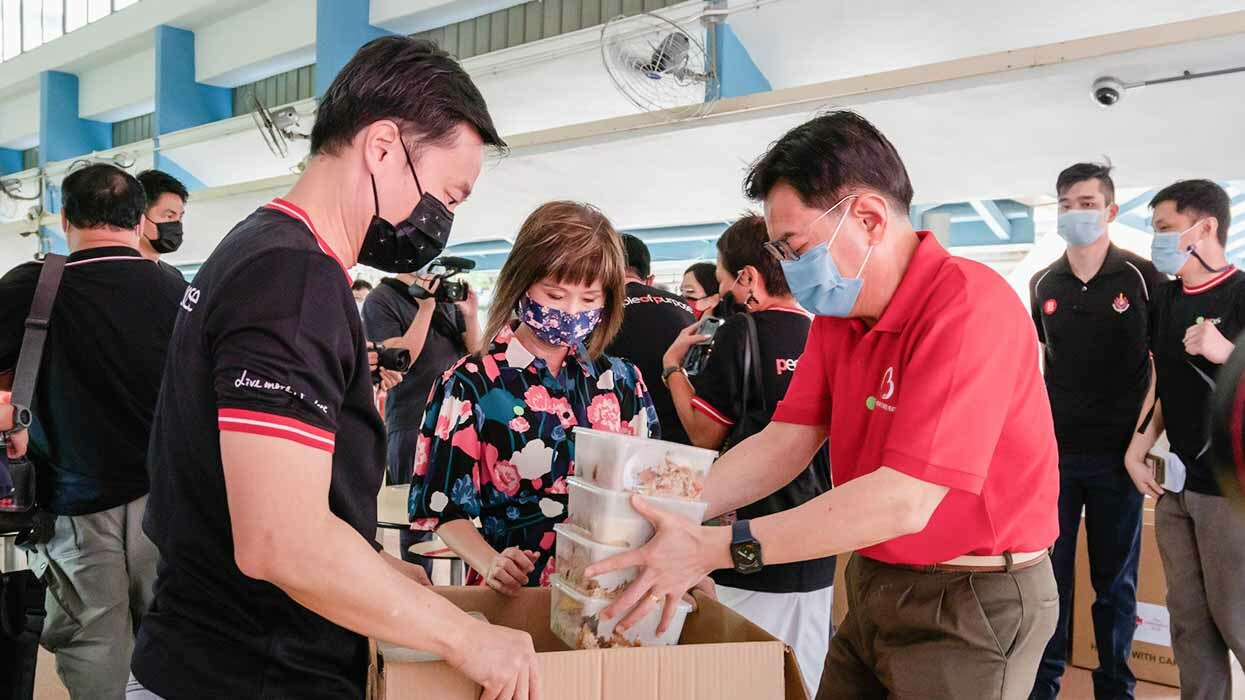 DBS Singapore Country Head Shee Tse Koon (left), Senior Minister of State for Sustainability and the Environment Amy Khor (middle), and Singapore Deputy Prime Minister Heng Swee Keat (right) participate in food distribution under DBS' Adopt-A-Hawker Centre initiative.

In partnership with the Infocomm Media Development Authority (IMDA), grassroots organisations and several hawker's associations, DBS "adopted" seven hawker centres and engaged over 400 DBS People of Purpose employees. More than 28,000 hawker meals were delivered to frontline workers and the community, with a projected contribution of over S$260,000 invested into the livelihoods of the Singapore hawkers.
People of Purpose (PoP)
DBS' PoP employee volunteer movement brings its values to life as the bank aims to inculcate a spirit of volunteerism in all employees. The commitment is instituted in providing two official volunteer leave days to each employee. DBS continues to undertake multiple service-based and skills-based volunteering activities that allow employees to leverage their time and skills to better connect with and make meaningful contributions to the communities they live and work in. Amid the pandemic, employees contributed more than 100,000 volunteering hours in 2021, a 75 per cent increase from 2020, demonstrating their commitment to serving the community through challenging times.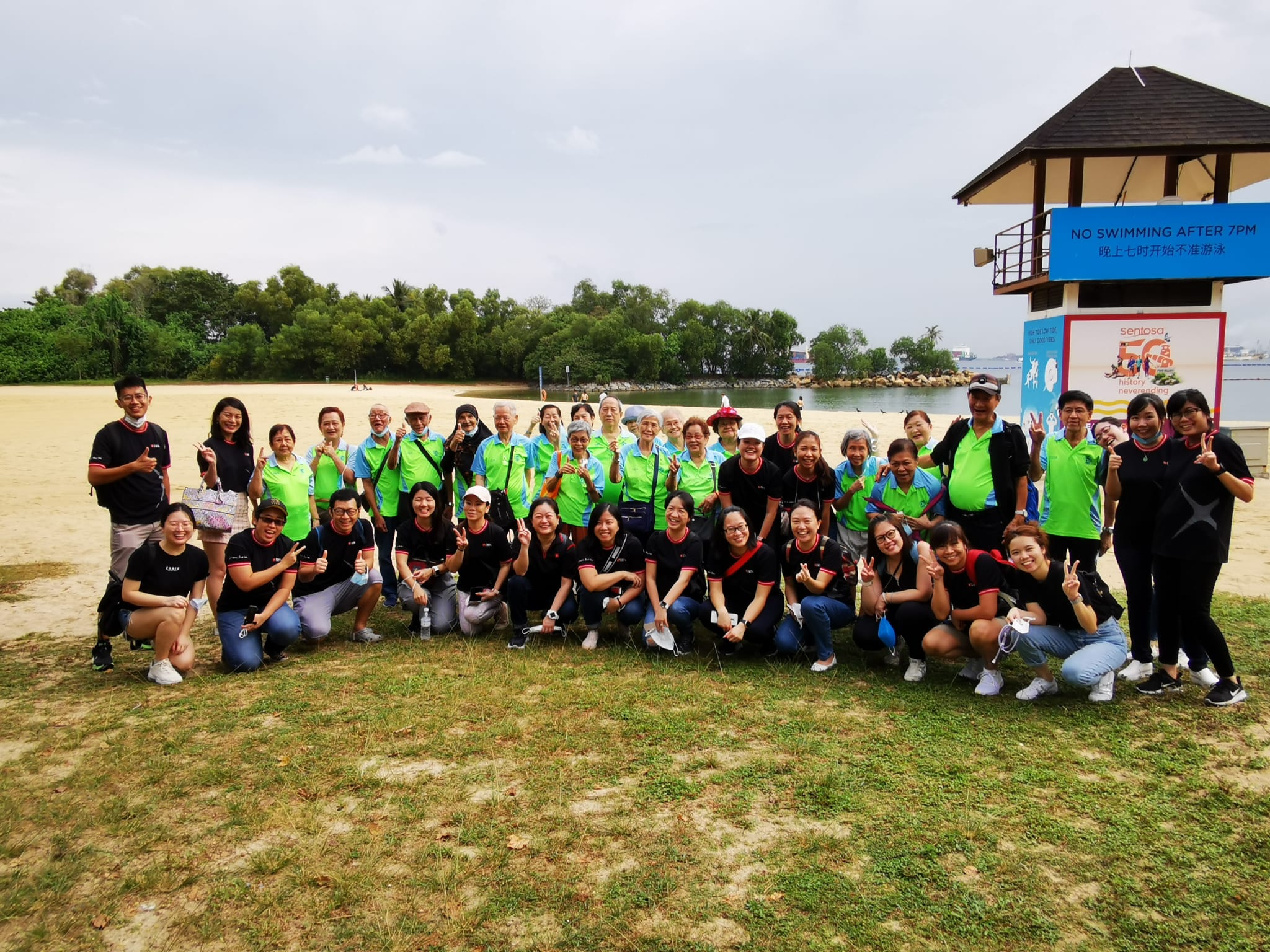 DBS volunteers organise a post-pandemic outing to Sentosa for the elderly

Fuelling growth with renewables, community art
Faber-Castell AG
Faber-Castell's production has been carbon-neutral since 2014, as over 900,000 tonnes of carbon dioxide are absorbed by its forests. Additionally, 85 per cent of the energy it uses globally is renewable energy. For example, since January 2020, Faber-Castell has sourced 100 per cent of its electricity needs from renewable resources for the production sites in Peru, Brazil, Austria and Germany. Solar projects are currently being implemented in Southeast Asian sites to further increase the proportion of the company's climate-friendly energy sources.
In the Asia-Pacific, since 2021, the company's Malaysian subsidiaries have operated using 100 per cent renewable electricity, achieved by installing solar panels and switching providers from fossil-powered suppliers to solar farms and hydroelectricity. This is in line with its targets to further reduce energy consumption by 55 per cent globally by 2029/30 and to be energy self-sufficient, as far as possible, by 2034/35.


Solar panels being installed in Faber-Castell Malaysia in 2021

As one of the pioneers of corporate ecological responsibility, Faber-Castell monitors and manages the carbon footprint in its group through an internal global initiative. It also continues to innovate and ensure that its products are manufactured sustainably. All the wood used for its products come from either its own forests in Brazil or sustainable sources certified by the Forest Stewardship Council or Programme for the Endorsement of Forest Certification.
The use of plastic waste and cutting single-use packaging
The company is also making an increasing number of products and packaging more sustainably by cutting plastic usage. New products developed prioritise cardboard packaging as the first choice, and existing packaging is being redesigned to use cardboard instead. By 2029/30, Faber-Castell aims to have a share of 55 per cent of alternative plastics in its products while reducing the proportion of new plastics in single-use packaging to less than five per cent.
Since 2022, the company has embarked on a project to use plastic waste collected from the ocean in Indonesia for its marker products. Faber-Castell also supports projects such as the Plastic Bank project, which combines social and environmental factors by offering to exchange plastic waste gathered on the coasts of Haiti, Indonesia and the Philippines for money or food.
Unleashing the potential of community art
Faber-Castell envisions unleashing creative potential and has actively promoted and encouraged art in the community. It believes that art is a universal expression and communication tool with additional benefits for children, such as building motor skills, creativity, problem-solving abilities and observation skills. To align its efforts to promote the arts and inspire creativity in local communities, it has been carrying out a variety of art competitions and activities for all ages in the Asia-Pacific.
Since 2002, in Indonesia, it has hosted a variety of art activities annually, involving teachers, schools, families and children in over 126 cities and districts. In the past 10 years, the company has held over 18,314 drawing competitions, reaching more than 6,302,762 Indonesian participants. These activities were also held at remote islands such as Tahuna, as Faber-Castell believes that children in all areas should have equal opportunity.
It has brought art activities to relieve the pain and fear of children in the areas struck by natural disasters, such as the Sinabung volcano in Sumatera, the earthquake in Palu, the Merapi volcano and many more.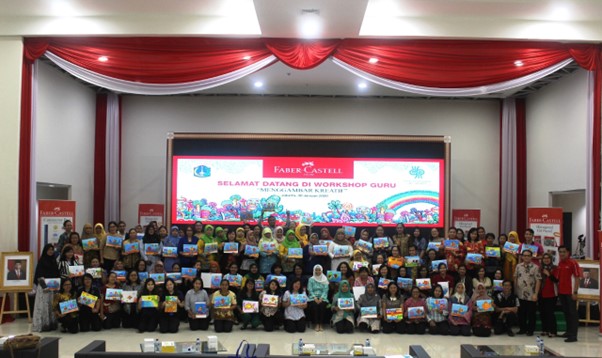 Teachers' art workshop in Jakarta, 2020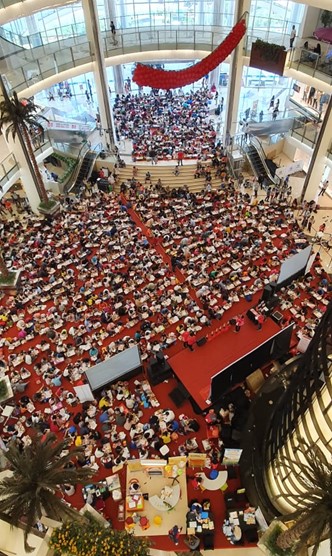 Family bonding art activities held in a shopping mall in Jakarta

Faber-Castell believes in empowering the next generation through art. To encourage continuity and to extend the provision of such art education in schools, it has emphasised training teachers to introduce creative art activities in classes by hosting over 588 teachers' art workshops across various cities and islands in Indonesia, involving to-date 61,016 teachers in Indonesia and up to 10,000 teachers annually. In China, it has built classrooms in rural primary schools to enable children to have art classes.
The company also organises activities to raise consumer awareness of sustainability and its importance to the environment. The theme of its 2021 Young Artists' Award, an annual colouring contest in Malaysia, was "Sustainability (Better World, Better Me)," with participants giving workshops and talks on environmental care for animals and sustainability. Faber-Castell Indonesia worked with the World Wildlife Fund to raise environmental awareness through art activities on "buy the good one."
Moving forward, Faber-Castell aims to continue its fundamental efforts and online platform in educating and empowering local communities with drawing, colouring and writing. It plans to expand its art activities to include the senior citizens and to assist in improving the quality of life for their golden age.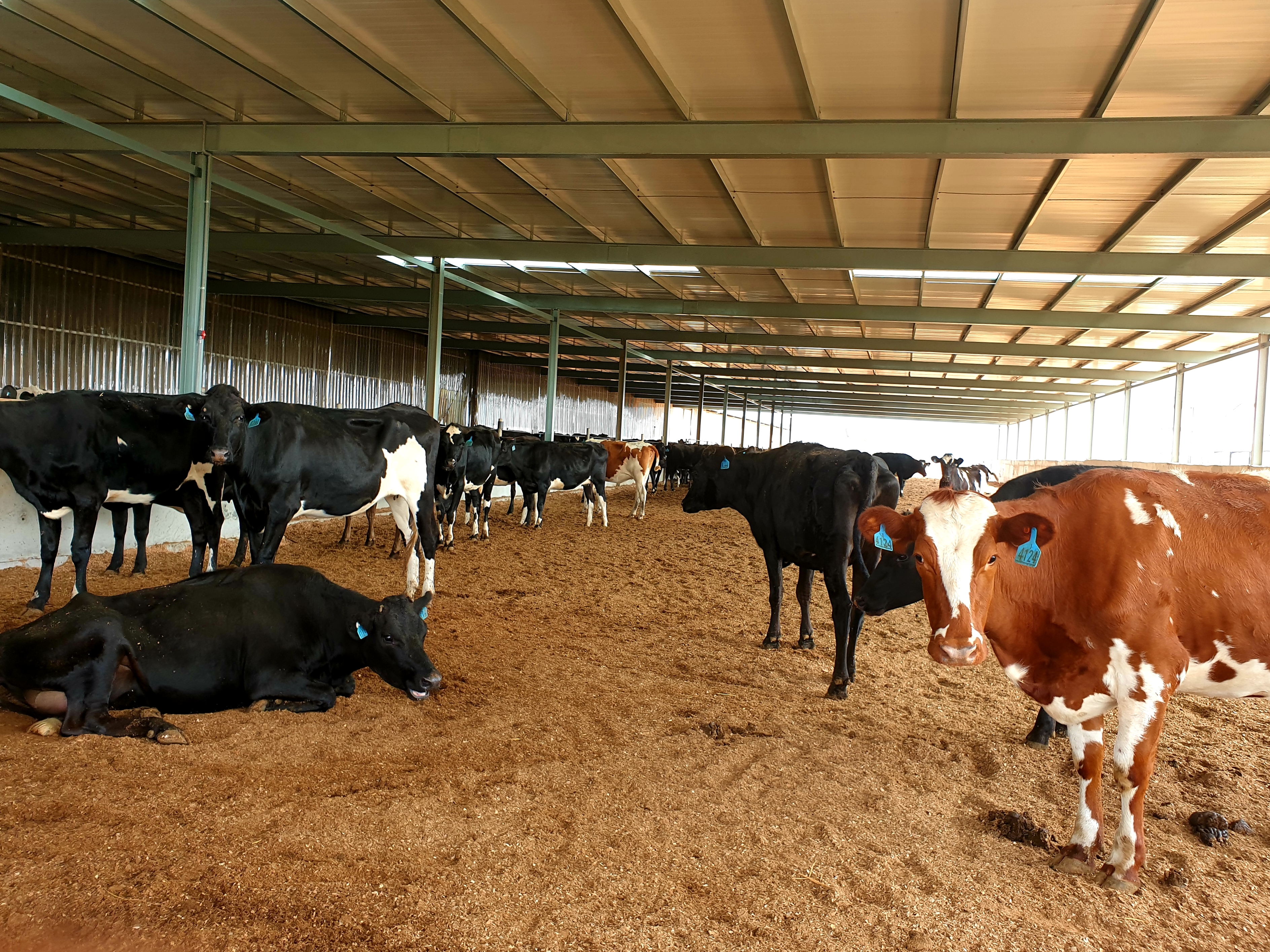 Producing dairy through sustainable farming
Farm Fresh Berhad
Farm Fresh farms in Malaysia are the first in Asia to receive the Certified Humane Raised and Handled® certification, certifying that the dairy products from the farm meet the precise and objective standards for the humane treatment of farm animals. All of Farm Fresh's processing facilities operate in accordance with the Hazard Analysis Critical Control Points control system and the Good Manufacturing Practices. The company continuously strives to create a safe environment for all cows as it believes happy cows produce the best milk.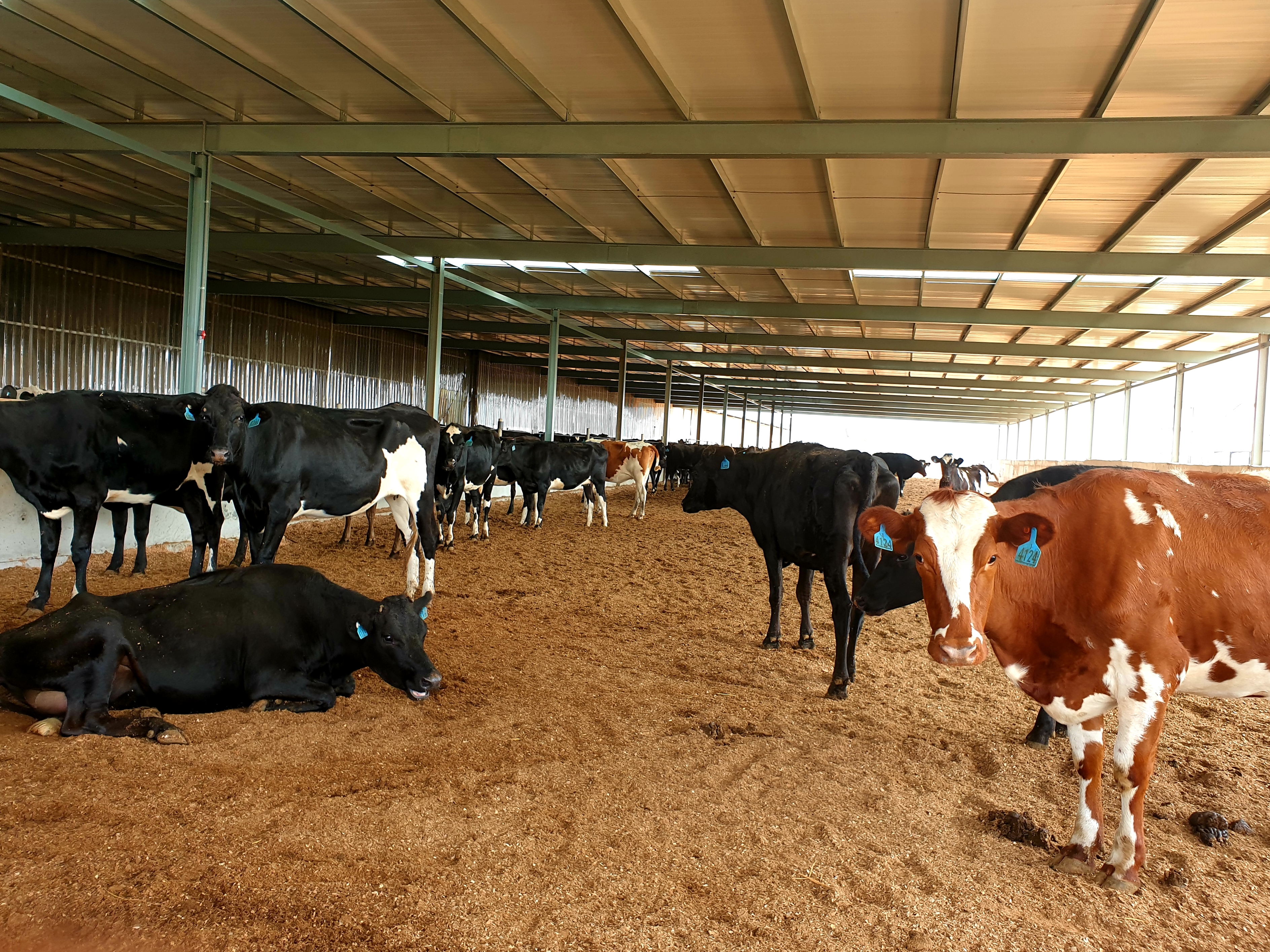 Compost barn at Farm Fresh farms

Home dealer programme
To cultivate long-term benefits for the local economy, Farm Fresh strives to build positive community impact in the upstream and downstream segments of the dairy industry. In 2016, Farm Fresh established its home dealer programme, a multi-channel distribution network that provides sustainable income for rural and sub-urban micro-entrepreneurs to become distributors. Home dealers are estimated to be able to earn RM700 to RM5,000 (US$142 to US$1,050) per household each month while also expanding Farm Fresh's network across Malaysia.
As of March 2022, the home dealer programme, which accounts for 30 per cent of the company's revenue in financial year (FY) 2022, encompasses 45 stockists spanning all the states in Malaysia. Additionally, as the network grows to more than 900 home dealers, who in turn manage 1,772 agents, the empowerment programmes have seen women make up 80 per cent of the micro-entrepreneurs' network base.
Educating youth
Farm Fresh takes an active role in the Malaysian government's supplementary food and nutrition campaigns, allowing the company to create interest, engagement and dialogue with children and youth regarding the importance of health and balanced nutrition. The company has been supplying 200 ml chocolate milk packets (ultra-high temperature processed) to primary school students from rural areas and low-income households as part of the Ministry of Education's Supplementary Food Programme.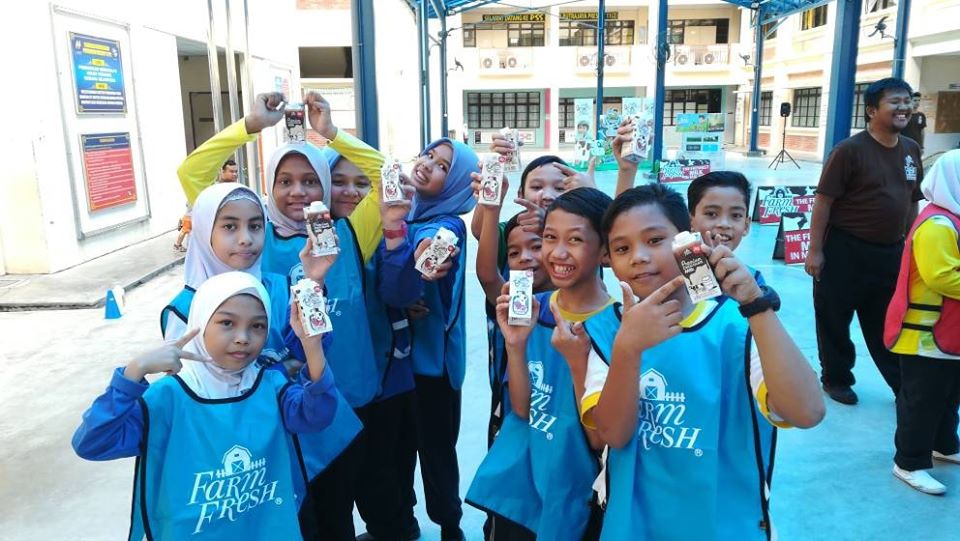 Students enjoying milk packets as part of the Ministry of Education's Supplementary Food Programme

Regenerative agriculture and water management
Farm Fresh's most significant environmental impact arises in its dairy farming operations and associated land use. The company has worked on improvements in various areas, particularly regenerative agriculture and water management, to combat an increase in carbon emissions and degradation of the environment. By implementing regenerative agriculture practices at its Muadzam Shah and UPM farms, the company has focused on the treatment of solid animal waste and liquid animal waste for reuse in operations. The company additionally uses vermiculture (earthworm farming) to recycle organic waste into bio-fertiliser to minimise the non-recyclable organic waste generated and maximise the use of natural resources. Treated solid waste is also utilised to form part of the mix for animal bedding, increasing herd comfort and health, and as organic fertiliser for the grass growing at both farms, which forms a major component of the feed provided to cows.
Through these practices, the company has diverted animal waste discharge from landfills and sewerage systems, indirectly reducing the amount of methane released into the environment through landfill decomposition and the use of chemicals to treat waste in sewerage systems. Consequently, Farm Fresh benefits from reduced reliance on external sources of water for operations and usage of chemical fertilisers, which are known to degrade soil health.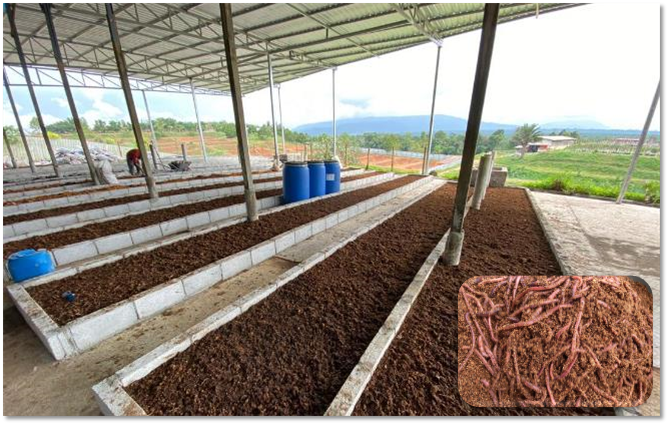 Vermiculture systems to recycle organic waste into bio-fertiliser

Farm Fresh has taken climate action even before its listing on the Main Board of Bursa Malaysia. The company has measured its greenhouse gas emissions using the Greenhouse Gas Protocol Agriculture Guidance. The total greenhouse gas emissions for 2020 were the equivalent of 47,400 metric tonnes of carbon dioxide, of which 67 per cent was from farms and 33 per cent was from manufacturing plants. The company targets to achieve 25 per cent of greenhouse gas emissions over the next five years, with measures such as rooftop solar photovoltaic (PV) projects and biogas plants. Presently, the company has completed the installation of rooftop solar PV at the Larkin and Muadzam Shah facilities plants with a total capacity of 1.7 MWp and has just inked an agreement to have a biogas plant in the Muadzam Shah farm.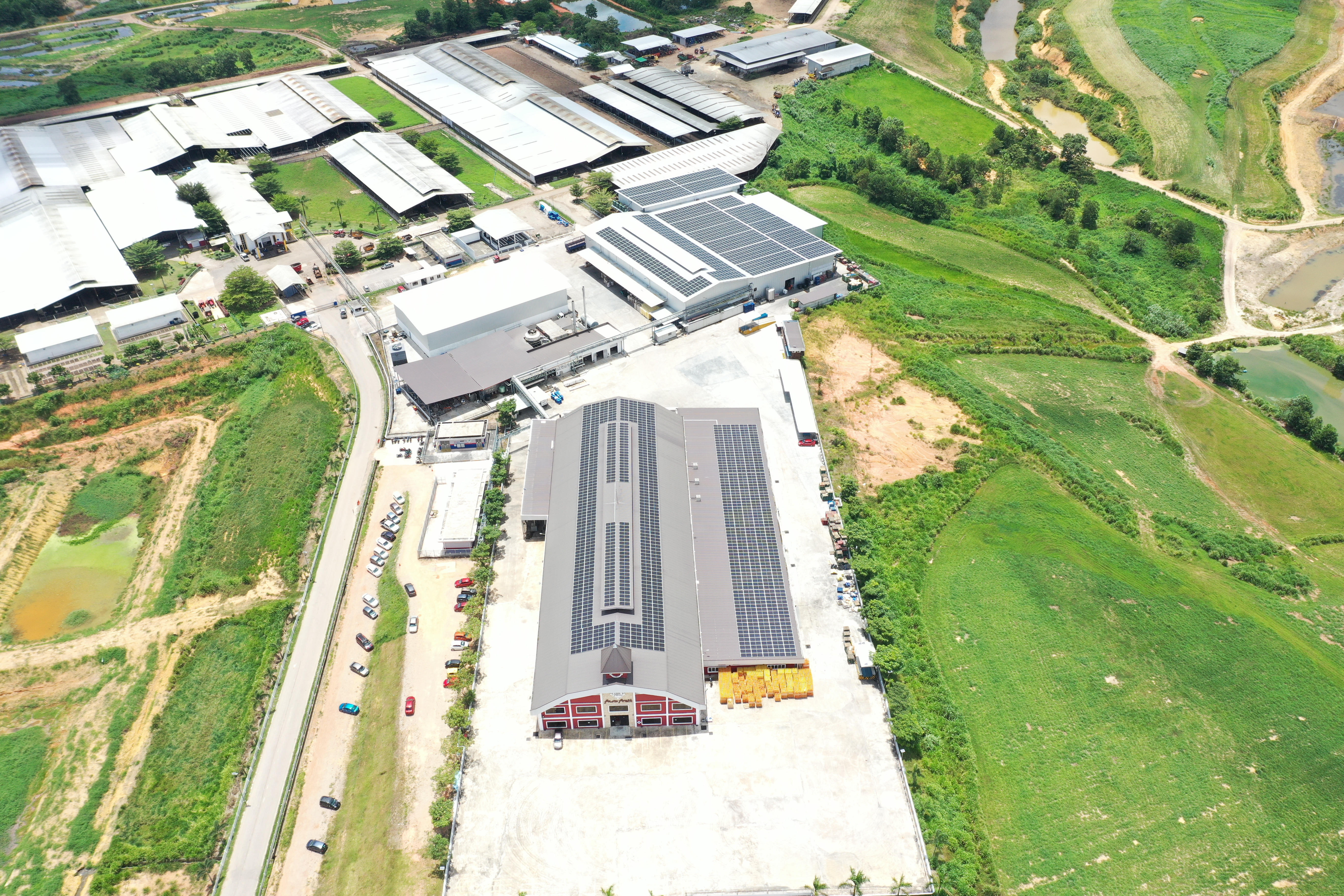 Rooftop solar panel developments at Farm Fresh processing facilities

Regarding ongoing sustainability efforts, Farm Fresh has committed to supporting the responsible management of the world's forests through its packaging. In FY2022, 28 per cent of Farm Fresh's revenue came from products that use fully recyclable and Forest Stewardship Council (FSC®) certified packaging. All paper boards used in suppliers' packaging must therefore come from FSC®-certified and other controlled sources. Through these combined practices, the company is continuously investing in sustainable farming practices that will integrate business and sustainability in ways that nourish the environment, empower local micro-entrepreneurs and employees, and promote positive nutritional habits for future generations.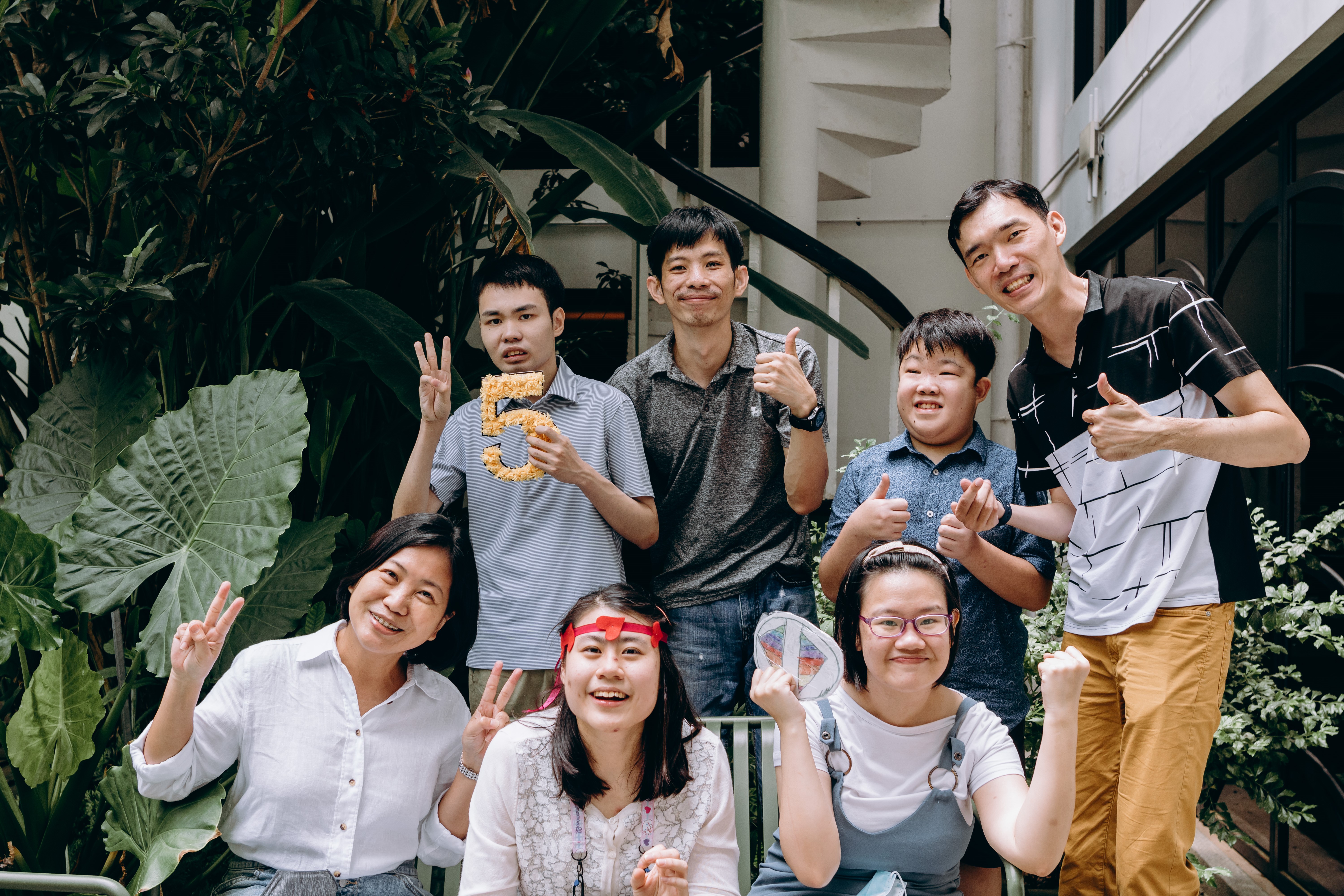 A work-integration model for social inclusion
Foreword Coffee Pte. Ltd.
Foreword Coffee Roasters exists to fill the employment and engagement gap for persons with disabilities (PWDs) upon graduation from special education schools. Specifically, the firm caters to PWDs who do not qualify for open employment due to their support needs, but who are also excluded from many support services because they perform above the minimum level required to qualify for sheltered workshops. Foreword provides training and employment opportunities for those with special needs, disabilities and mental health conditions, giving them a safer and longer runway to acquire workplace and social skills.
Unique stakeholder-centric engagement
While the social enterprise work-integration model is not new, Foreword's stakeholder engagement model is unique. It operates in an interdependent system of stakeholders involving partners, the community and the company's committed leadership.


Foreword's engagement model

An inclusive workplace culture is built through the practice of Foreword's six company values: Improving the self, Meaningful engagement, Person-centred, Action-oriented, Courage to try, and Trusted relationships. These values spell "IMPACT." By placing its people at the core of everything the organisation does, Foreword creates functional teams from individuals with diverse needs and strengths.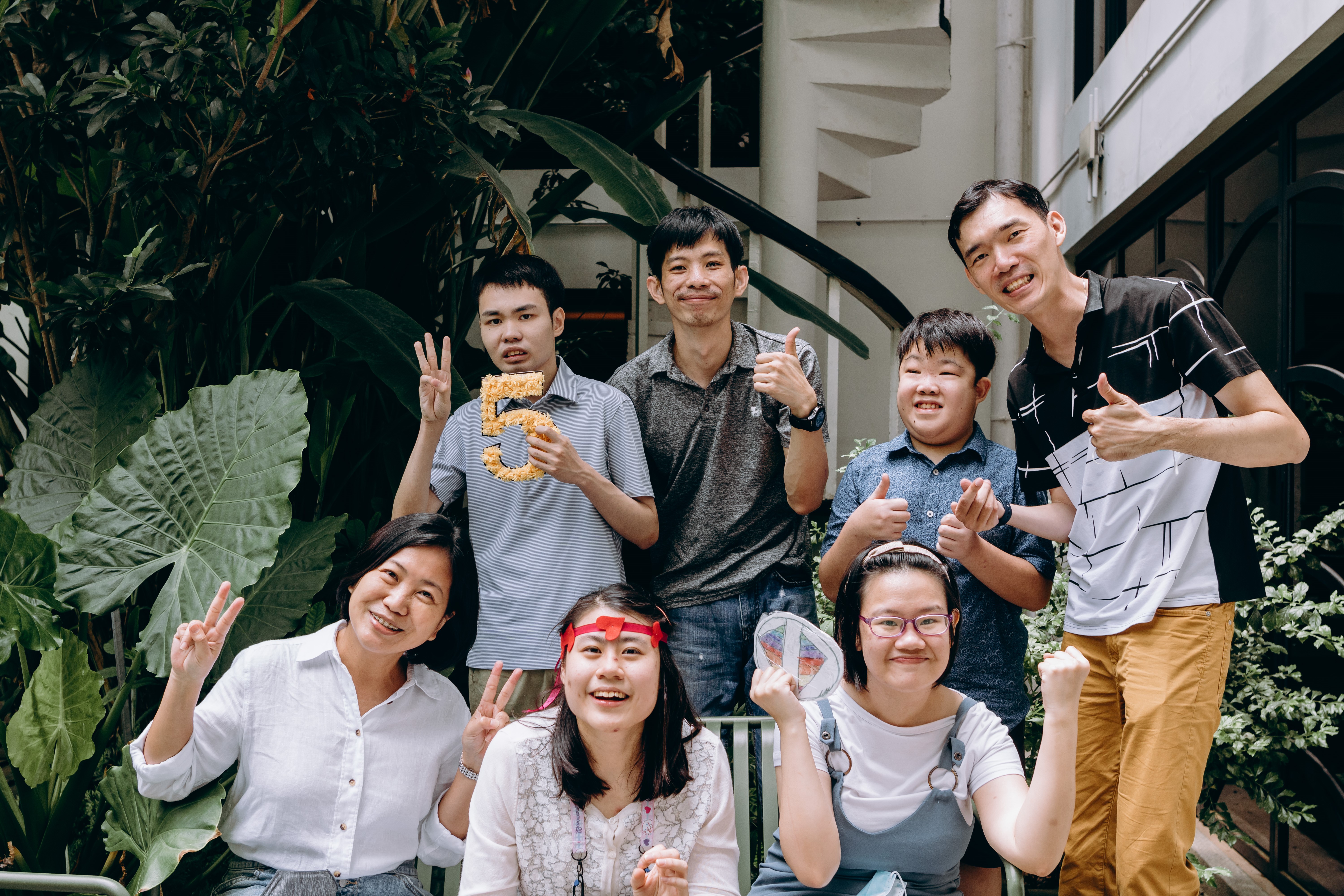 Foreword's fifth anniversary get-together for its employees and family members, held at Temasek Shophouse

Partnerships are Foreword's main revenue source, where organisations engage its services and purchase its products. This includes the spaces where Foreword operates its cafes, supported by landlords who stand with its social cause. Through such partnerships, Foreword brings greater visibility to PWDs.
Community support is the "heart work" of Foreword in developing its employees. The successful placement of an employee often requires a family member, a job coach, a case worker, other nurturing agents such as former teachers who continue to support the employees, or a combination of them.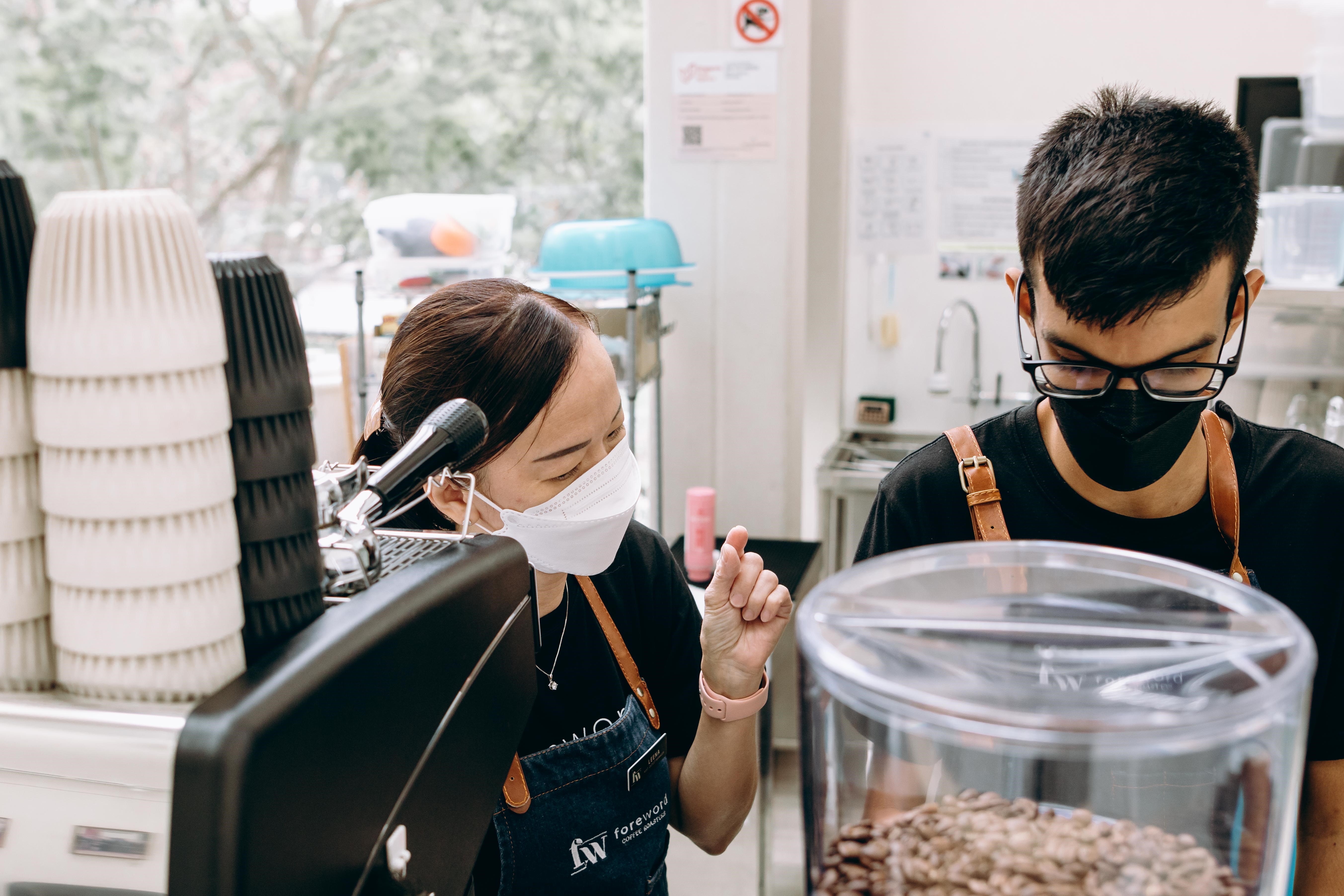 Cafe Manager, Leena, at the Yong Siew Toh Conservatory of Music outlet, guiding a new cafe staff on operating the coffee grinder. Although Leena is deaf, she has been a reliable and trustworthy leader within the organisation who has trained many employees with special needs.

Committed leadership steers the company's growth while balancing profit and purpose. As a certified B Corporation, Foreword's mission is protected in its constitution, ensuring it practises stakeholder governance even with leadership changes. B Corporation certification is a designation that an organisation met high standards of accountability and transparency on factors of employee benefits and charitable giving. The growth of Foreword depends on the growth of its people, and its leadership team places great emphasis on people development.
Achieving a sustainable social business model
As Foreword emerges from the business pressure due to Covid-19, the goal in the next two years is to achieve sustainability in its social business model. In other words, Foreword endeavours to achieve sustained profitability while growing its social impact.
In its Enabling Masterplan 2030, Singapore has set a target to increase the employment rate of PWDs from 30 per cent to 40 per cent by 2030. This is equivalent to 10,000 PWDs entering the workforce. This can only be achieved through a concerted effort with the private and public sectors and the public.
Social inclusion for those with disabilities and mental health needs is a complex issue that will grow in importance over the years. Although Foreword is currently in the food services industry, its future trajectory is not limited to this line of work. While Foreword stays focused on its mission, it recognises that collaboration is key and hopes to see more actors joining the movement towards a more inclusive society.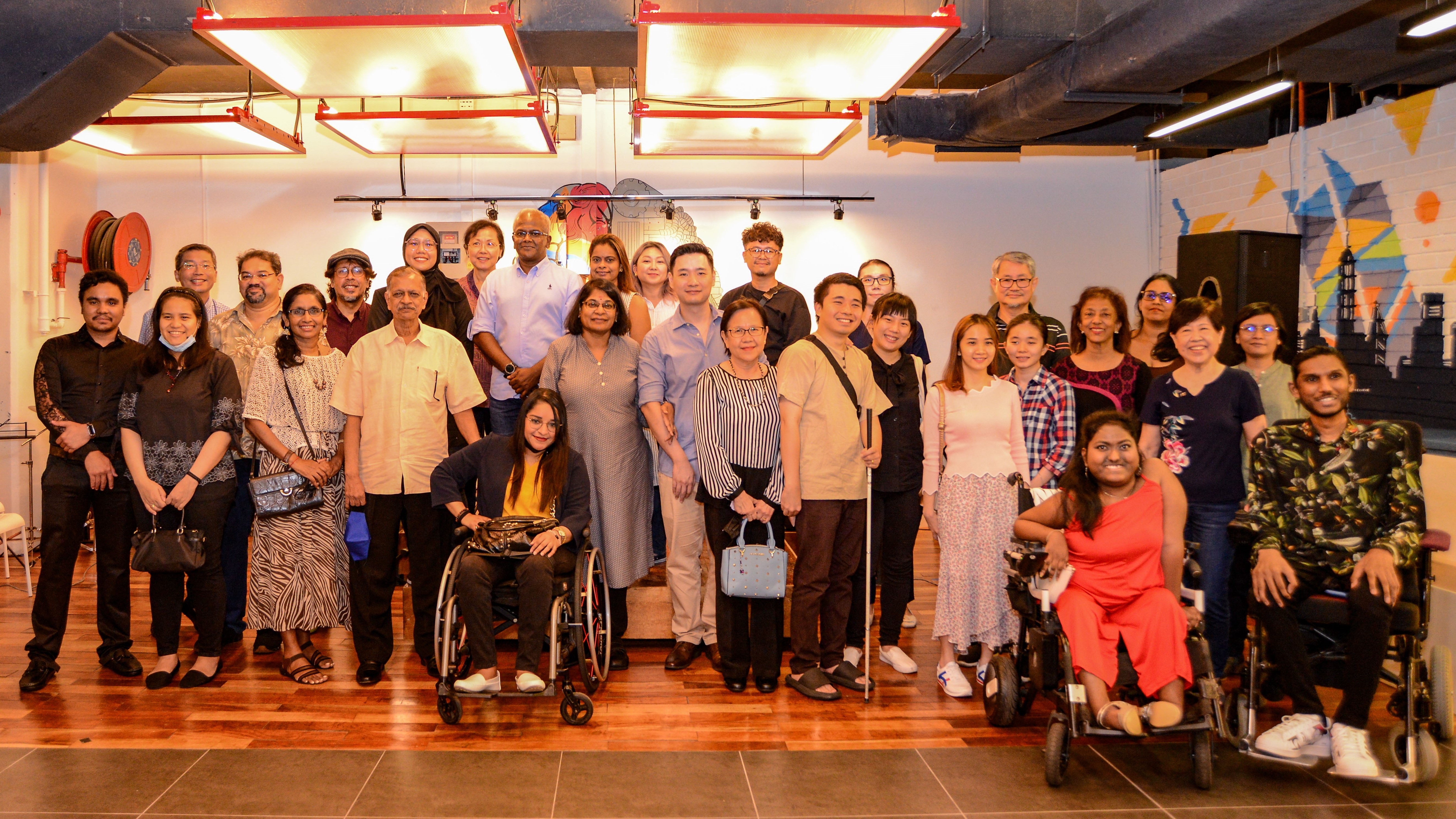 Providing work opportunities for disadvantaged groups
Genashtim Pte. Ltd.
The story of Genashtim, a global social enterprise, began with its founder and CEO Thomas Ng, who decided to support the people sidelined by the global labour market. In 2004, he left the corporate world after spending 25 years in senior leadership positions in Europe, Asia and Australia with multinational corporations such as ASEA Brown Boveri and Rexam PLC. In creating a workplace that is inclusive and accessible for those with disabilities, Mr Ng and the founding team had to develop a 100 per cent virtual company with a cloud‐based operation, focusing on e-learning. It is providential that Genashtim's challenges in accommodating its diverse workforce had driven it to become pioneers in remote work, digitalisation and e‐learning, which fuelled the business' exponential growth through the Covid‐19 years.
Connecting disadvantaged groups to the global economy
Genashtim aims to leverage technology and the internet to develop and connect disadvantaged groups to the global economy. Its goal is to provide sustainable, meaningful and gainful employment for disadvantaged groups, which include persons with disabilities (PWDs), refugees, senior citizens and women in oppressed environments.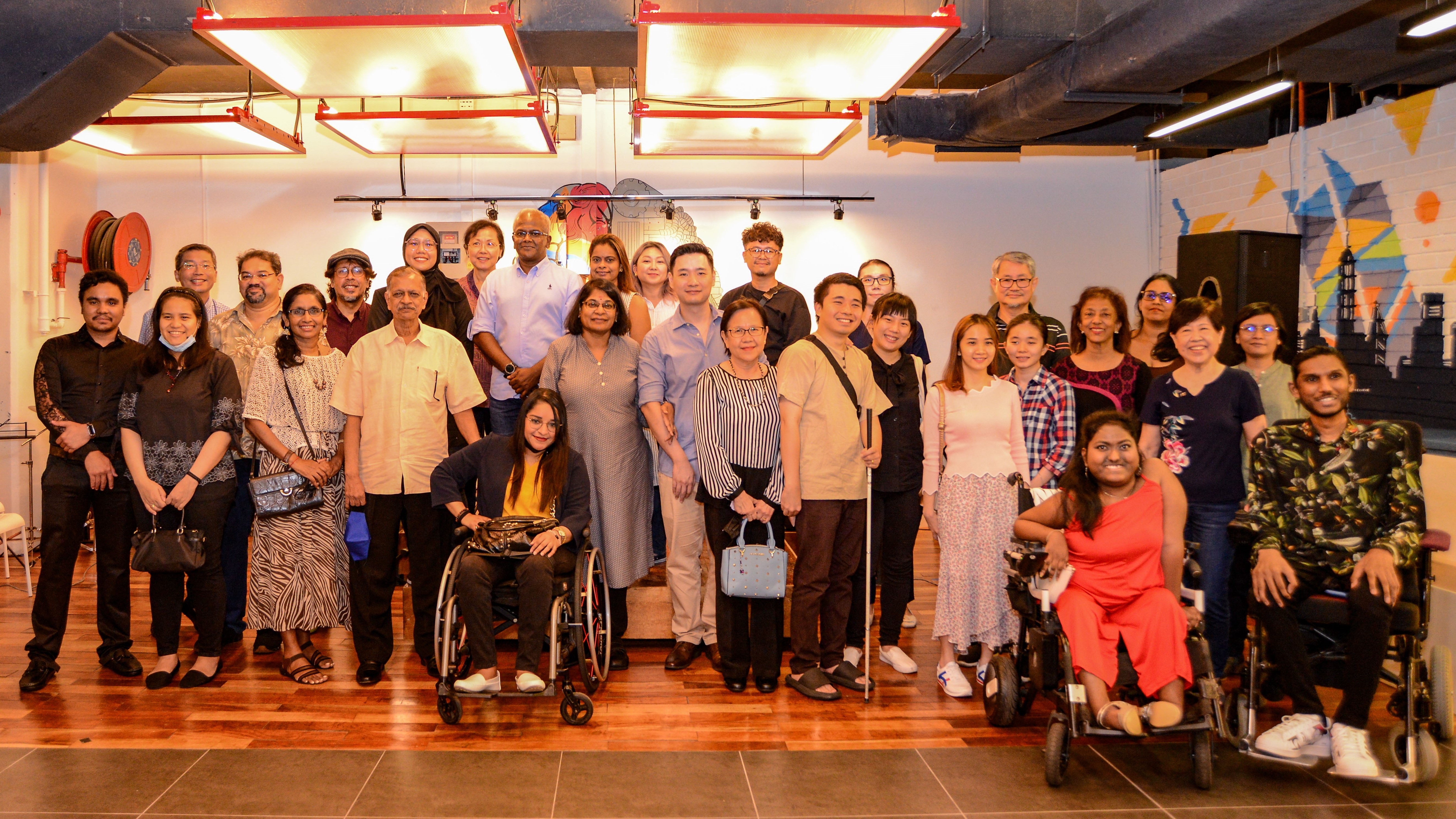 Genashtim's diverse workforce consists of PWDs, retirees and other disadvantaged groups



The company's primary guiding principles are based on the United Nations Sustainable Development Goals (SDGs) – SDG 8: Decent Work and Economic Growth, SDG 10: Reduced Inequalities, and SDG 13: Climate Action.
SDG 8: Decent Work and Economic Growth
Genashtim's purpose is to promote inclusive and sustainable economic growth, full and productive employment, and decent work for all, especially for disadvantaged groups. Today, 62 per cent of its workforce is made up of people from disadvantaged backgrounds. Some have worked for over 10 years and have been elevated to senior positions. Employees are renumerated with competitive salaries.
Genashtim also shared a third of its profits with employees as a reward for their contribution to the company in 2021.
SDG 10: Reduced Inequalities
Genashtim constantly finds ways for all its employees to have a great corporate career. The 100 per cent virtual operation is implemented for this purpose, where everyone can perform equally well regardless of background.
SDG 13: Climate Action
The virtual operating model enables Genashtim's diverse team to work from home and significantly reduce carbon emissions. Based on the EcoAct's Home Emissions White Paper, Genashtim has a carbon‐negative reading of ‐639.44 kg of carbon dioxide annually from its 135 employees worldwide.
In 2021, the organisation offset approximately 16.8 tonnes of carbon released from its operations. They offset an additional 639 kg of carbon using solar panels and through employees planting mature trees within their properties.
Persevering in the face of perennial discrimination
Globally, unemployment among PWDs, refugees and marginalised communities is not new. While these communities can potentially contribute between 3 and 7 per cent of the global gross domestic product, discrimination persists due to the complexity of the issue and the various challenges involved.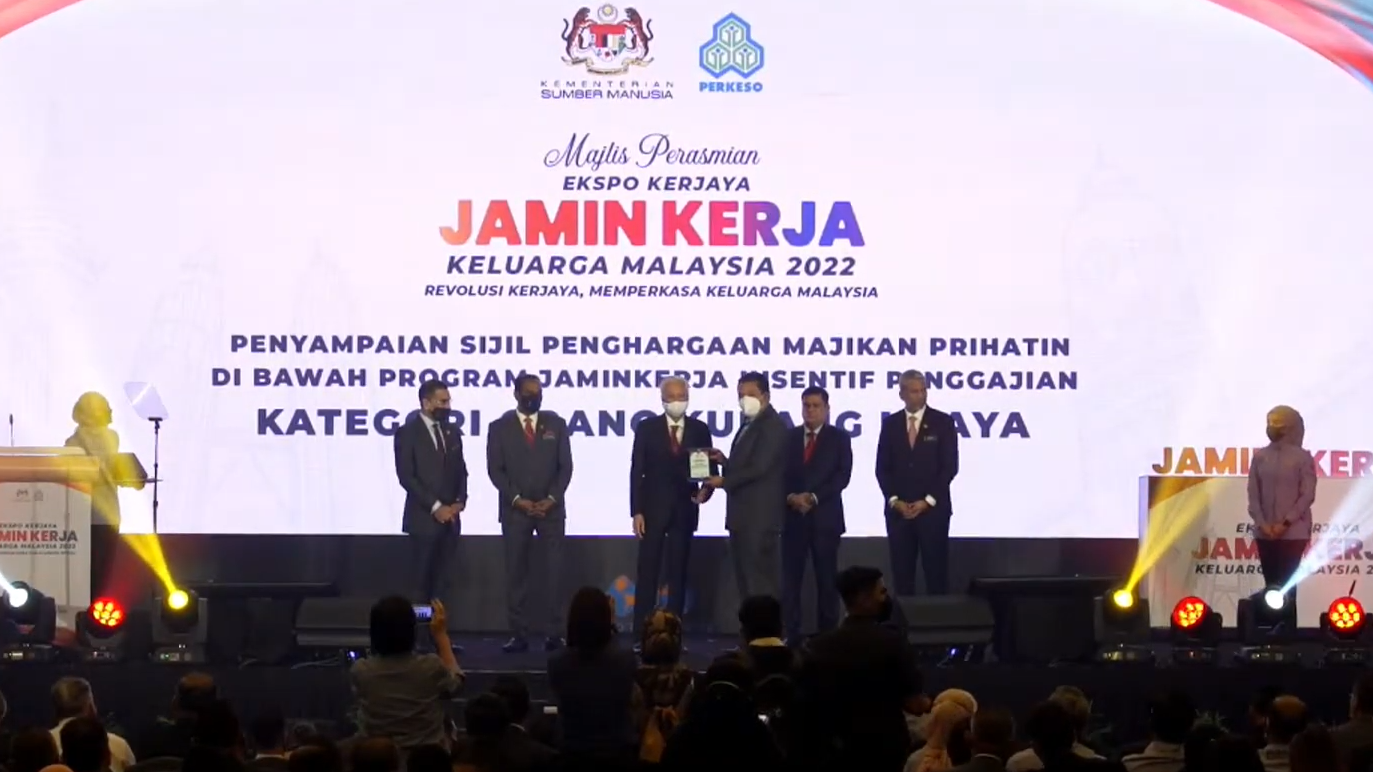 Genashtim was honoured with the "Caring Employer Award" under the PWD category at Malaysia's career expo organised by the Social Security Organisation (PERKESO)



Over the past three years, Genashtim has grown significantly, tripling its revenue between 2019 and 2022. Its impact has also increased, with the team growing from 71 in March 2019 to 102 in March 2022. In 2019, about 80 per cent of the employees were PWDs. Genashtim's workforce has also extended to Middle Eastern refugees and other disadvantaged communities such as seniors and women from oppressed environments.
Committed to its goal of providing gainful, meaningful and sustainable jobs to disadvantaged groups, Genashtim also offers opportunities to upskill its staff through year‐round training and workshops.
Creating the ripple effect
While Genashtim continues to commit to its vision and values, its impact is limited by its resources. To encourage other organisations to replicate Genashtim's social impact on a larger scale, Genashtim launched the virtual job‐matching portal JEDI Jobs in 2021.
By leveraging the international currency exchange rate, talents in developing countries will be able to secure jobs with better salaries and enjoy a better quality of living through JEDI Jobs.
JEDI stands for Justice, Equity, Diversity and Inclusion – the key principles in hiring with the right intention. Besides providing job matching services for the virtual workforce, Genashtim offers training services to help prepare job seekers perform virtually via a training programme that Genashtim has been developing for its staff for the past ten years. To date, there have been about 2,000 job seekers from diverse backgrounds on the portal.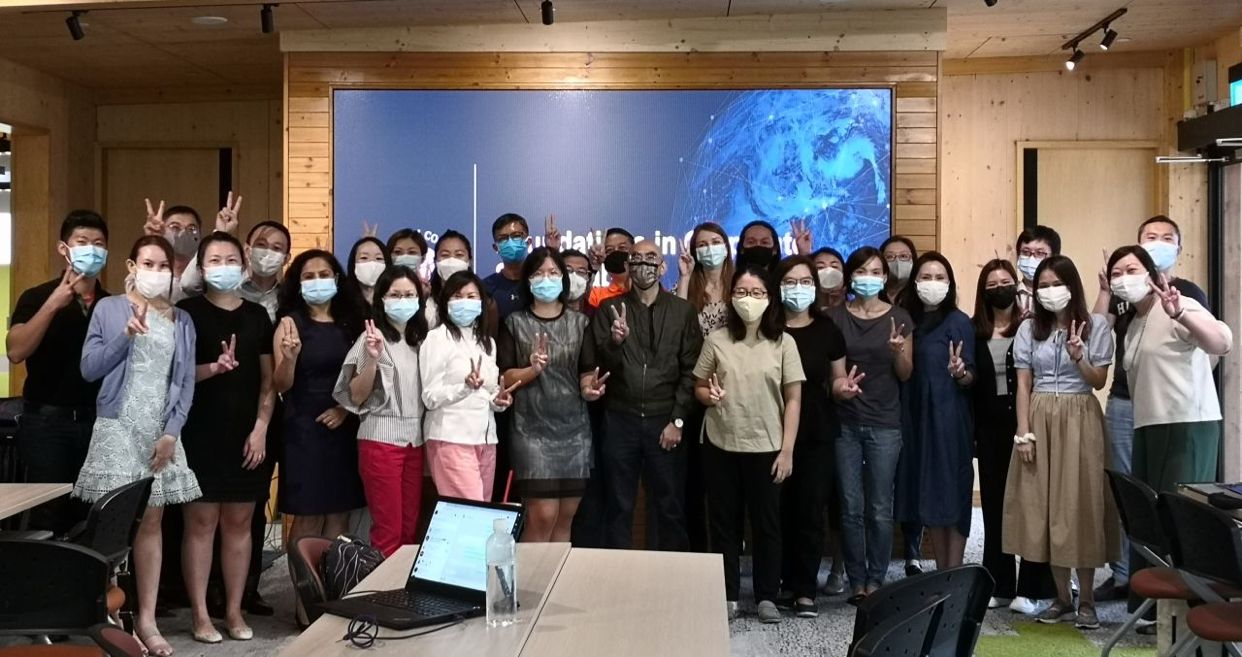 Scaling sustainable impact through ecosystem management
GUAVA Amenities
GUAVA Amenities helps global hospitality chains, airlines and cruise liners improve profits by embracing sustainability at scale. The hospitality and tourism industry generated US$9.2 trillion in 2019, accounting for more than 10 per cent of the global gross domestic product, making it a critical component of the global economy. However, a 200-room hotel can generate some 300,000 pieces of single-use plastic monthly. This global crisis certainly requires a global solution. Since 2015, GUAVA has been developing a suite of sustainable solutions to address this, guided by the four stewardship values of interdependence, long-term view, ownership mentality and creative resilience.
Embracing sustainability at scale
GUAVA's clients have expressed that the key challenge in implementing scalable sustainability efforts is about ensuring local affordability. Systemic and extensive collaboration across the ecosystem is necessary. Therefore, GUAVA pioneered an ecosystem business model that decentralises production, and GUAVA directly distributes products to its clients without intermediaries. GUAVA views itself as an orchestrator of global resources, working alongside strategic partners in its ecosystem to rapidly reconfigure and develop solutions to meet the ever-changing market dynamics.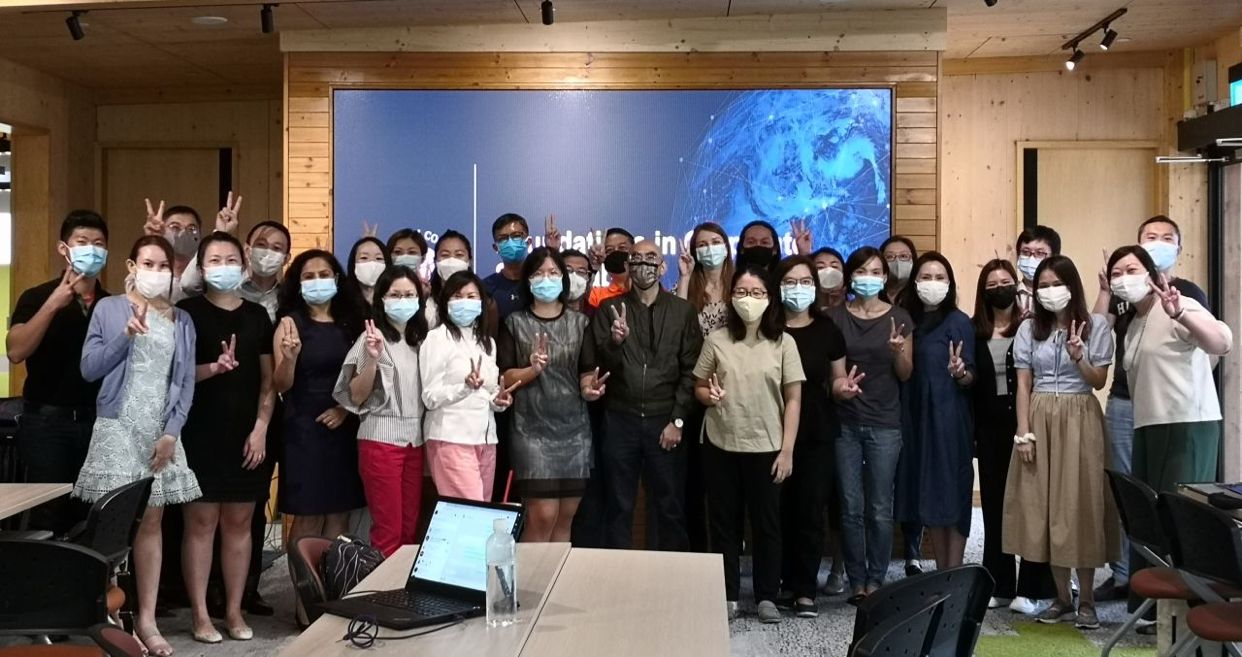 GUAVA employees at the Foundations in Corporate Sustainability course organised by the United Nations Global Compact Singapore

By decentralising the manufacturing process, GUAVA creates a more resilient supply chain for its clients. The company helps its clients source products from cost-competitive locations in-country or in-territory. This helps organisations reduce carbon emissions while creating local jobs. GUAVA's partnerships with non-profit organisations also benefit local communities and the environment.
Distributing directly to its clients has helped GUAVA put in place a programme that reduces waste. GUAVA's solutions were developed to minimise waste and carbon emissions. These solutions also helped clients reduce their costs by more than 20 per cent. GUAVA's packaging solutions reduce waste volume by 99 per cent and carbon emissions by 50 per cent compared to conventional packaging options.
Supporting stakeholders through Covid-19 and the post-pandemic world
During the pandemic, the bulk of its business collapsed overnight as borders were closed and travel was halted. GUAVA adapted to its clients' changing needs. It expanded its production to include healthcare supplies such as masks, hand sanitisers and other personal protective equipment, as well as food and beverage consumables, including cutlery and disposable containers. These two new business verticals are now integrated into GUAVA's business, enabling it to gain new customer segments and reducing its reliance on hospitality and travel.
GUAVA also supported its suppliers during falling demand by streamlining product varieties. GUAVA's suppliers were thus able to optimise their production and better manage their costs.
Together with its partners, GUAVA is working towards its 2030 goals: 50 per cent carbon emission reduction at manufacturing sites, 90 per cent plastics reduction through design innovation and material substitution, and 50 per cent waste reduction per property served through product innovation and packaging optimisation.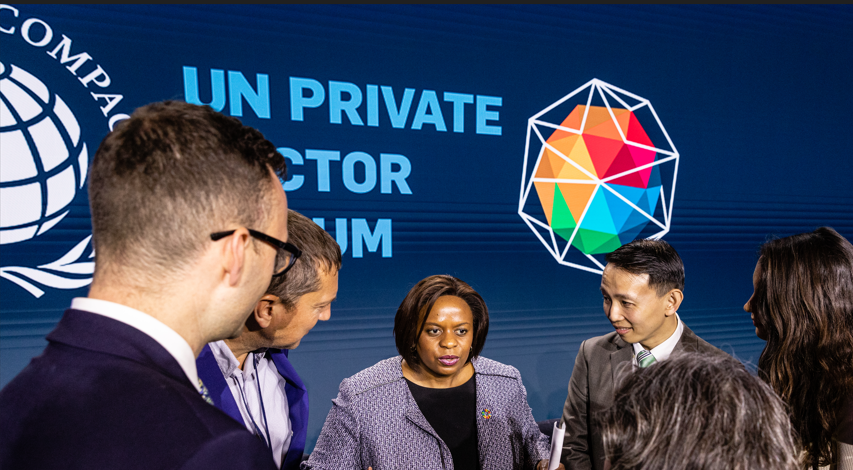 Mr Gabriel Tan, CEO of GUAVA Amenities, with Ms Sanda Ojiambo, Assistant Secretary-General of the United Nations Global Compact, and other SDG Pioneer awardees at the UN General Assembly

As travel resumes, GUAVA is scaling up its offerings globally and developing innovations that would accelerate the rate at which its sustainable solutions are adopted.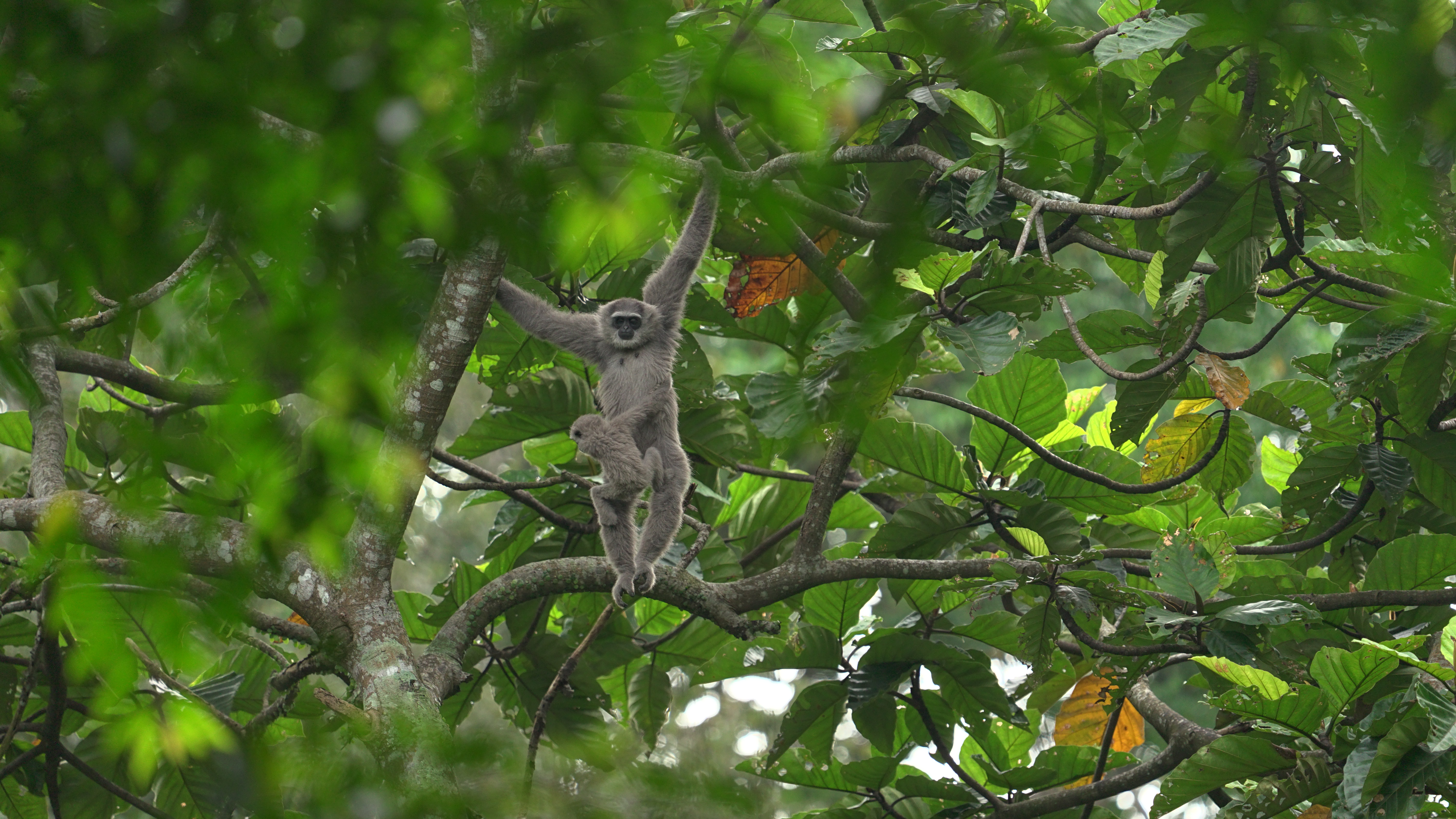 Protecting Java's coffee and primate landscape
Mandai Wildlife Group
Mandai Wildlife Group strongly believes in the concept of "One Health" – that the health of humans, animals and the environment are linked and dependent on one another. The Group's support for the Coffee and Primate Conservation Project (CPCP), through its conservation arm Mandai Nature, showcases its longstanding commitment to its vision of sustainable populations of wildlife and human communities thriving in functioning ecosystems. Based in Java, Indonesia, the CPCP programme is set up by SwaraOwa, a non‐governmental organisation that focuses on conservation work for Indonesian primates. Mandai Wildlife Group and Mandai Nature are amongst other conservation organisations that provide funding to the project.
Fewer than 4,500 Javan gibbons are estimated to remain in Java, ranging from West Java to the Dieng Mountains in Central Java. Initially, the Group surveyed the eastern‐most population of this species to understand its conservation needs there. However, when its project partner identified habitat loss caused by coffee plantations as a threat to the species, the Group expanded its scope of support. The project team worked with villagers to promote wildlife‐friendly coffee as the norm in the landscape.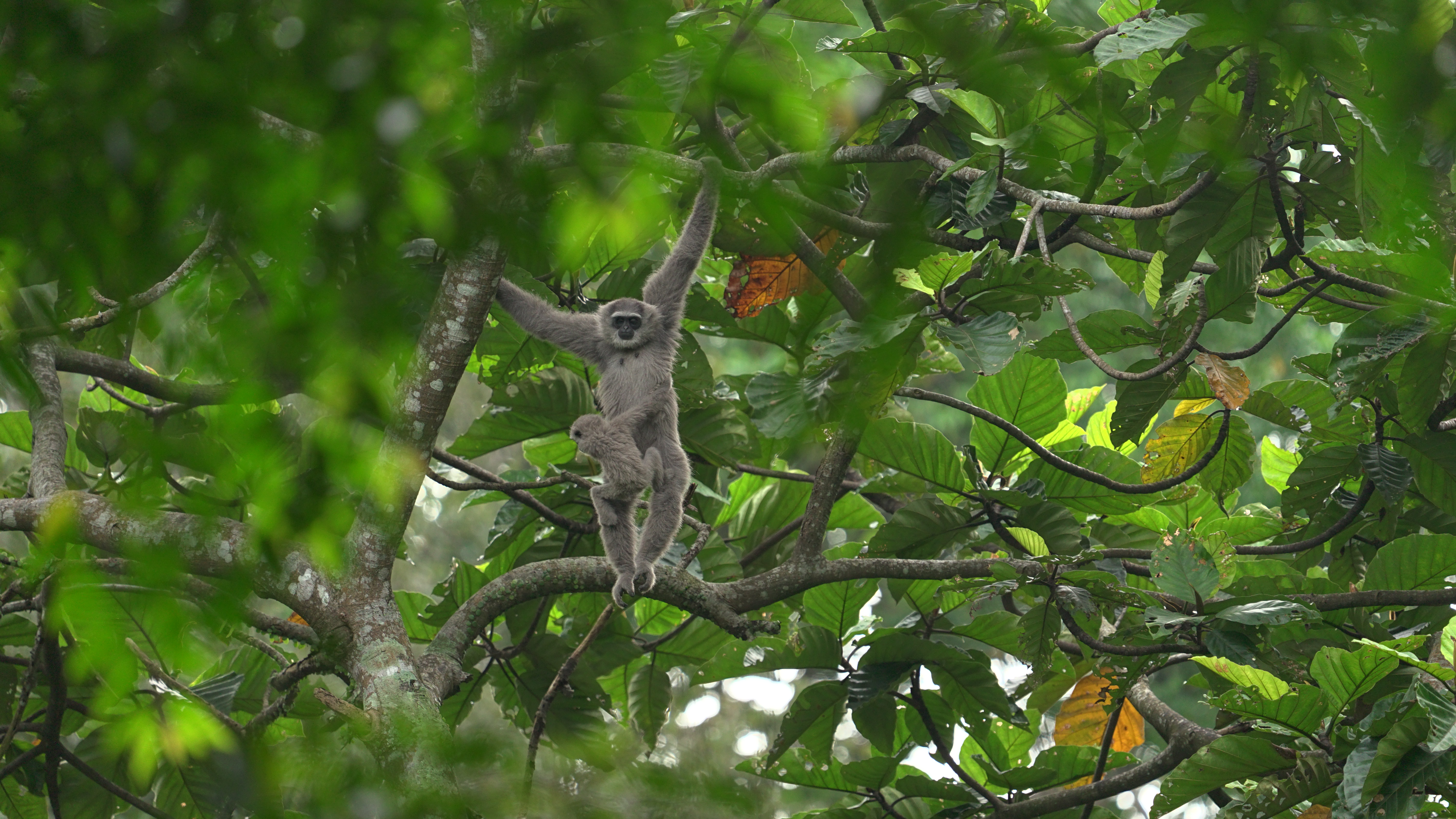 A silvery baby gibbon with an adult. Photo credit: SwaraOra

Coffee cultivation typically requires land clearing, intensifying the threats faced by the forest inhabitants. Growing shade coffee instead of clearing the forest for other coffee cultivation helps protect gibbons and other animals that inhabit the area. Shade‐grown coffee is a crop produced from coffee plants grown under trees.
Protecting the rainforest also creates a wildlife corridor for animals to roam across the coffee‐growing areas and eventually encourages more animals to return to the area and repopulate. Therefore, a key part of the project looks at protecting the endangered Javan gibbon around the Dieng Mountain in Central Java with a novel method – by engaging villagers to grow shade coffee under the forest canopy.
Owa Coffee
The Group's support for CPCP facilitated the creation of Owa coffee, growing two types of beans, Robusta and Arabica, under the canopies of the natural rainforest and, in some cases, as part of other agroforestry plantations. More importantly, due to the engagement and increased understanding of the landscape, the farmers in the area now advocate for the conservation of forest habitats and the protection of the Javan gibbon. By involving villagers in their field‐based conservation efforts and ensuring that coffee is sustainably harvested, CPCP has shown them that doing good can provide a reliable source of income while fostering conservation support for the gibbons.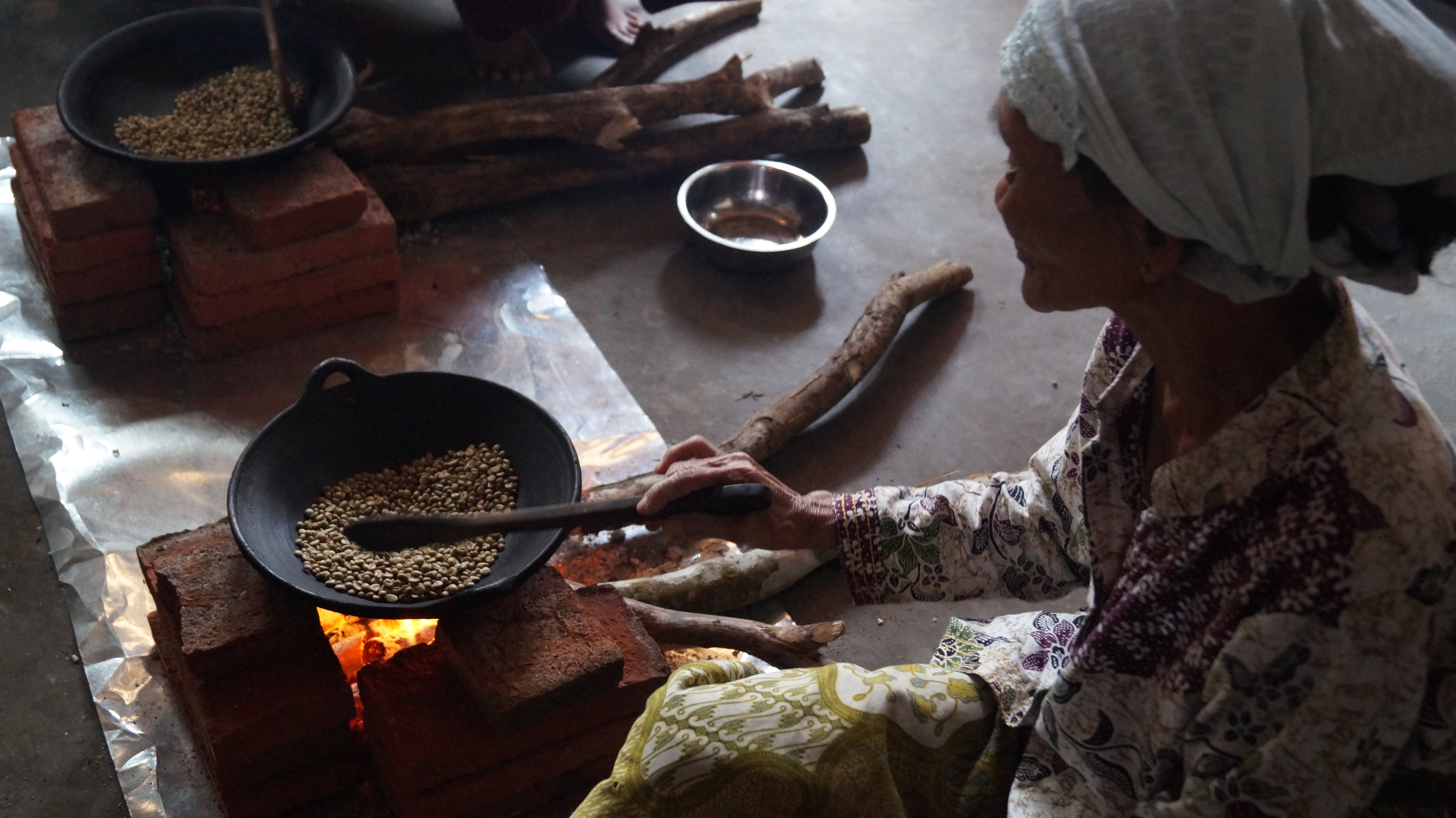 Local villager roasting the Owa coffee. Photo credit: SwaraOwa

The success of Owa coffee has helped initiate discussions amongst other villages on sustainable coffee and other agro‐forest friendly farming projects, such as honey and palm sugar. CPCP then spearheaded these projects and continued to grow with the local communities. This included the development of the stingless honey beekeeping project in Sokokembang and Mendolo, which produced about 30 to 35 kg of honey ready for sale at local markets and online marketplaces.
The Group has helped CPCP share the techniques on how shade coffee can be harvested and processed in an efficient and economically viable manner with villagers in the Pekalongan regency. The Group's support has also enabled the first‐ever collaborative forum to be held in Petungkriyono forest where stakeholders were invited to the field to plant 1,300 trees in Tlogohendro village.
Between March 2019 and March 2022, the Group's support of CPCP enabled a variety of initiatives. Their impact included the enhancement of forest protection Petungkriyono forest by providing legal recognition as an Essential Ecosystem Area (EEA) status and enabling periodic biodiversity surveys in the Petungkriyono forest. The latter resulted in new records of rare wildlife species for this location, such as Yellow‐throated marten (Martes flavigula), Javan ferret badger (Melogale orientalis), Muntjak deer (Muntiacus muntjak), Chestnut-bellied partridge (Arborophila javanica), Javan slow loris (Nycticebus javanicus). These community actions helped instil local pride amongst villagers and motivated further protection.
The Sokokembang forest become a research site for local students in Central Java and contributed to building their academic capacity and training.
In Java, community development activities continued through improvements to palm sugar processing and training for nine women from Sokokembang and Mendolo villages and distribution of 1,500 tree seedlings in the Petungkriyono district to replant degraded areas in the community tourist sites. The Group's support also ensured a steady supply of honey from Sokokembang and Mendolo. A book and documentary on beekeeping were produced for villages keen to upskill their knowledge of honey production.
A new network for sustainable honey trading was established with an NGO to manage a primate rehabilitation centre in west Java. The supply of raw honey supplemented the diet and nutrition of the slow loris at this centre.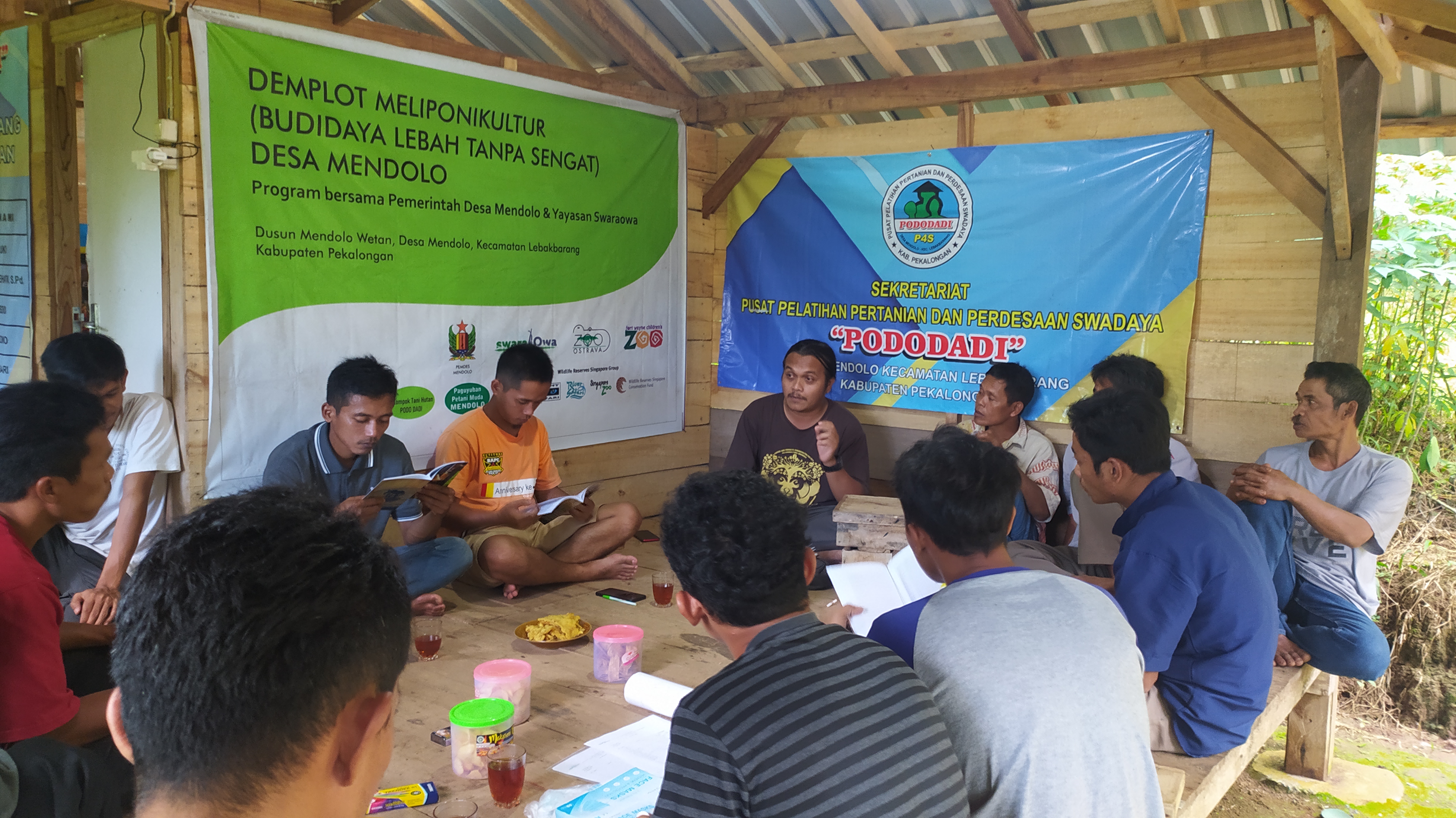 Local community undergoing beekeeping training. Photo credit: SwaraOwa

To further support these efforts, the Group has purchased Owa coffee to serve in its wildlife parks since 2017 and uses around 500 kg of Owa coffee beans per year. To date, the Group is the only long-term, regular international consumer of Owa coffee, with the remaining consumption within Indonesia and small exports to other international conservation organisations. Proceeds from the sales translate into higher income for the farmers, which goes into buying new equipment such as hulling and pulping machines. At the same time, as operators of four wildlife parks in Singapore, the Group could educate the millions of guests that walk through its doors and raise awareness of human impact on planet Earth and the value of making positive changes by making better choices in our daily living.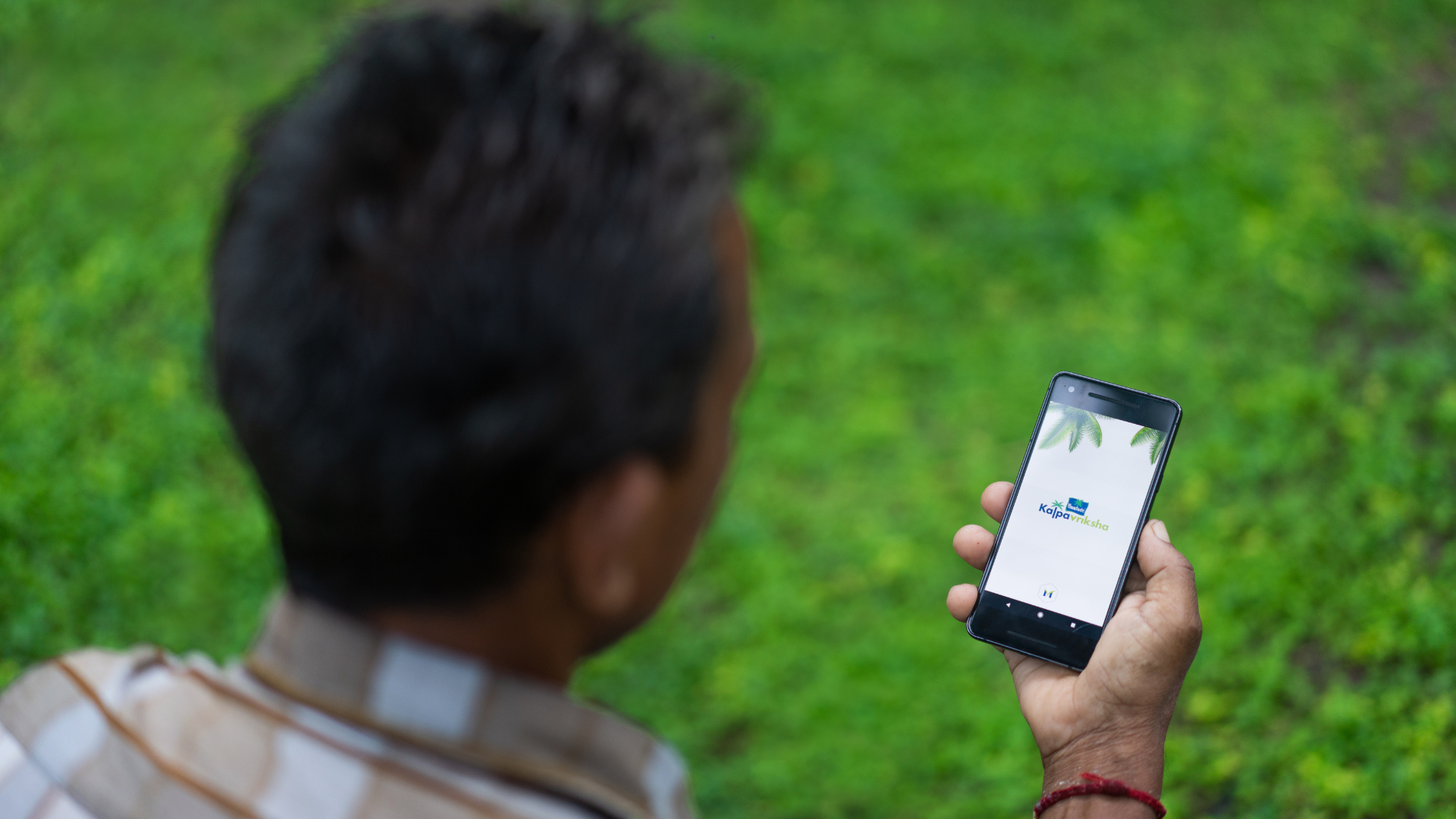 Equipping farmers with sustainable agricultural methods
Marico Limited
Marico, India's leading consumer goods company, supports a holistic set of initiatives that promotes environmental stewardship and generates sustainable livelihoods.
Among the initiatives is a social value creation programme, Parachute Kalpavriksha, which equips farmers with scientific and climate-resilient farming methods to promote sustainable agriculture while improving their productivity and income generation opportunities.
The programme has helped to construct farm ponds with the conservation potential of more than 477 million litres of water in Financial Year (FY) 2022. To date, it has enrolled approximately 63,000 farmers, encompassing 255,000 acres of farms, and has observed 15 per cent year-on-year productivity improvement. The dedicated agronomists deployed for this programme empower farmers with sustainable farming practices through a plethora of services like nutrient and disease management, integrated water management, soil health efficiency and pest management.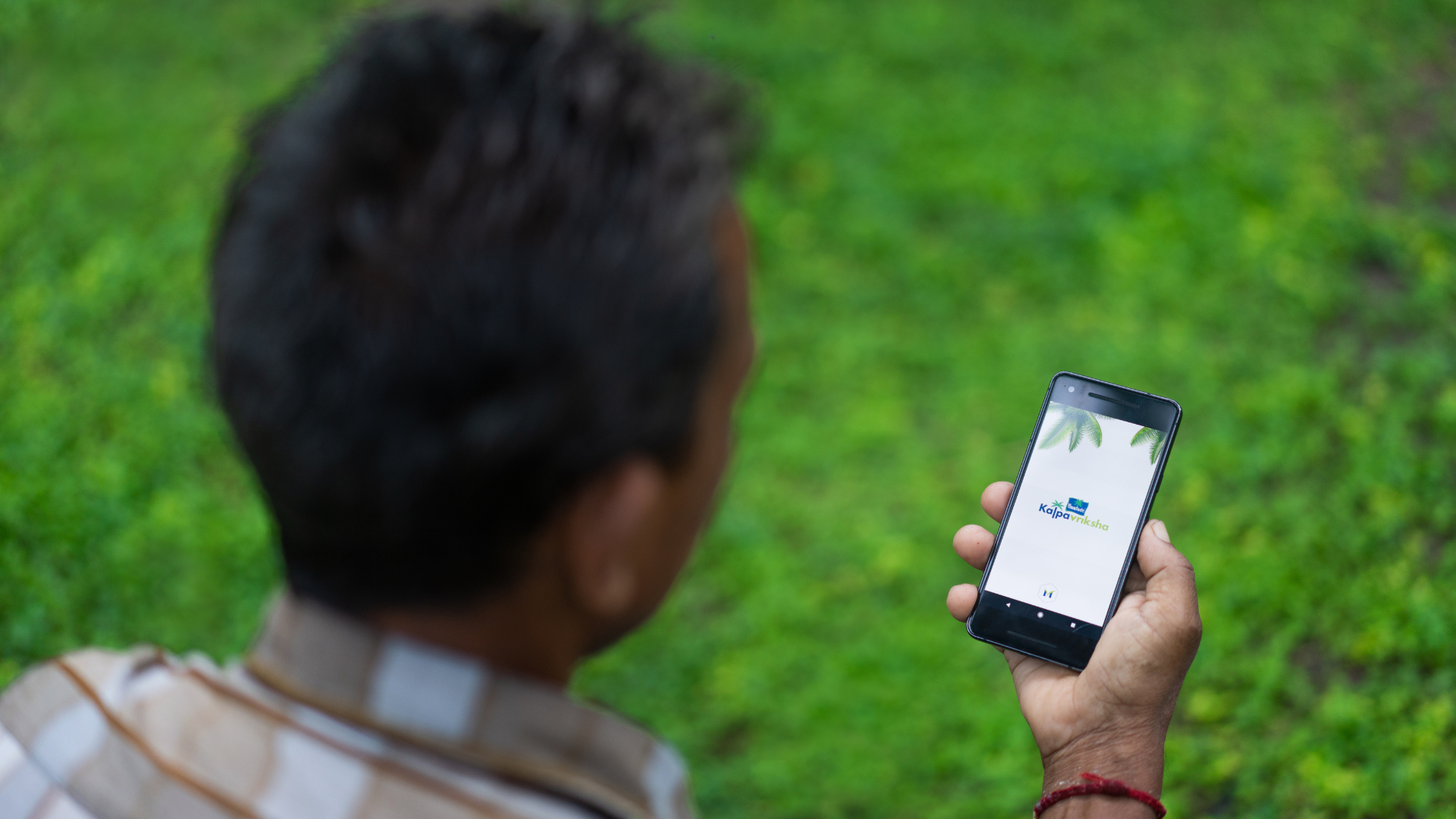 A Tamil Nadu farmer accesses Marico's Parachute Kalpavriksha app to learn about sustainable farming techniques

Water stewardship
Marico has additionally developed a long-term strategy with precise key performance indicators (KPIs) to create sustainable water usage. Jalashay, Marico's water stewardship programme, has been designed to optimise resource consumption patterns and improve significant water conservation potential in the country's water-stressed regions. Through Jalashay, Marico has created more than 2,630 million litres of water conservation potential to date, more than three times the total amount consumed across its operations.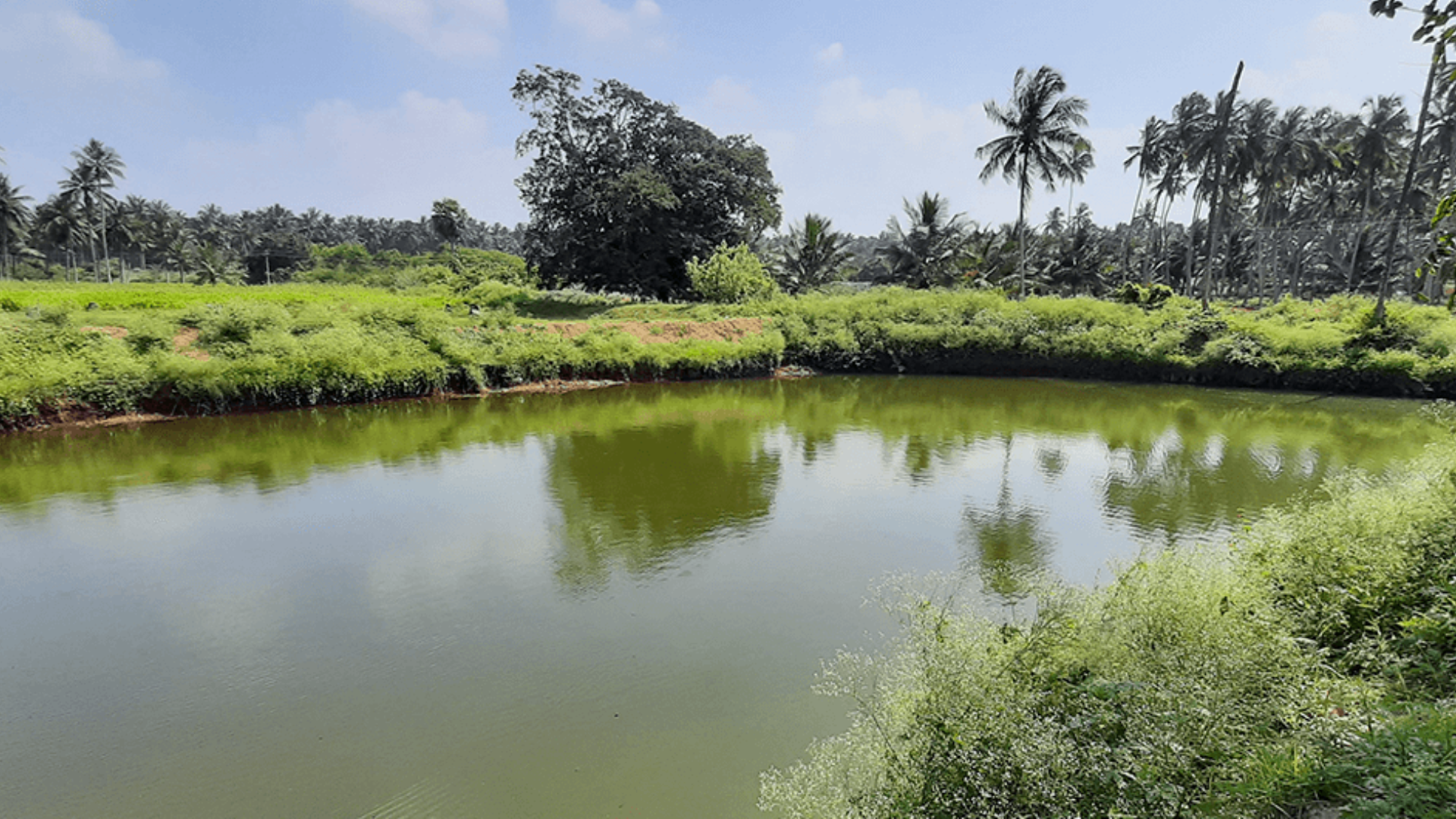 A farm pond constructed under the Jalashay programme in Pollachi, Tamil Nadu, to harvest rainwater

Cultivating a culture of ownership and innovation
As Marico is built on a culture of mutual ownership, it treats its workforce as crucial members of the organisation. Marico's motto is to empower employees to "Go Beyond, Grow Beyond and Be the Impact." With its refreshed Talent Value Proposition, Marico encourages employees to be the best version of themselves to contribute towards its business goals and grow with the organisation. The social value creation programme and the strong talent value proposition thus work in tandem to change the future of work by redefining integrity, ownership and trust in the workplace.
Alternatively, every initiative Marico embarks upon is infused with the values of social innovation and creative resilience. The Marico Innovation Foundation, for instance, leverages technology and digital disruption to find, expand and promote social entrepreneurial projects with the potential to hasten national sustainable development. This initiative collaborates with emerging sectors like agri-tech, med-tech and ed-tech to foster social innovation and reimagine key stakeholder concerns as opportunities to drive change and improve lives and livelihoods. To date, the foundation has helped scale over 23 innovations that have upgraded sustainable livelihoods.
Educating and supporting local communities
About four years ago, Marico initiated Nihar Shanti Pathshala Funwala, focusing on upskilling and empowering government schoolteachers to resolve the pressing issue of the lack of consistency and fluency in English literacy within the Indian education system. Through these efforts, the programme has impacted 417,000 students and reached 289,000 teachers as of Marico's FY2022.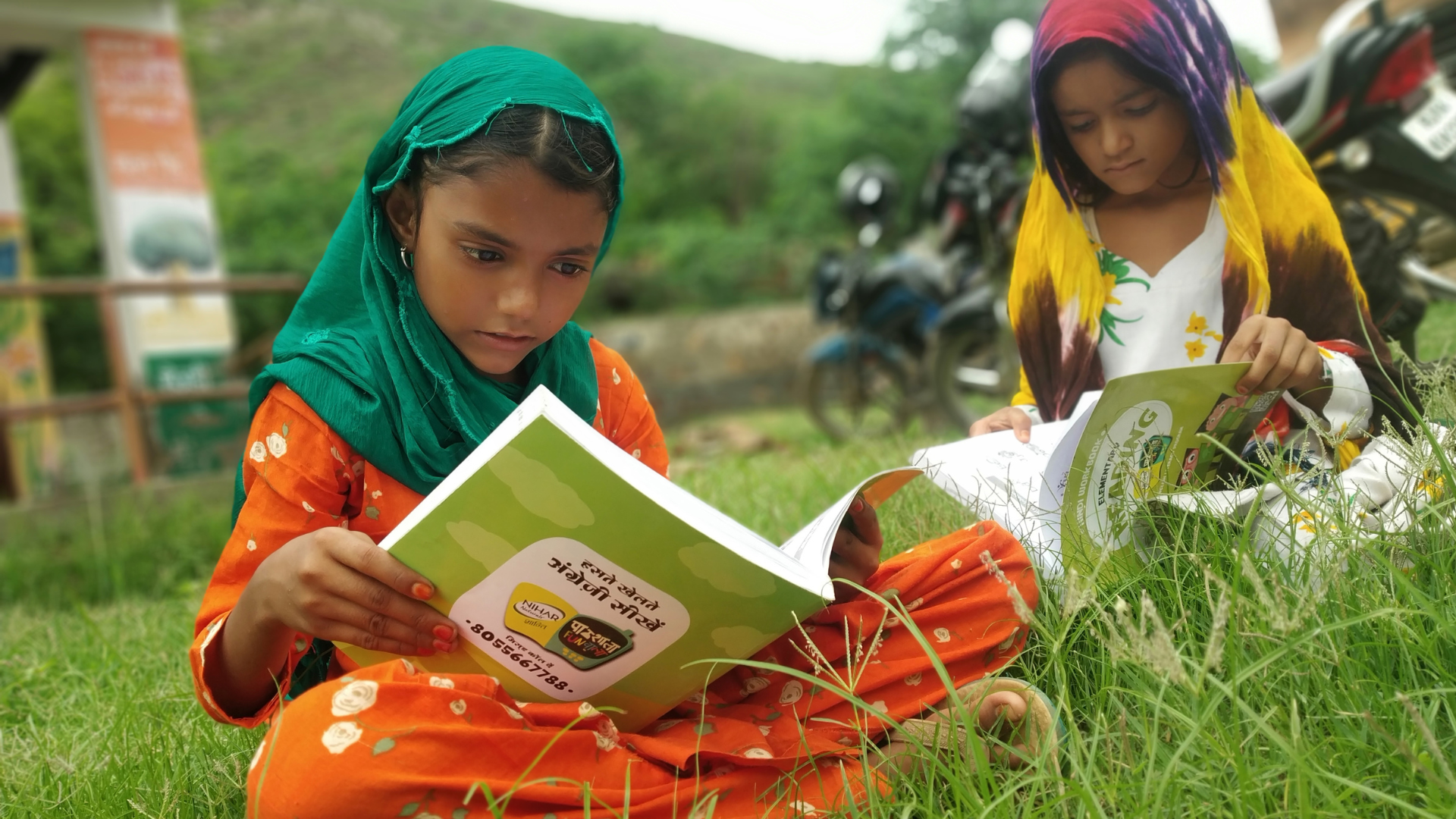 Children enrolled in Nihar Shanti Pathshala Funwala-affiliated schools in Madhya Pradesh learning English

To promote sustainable livelihoods, Marico has subsequently supported local communities and stakeholders located around manufacturing facilities. The community sustenance programme has touched over 300,000 beneficiaries through available healthcare and infrastructural resources. Furthermore, Marico has also benefited over 5.5 million beneficiaries in FY2022 through its Covid-relief activities.
Marico's Decade of Action (2030) roadmap
As the founder and chairman, Mr Harsh Mariwala, said, "Our commitment to responsible growth has always been the focal point of everything we do at Marico. It has been our long-standing belief that sustainable and purposeful businesses will stand the test of time and drive superior long-term performance." This saying is more valid now than ever before.
Staying true to this, Marico launched its ESG 2.0 framework this year to demonstrate its commitments. This framework serves as a launchpad to Decade of Action (2030) and comprises over 50 KPIs across ESG parameters that are of material relevance to its business ecosystem and its stakeholders, now and in the future.
Moving ahead, Marico wants to deepen the penetration of its ESG impact across its business ecosystem. It aims to leverage this framework to allow its value chain partners to build resilient and sustainable business enterprises. Marico's sustainability goals have been the values-based differentiator for its business. These sustainability goals support stakeholder capitalism, social inclusion, responsible production and consumption, and a deep-seated impact on the communities, which have helped the company thrive. Therefore, Marico endeavours to future-proof its value creation paradigms to positively impact its stakeholders' lives.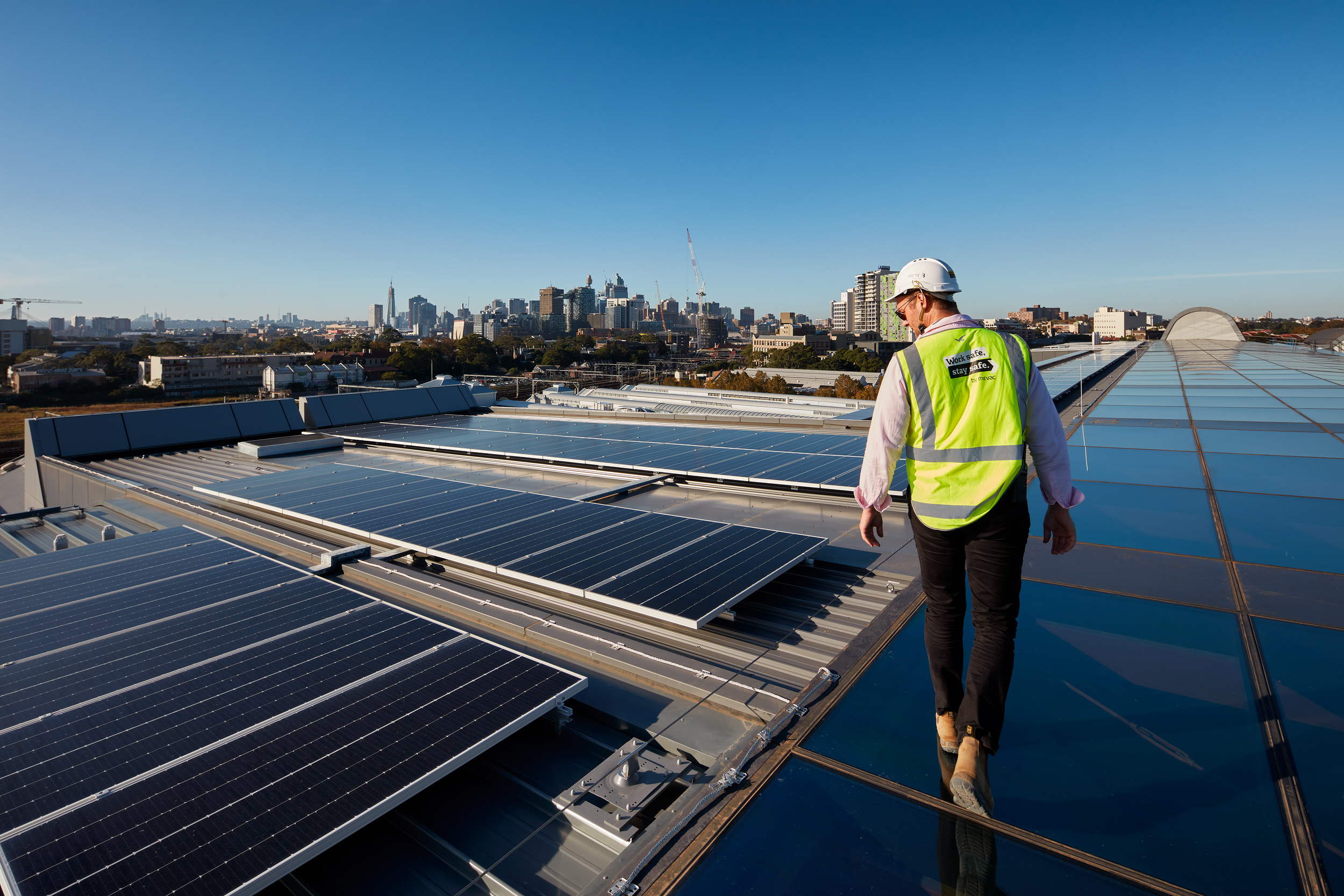 Ahead in net-positive carbon and gender equality
Mirvac Group
With a 50-year history as a developer of residential communities, office precincts, industrial facilities and shopping centres, Mirvac has a defined purpose of reimagining urban life.
It delivers its mission through its sustainability strategy, This Changes Everything. The company aspires not just to "do no harm" but aims to deliver regenerative outcomes for cities by being net positive in carbon and water, sending zero waste to landfill, creating a strong sense of belonging for people who are vulnerable, and being the most trusted owner and developer in Australia.
Two areas in which Mirvac has made an impact are carbon emissions and gender equity.
Net positive in carbon
Mirvac sees the company as playing an important leadership role in bringing about positive change in the built environment sector.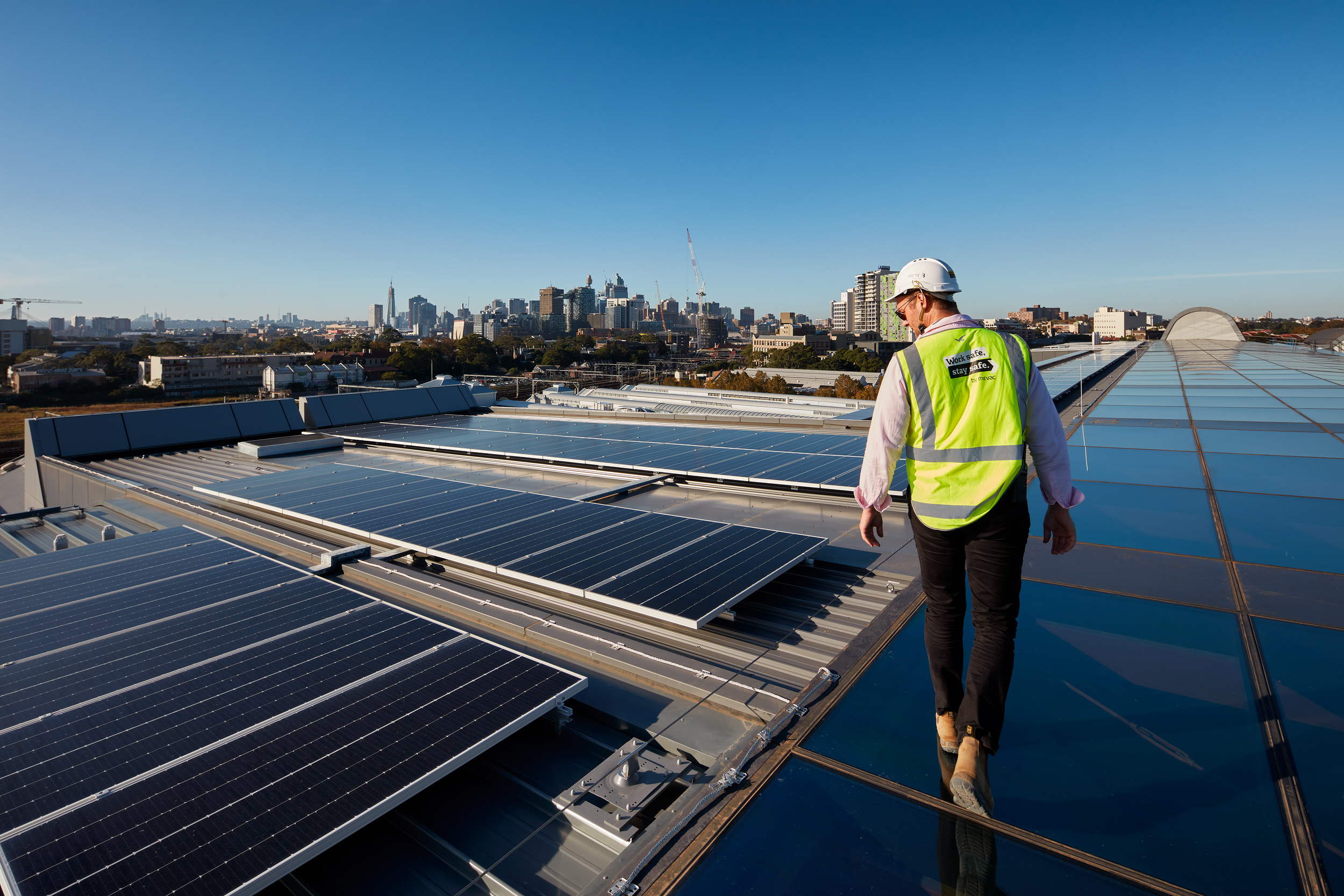 Mirvac's South Eveleigh development in Sydney with solar panels installed on its rooftop

As the world's population grows, so does the human impact on Earth, particularly when it comes to climate change. Even if all the recent net-zero pledges made at the United Nations COP26 conference in Glasgow were achieved, the world will still warm by 2.2 degrees Celsius by the end of this century, which is well outside the 1.5 degrees Celsius aim climate scientists have agreed is needed to avoid catastrophic impact.
The built environment in Australia represents approximately 25 per cent of total emissions, and as a major player in the property industry, Mirvac stresses that its leadership can influence change. Notably, by designing, creating and managing high-quality, energy-efficient buildings operating on renewable energy, it not only reduces its emissions and impact, but also demonstrates the benefits of working as a force for good, inspiring and influencing others to do the same.
In 2014, Mirvac set an industry-leading target to be net positive in carbon by 2030. In 2019, it brought that goal to life by releasing a detailed plan for achieving it.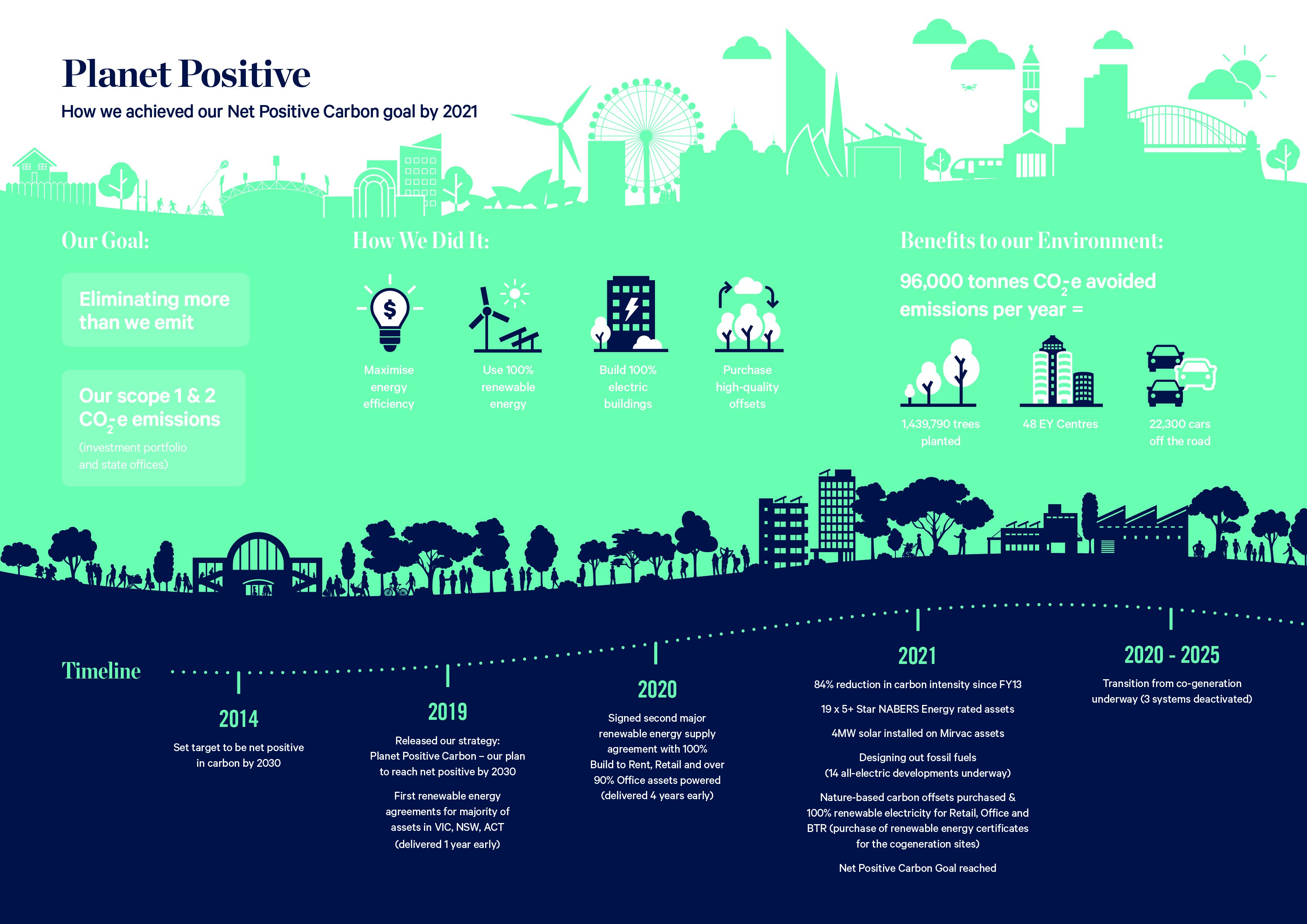 How Mirvac achieved its net-positive carbon goal by 2021

The plan, Planet Positive: Carbon, hinged on its commitment to eliminate more carbon than it emits and focussed on four elements:
Maximising energy efficiency at its assets
Building all-electric
Powering its assets with 100 per cent renewable electricity
Buying a small amount of high-quality offsets for the remainder of its Scope 1 emissions
On 1 July 2021, Mirvac reached net-positive carbon status nine years ahead of schedule.


Mirvac's executive leadership team's response to Mirvac's net-zero carbon achievement

A gender-equitable company
Over the years, Mirvac has built a culture of inclusivity, innovation and collaboration, where people feel they belong and genuinely want to work.
As a result of its efforts, it has been ranked number one globally for gender equality in Equileap's 2022 Global Report. Equileap is recognised as the global leader in gender reporting, researching 4,000 companies globally across 23 countries and assessing them against 19 gender equality criteria.
Its strong ranking is due to a commitment to flexibility, generous Shared Care Parental Leave Policy, zero pay gap for like-for-like roles and gender balance across its workforce.
Women representation
Mirvac believes that work is what one does and does not define the person. Hence, the more flexibility it offers for both men and women, the more equitable workplaces and homes will be.
When more diverse voices are part of big decisions, better outcomes more reflective of the communities are reached. Recognising that this helps to keep the company in business, Mirvac aims to ensure women feature in senior management roles.
Four out of nine of its board directors are women. Three out of eight people in its executive leadership are women. In line with HESTA's 40:40 Vision for senior executive teams, Mirvac has 43 per cent senior management roles filled by women from 2020.
The zero-dollar gender pay gap
In Australia, millennials (those born between 1981 and 1995) make up one of the two biggest social demographics, as noted in the 2021 Census, and account for 21.5 per cent of our 25.5 million residents.
Unfortunately, the Australian Government's Workplace Gender Equality Agency analysis says that the women in this cohort are unlikely to earn as much as the men.
Mirvac found this unacceptable, and for the last six years, it has achieved and maintained a $0 gender pay gap on like-for-like roles.
As a result of cultivating a diverse and inclusive workplace, 93 per cent of Mirvac's employees state that they are proud to work for Mirvac, and the overall employee engagement score exceeds 80 per cent.
Furthermore, Mirvac's employee surveys showed that 87 per cent of employees validate that "Mirvac really allows [them] to make a positive difference" at work, and 90 per cent of employees believe that "Mirvac's commitment to social responsibility is genuine."
As well as making Mirvac a better workplace, instilling a strong sense of belonging and purpose within employees also reduces unwanted turnover. Mirvac has retained 93 per cent of identified key talent, which is all the more important in the tight Australian labour market.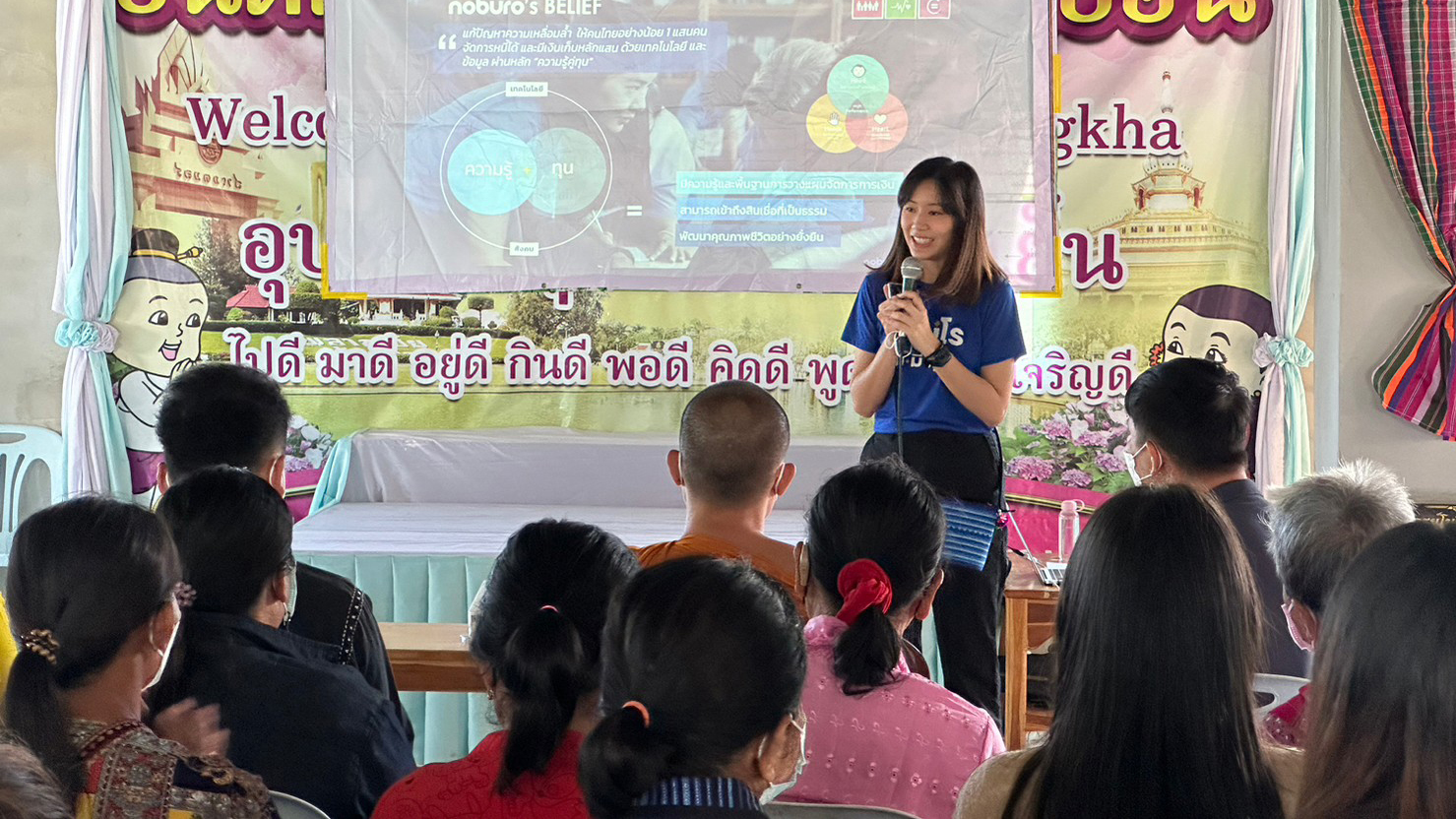 Enabling financial well-being for low-income groups
Noburo Platform Co., Ltd.
Noburo, a Bangkok-based fintech firm, was established to reduce income inequality and create trust in society. The name Noburo amalgamates two Japanese words: 信 – trust and 路 – way. Together, this means "a path of trust." Noburo represents the trust shared within an organisation between employers and employees. Trust is thus essential in motivating employees often struggling to manage their financial problems and improve their economic situation.
Noburo believes that poverty is not created by the poor but by a distorted system. Household debt is a critical and urgent issue in Thailand. Noburo's mission is to empower at least 100,000 borrowers to solve their debt problems and have at least 10,000 THB (US$263) in savings through an integrative financial literacy and fair credit concept by 2025.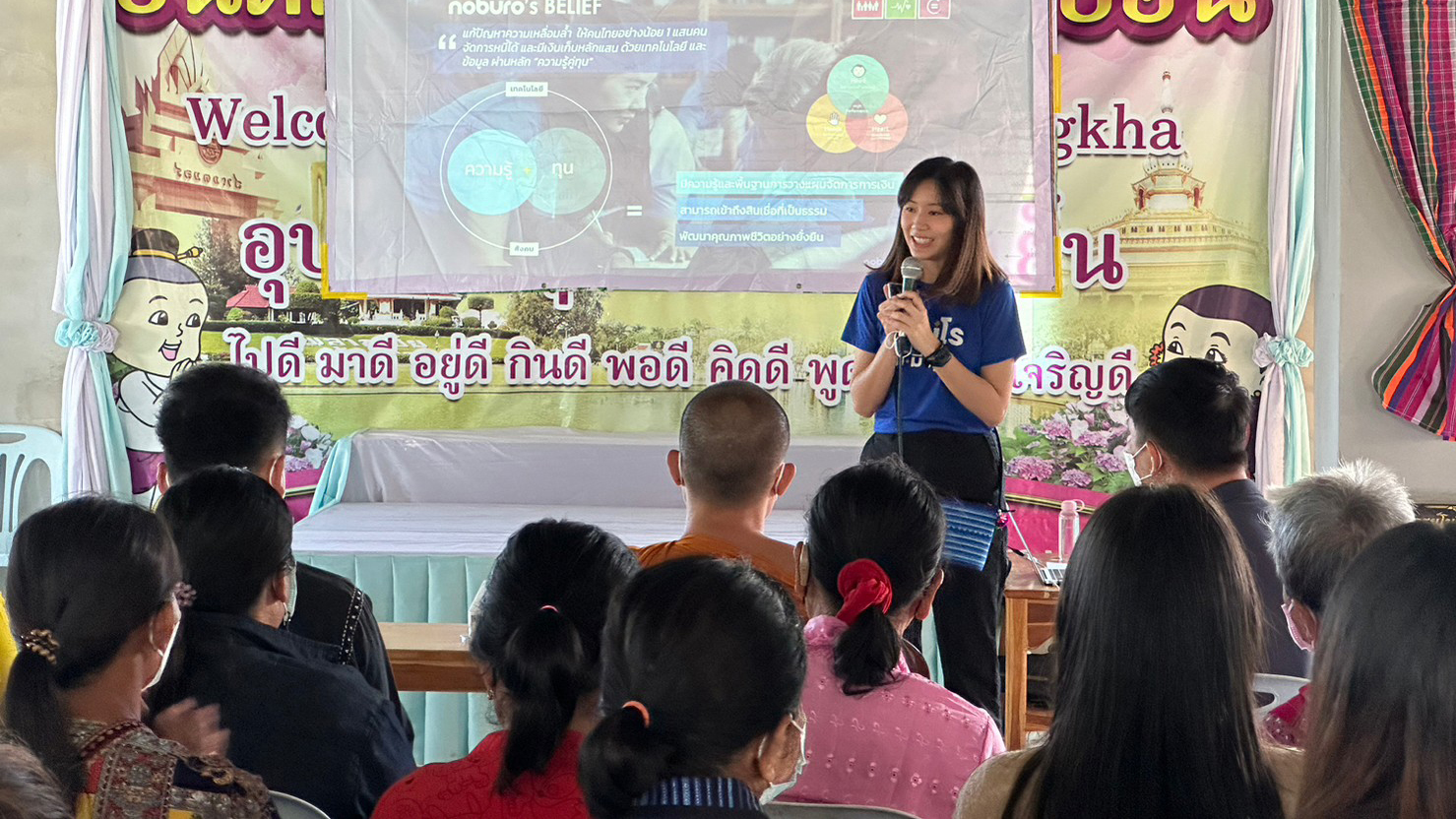 Financial literacy for the local community

A three-way approach based on stewardship values
With the above mission, the company strives to inculcate stewardship values daily in its own operations. It adopts a three-way approach to ensure the values are put into practice to help the company achieve its goal of a mutual synergy for all stakeholders, including shareholders, employees and society at large.
Firstly, Noburo was established based on the key tenet of interdependence. It is a top-level value governing everything it does. Noburo operates with a deep understanding that no society can thrive by leaving the underprivileged behind. Within the company, Noburo places the well-being of its team members at the same level as its customers because it believes that no single organisation can prosper or be sustainable if its employees are struggling.
Secondly, the ultimate goal of Noburo is to ensure the long-term financial well-being of the low-income group. Quick and easy loans could bring considerable revenue for the organisation. However, customers need the skills and knowledge to manage their finances and pay their debts. Thus, Noburo provides financial literacy to its customers to help them manage their finances and well-being and prevent them from falling into a vicious cycle of constant debt payments.



Finally, Noburo's employees work together as a team, sharing the same purpose, values and mission. However, to bring out the best in each employee, the company inculcates an ownership mentality to make each member feel valued and willing to engage. Employees are encouraged to take on new responsibilities, regardless of the outcomes, and recognition is given to those who take initiative. The ownership mentality helps to build trust and confidence among the team.
Bringing inclusivity and literacy
As Noburo's name suggests, debtors with no credit bureau access or bad credit history can still be granted fair-priced credit through its inclusive financial programmes. While blacklisted borrowers may hesitate to admit or disclose their financial status, Noburo engages all clients by building trust and confidence in its services. Noburo's financial programmes are designed to create a safe space for individuals, and the organisation strives to be a mentor rather than an instructor.
Alongside fair access to credit, Noburo provides financial literacy and behavioural training to help its customers understand how to break their debt cycle or avoid falling into constant debt. Through gamification of its financial literacy programme, Noburo's training is fun and highly effective in creating healthy habits that ensure long-term financial well-being. Indeed, as a fintech startup that bridges financial literacy and tech, Noburo helps to provide equal access to information. Noburo leverages technology and collects data to increase service accessibility, affordability and customisation to its end customers. Through these efforts, the digital platform enables Noburo to scale up and create a tangible, long-term impact on society.
As a result, despite the Covid-19 crisis, Noburo's loan disbursement posted a 16-fold growth to approximately 420 million THB (US$14 million), with a very low non-performing loan rate. It has partnered with over 100 large and small employers, representing a total employee pool of over 100,000. Noburo's partnerships with listed companies have even set a new welfare standard for many industries, such as the healthcare and food service sectors. Its resolute commitment to resolving Thailand's household debt problem has made Noburo the country's most inclusive fintech company.



Noburo by 2030
The next step for Noburo is to create sustainable financial "wealth-being" for long-term impact. The company plans to expand its product portfolio beyond debt management to include savings and investment features and financial protection from economic volatility. To efficiently spread the wealth-being impact, a group of talent users called "Noburo Stars" will be deployed to harness their networks on Noburo's behalf. Through these efforts, wealth-being information and resources will be disseminated to varying communities. In expanding its impact and network, Noburo believes that financial well-being in the low-income population will start to take shape, and society's perception of financial matters will transform.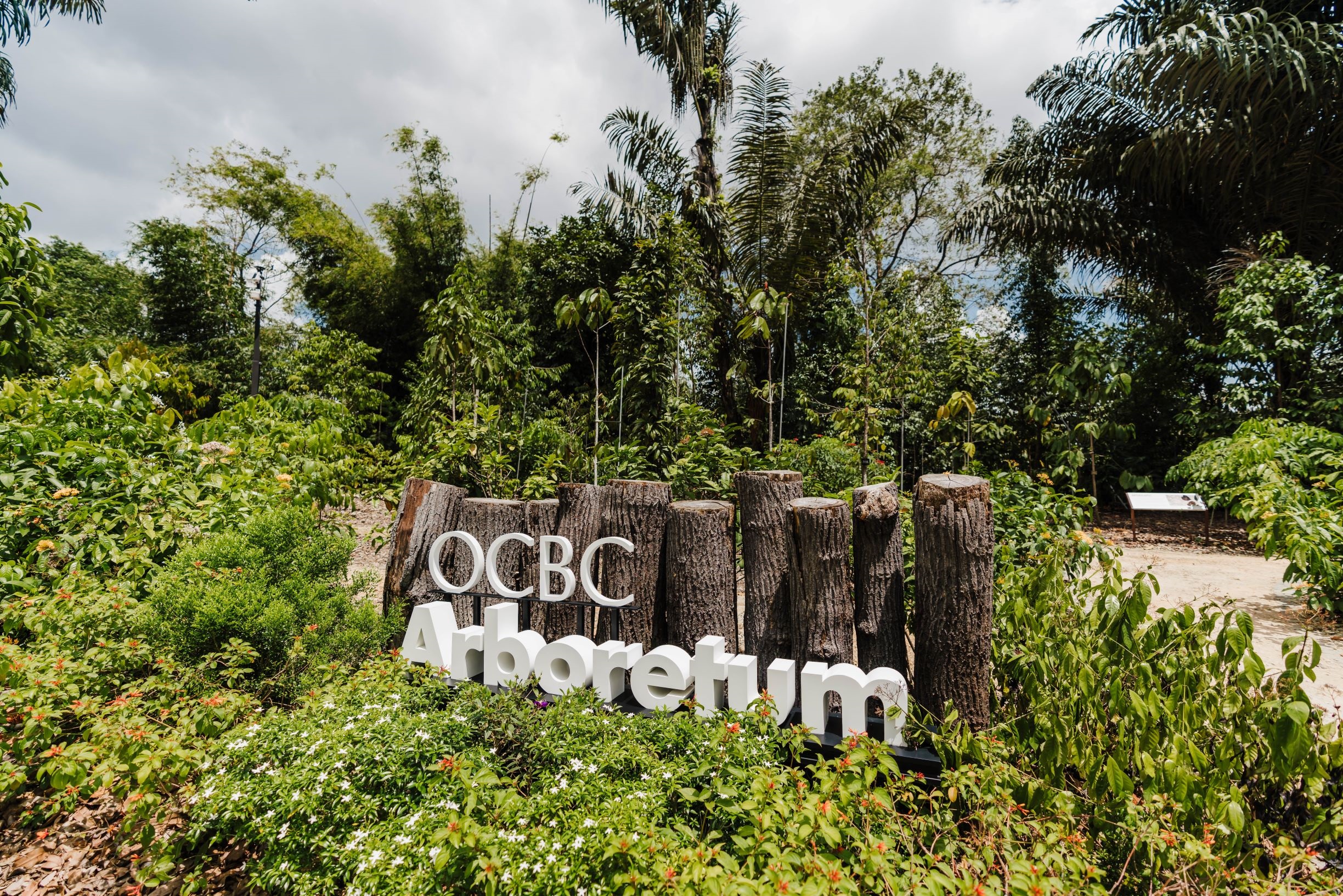 Driving the green movement
Oversea-Chinese Banking Corporation, Limited
Guided by its purpose and values, OCBC Bank helps individuals and businesses across communities achieve their aspirations by providing innovative financial services that meet their needs. The values they embrace are encapsulated by the acronym LIFRR – Lasting Value, Integrity, Forward Looking, Respect and Responsibility. OCBC Bank believes that putting its purpose and values at the heart of everything it does will lead to good business outcomes.
Moving from funding coal power plants to sustainable finance
As Southeast Asia's second-largest financial institution, OCBC Bank has been at the forefront of various efforts that support climate action. It became the first bank in Southeast Asia to make a bold commitment to stop financing new coal-fired power plants on 16 April 2019. This created a positive momentum – Singapore's two other local banks, which are key regional players, made the same commitment within the same month.
This commitment by OCBC Bank was the catalyst of a renewed green push and expedited its efforts to play a leading role in Asian sustainable finance to accelerate change. In October 2019, shortly after committing to not financing new coal-fired power plants, OCBC Bank became one of the first banks in the region to make a public commitment to build a sustainable finance portfolio worth S$10 billion (US$7 billion) by 2022.
OCBC Bank eventually surpassed this target two years ahead of schedule in the first quarter of 2020. A new sustainable finance target of S$25 billion by 2025 was set and again eclipsed ahead of schedule – it achieved S$34 billion in sustainable finance commitments by the end of 2021. In February 2022, it doubled its 2025 target to S$50 billion. As of June 2022, its commitment had grown to S$37 billion. The bank has funded sustainable projects in the region, from wind and solar farms to electric cars, hybrid buses and solar panel installations.
Apart from its sustainable finance commitments, the bank is committed to achieving carbon-neutral banking operations in 2022. To that end, more than S$25 million will be invested in decarbonisation efforts in Singapore, Malaysia and Greater China.
Weaving sustainability into its strategy
The bank's commitment to sustainability has been formalised into its strategies – namely its corporate strategy to "Excel for Sustainable Growth," of which environmental sustainability is a key pillar, and its Climate Strategy, a five-year roadmap with three priorities: moving towards net-zero emissions in alignment with Paris Agreement goals, expanding sustainable financing and the bank's sustainability-themed product portfolio, as well as growing a bank-wide ecosystem of sustainable solutions and partnerships.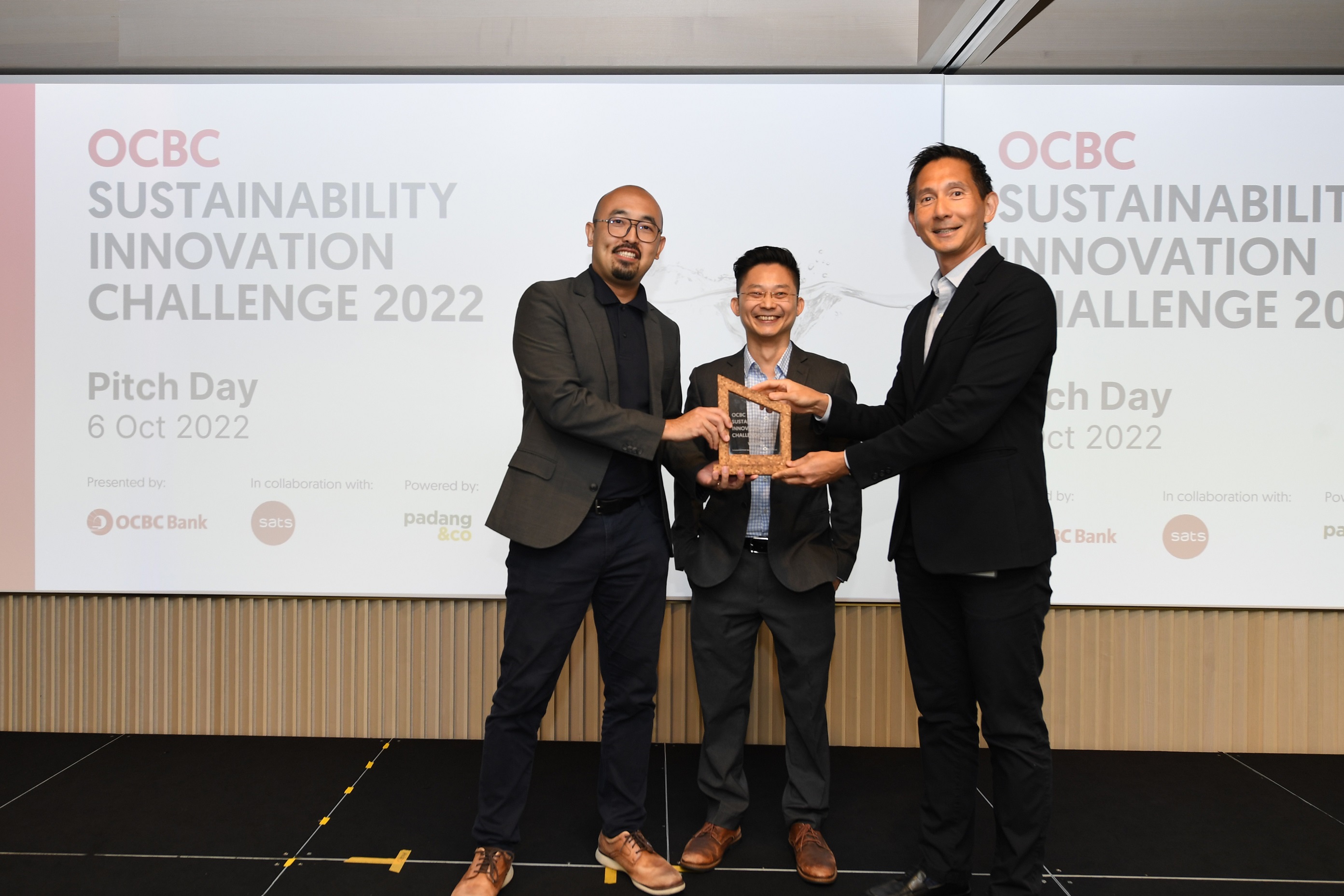 OCBC Sustainability Innovation Challenge, October 2022. (L-R) Lin Qing Yao, Close-The-Loop Manager, Tria; Bryan Sim, Sales Director, Tria; and Spencer Low, Chief Data and Sustainability Officer at SATS

A recent initiative under the Climate Strategy was the OCBC Sustainability Challenge, launched in June 2022 to identify sustainability-related challenges faced by its corporate customers and source for global solutions that can be commercialised.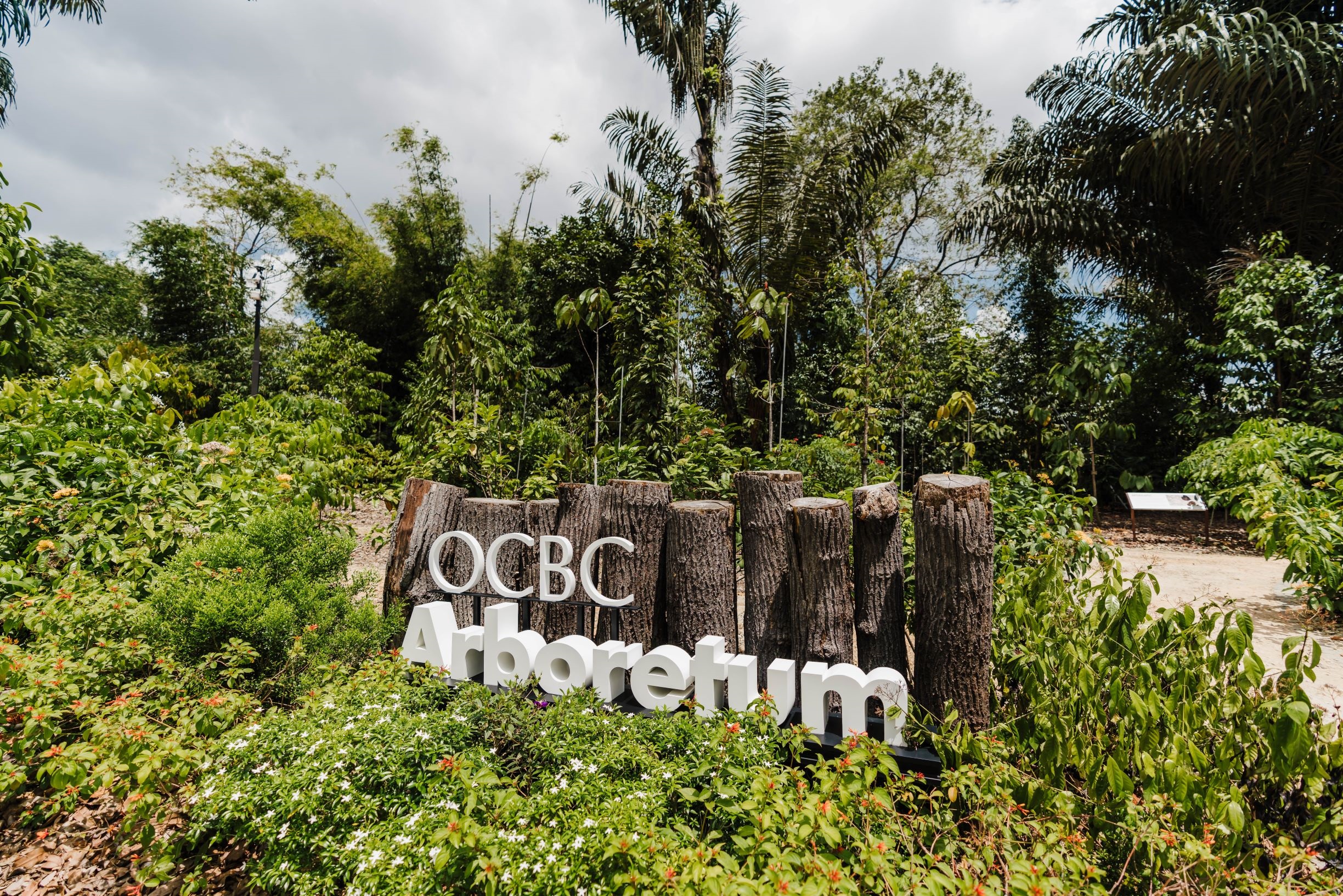 Under the #OCBCCares programme, the bank supports the OCBC Arboretum, a landmark project at the Singapore Botanic Gardens that conserves and studies 200 species of dipterocarp trees. Photo credit: National Parks Board

The financial industry may be competitive and ever-changing, but OCBC Bank will always make it an imperative to be a responsible banker to society and remain resolute in its commitment to sustainability and climate action so that it can do well and do good.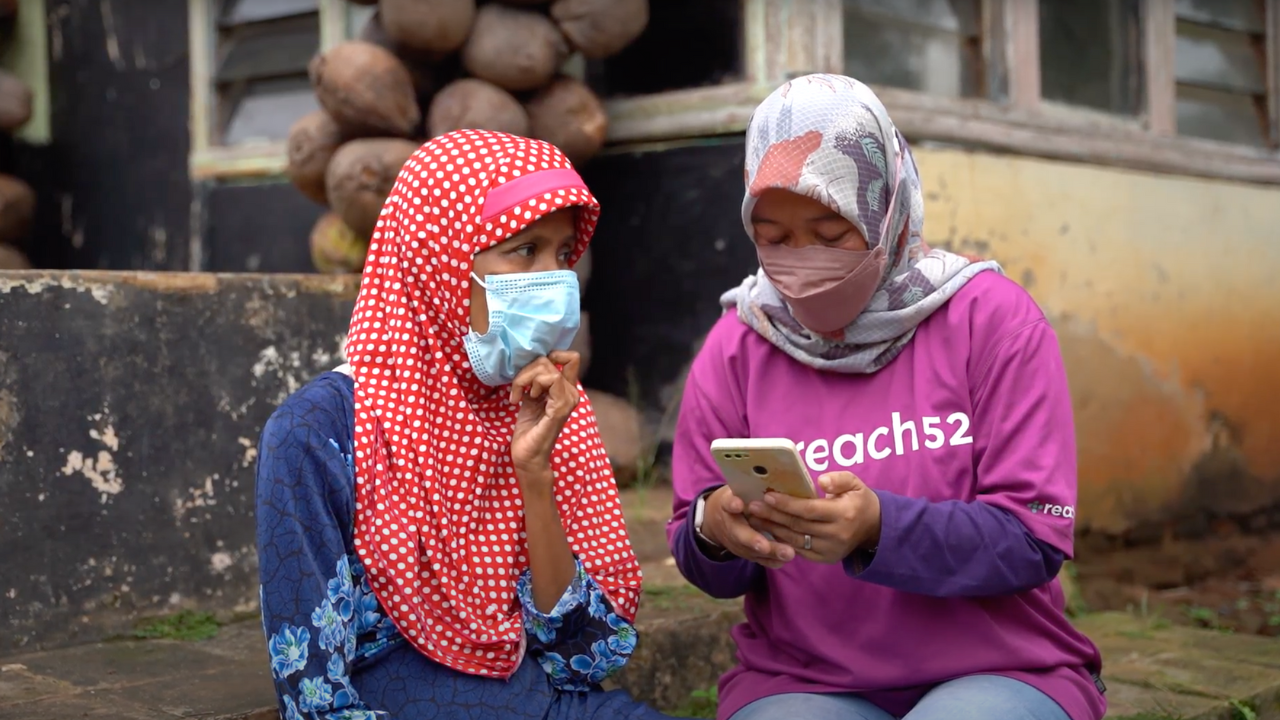 Addressing health access in rural areas
reach52
reach52 implements access-oriented community health campaigns across a range of disease areas through its network of thousands of digitally equipped reach52 Community Agents.
reach52's campaigns typically focus on health education, community screenings, referrals to care, and access to affordable medicines and health products. Specific key performance targets vary by campaign, but reach52's overarching objective is to improve access to primary care services for those families in the "missing middle." These households are "near poor," slightly too affluent to qualify for social entitlement schemes but unable to afford advanced care, particularly from private providers.
Since its launch in the Philippines, the model has scaled to other countries, including Cambodia, India, Indonesia, Kenya and South Africa. reach52's offline-first Android app, reach52 access, is used by its Agents in areas of low internet connectivity.
Agents can collect individual-level data, transact sales anywhere and sync back to the cloud when a connection is available. The data is tracked via the company's partner-facing platform reach52 insights, which provides critical functionality to support the design, implementation, monitoring and impact measurement of data-driven community-level campaigns. The platform delivers precision interventions to cohorts of residents filtered from baseline data based on individual traits. This ensures that scarce resources are micro-targeted towards people most likely to benefit from them.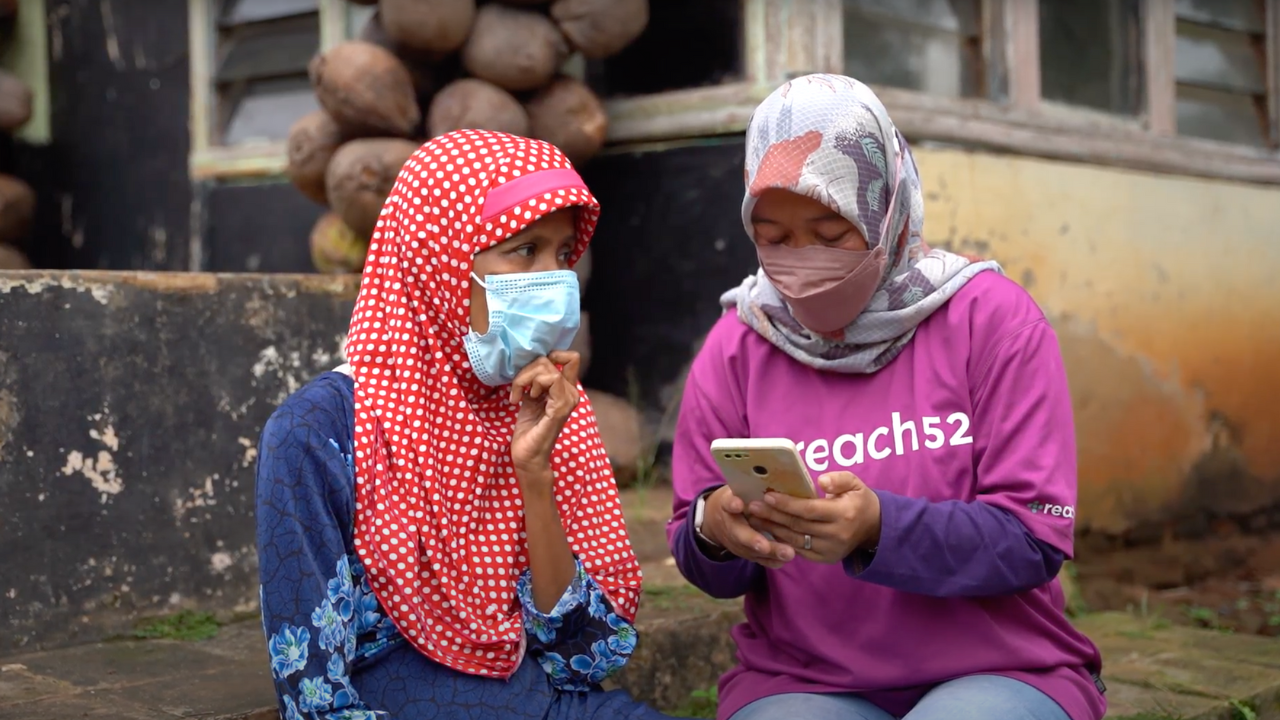 reach52 Agent in Indonesia collects health data from a resident in the rural community via the reach52 access app

Under reach52's sustainable business approach, revenue is generated through the sale of campaigns to major firms in the pharmaceutical and fast-moving consumer goods sectors. Principally focused on operationalising corporate social responsibility targets, many campaigns support these firms' commercial strategies. Services focus on aggregated data and insights, consumer engagement and brand awareness, and emphasise underserved emerging and frontier markets.
Outcomes and innovation
As an impact-focused business, reach52 directly aligns targets towards achieving the UN Sustainable Development Goals (SDGs). While principally focused on SDG 3 (Good Health and Well-being), reach52 also contributes to SDG 5 (Gender Equality) and SDG 8 (Decent Work and Economic Growth). With 1.25 million residents impacted across six markets, reach52 implements sustainable campaigns with leading global firms such as Johnson & Johnson, Bayer and Sanofi. reach52 has trained over 12,500 Agents to scale the delivery of health products and services in non-communicable diseases, infectious diseases, and maternal and child health. An external evaluation demonstrated that reach52's model generates US$2.10 of social value in partner communities for every US$1 invested.
To support SDG 3 (Good Health and Well-being), reach52 operates campaigns across a range of disease areas to support universal health coverage for disconnected rural populations. Active campaigns focus on diabetes, hypertension, malnutrition, maternal and child health, and Covid-19. reach52 Agents have screened over 60,000 residents for diabetes and hypertension in just the past year, with many enrolling in reach52's community-based chronic disease management programme.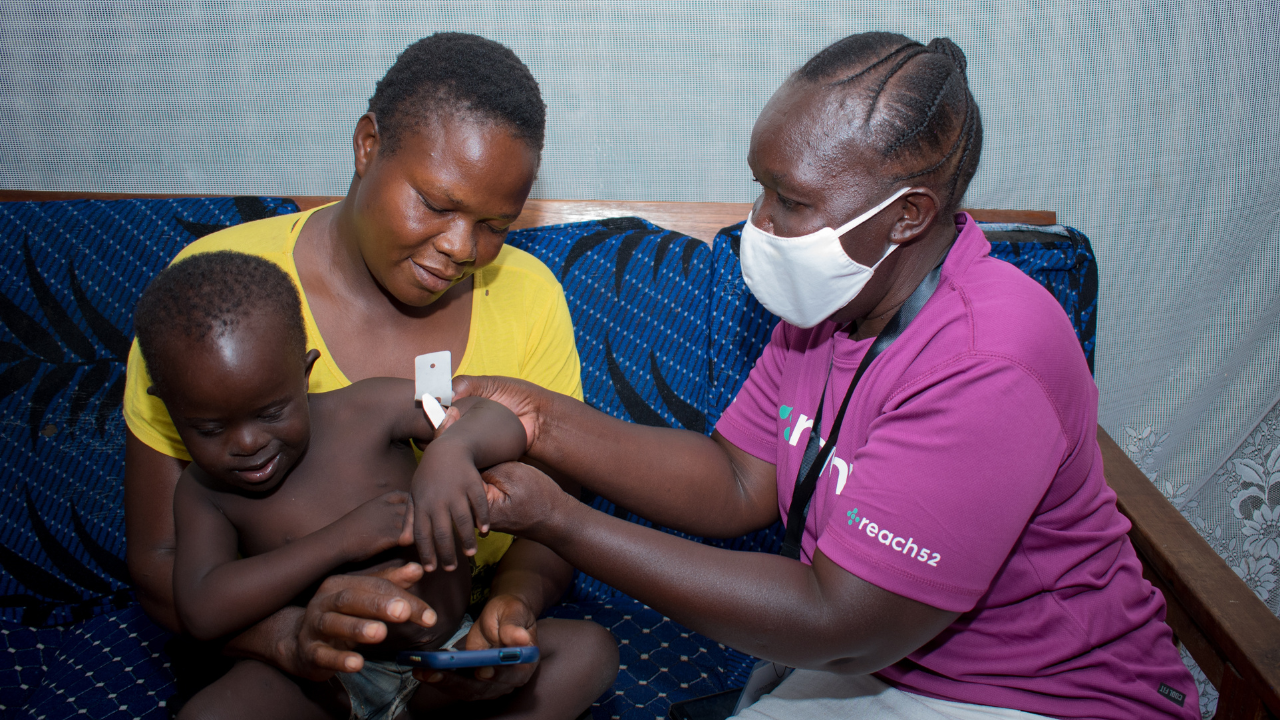 reach52 Agent in Kenya performs health screening for a resident in a rural community using a mid-upper arm circumference (MUAC) tape to assess signs of malnutrition

reach52's work on SDG 5 (Gender Equality) takes two forms: campaigns for maternal and child health and its Agent network. Its maternal and child health campaigns have engaged 26,000 mothers with children under five years of age since March 2022. During these one-on-one door-to-door engagements, trained Agents deliver health education messaging, collect vital data and enhance linkages to local health facilities. In addition, over 95 per cent of reach52's Agents are female, impacting the goal's indicators around enhancing the use of enabling technology and increasing women's economic empowerment.
Concerning SDG 8 (Decent Work and Economic Growth), reach52 brings economic opportunities to their rural partner communities. Most of the Agents are also community health workers who perform their government-assigned duties voluntarily or for modest monthly stipends. reach52 provides an opportunity to supplement this stipend by receiving outcomes-based payments for completing social-impact-oriented tasks, such as registering new residents, completing community screenings or providing referrals to care. In addition, reach52 provides training on transferable skills, such as tech literacy, social marketing and community engagement strategies.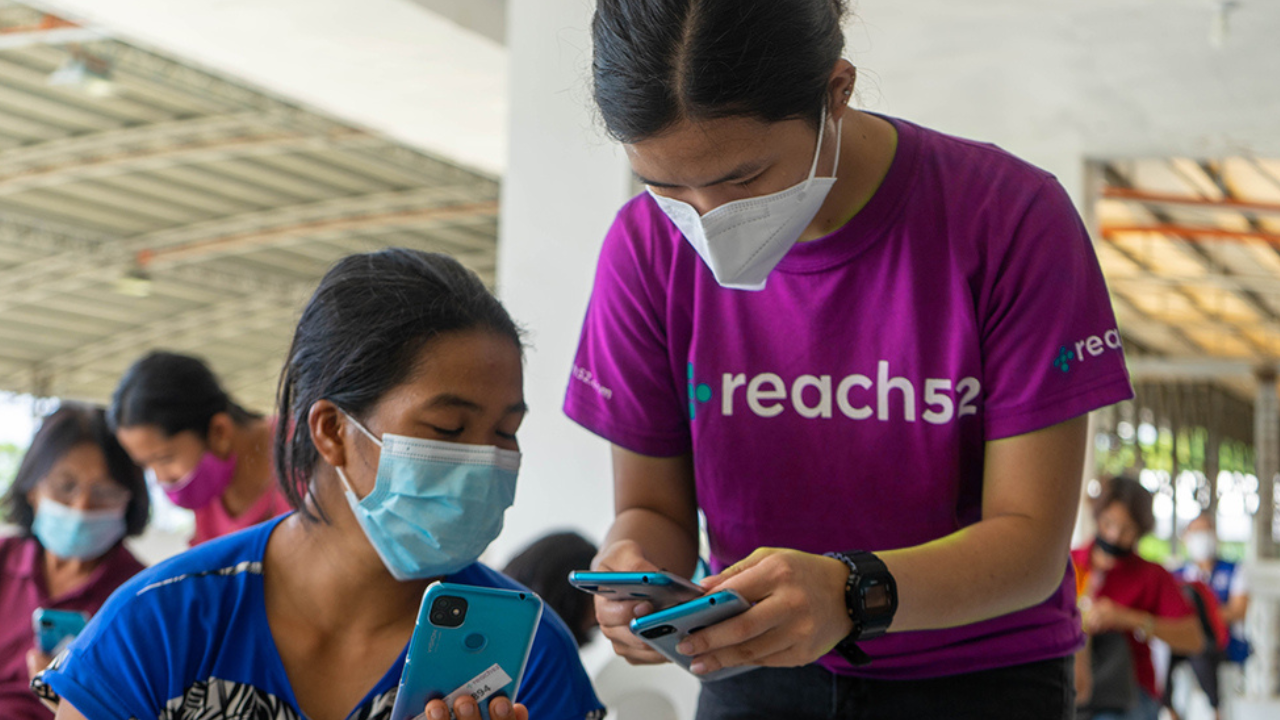 Community health workers in the Philippines receiving training to become reach52 Agents who are digitally equipped to use the reach52 access app to deliver healthcare services to their communities

Future of reach52
reach52 is committed to expanding its geographic footprint and the scope of its impact areas. Since launching its first campaign in sub-Saharan Africa in 2021, the organisation has experienced substantial demand for services in the region. This has resulted in expansion to South Africa in 2022 and the expected growth to additional countries in 2023.
reach52 is also committing resources to scale its network of partnered local retailers. This move will expand residents' access to affordable health products while creating additional engagement channels for reach52's business-to-business partners. Finally, reach52 is also investing in its tech platform, leveraging opportunities to license this product to potential clients working in the impact space.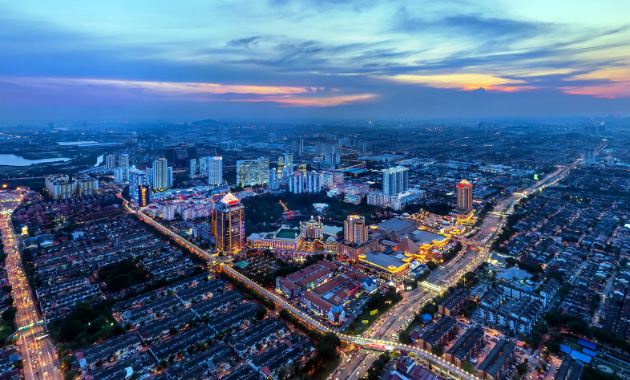 From tin-mining wasteland to sustainable township
Sunway Group
Tan Sri Dato' Seri Dr Jeffrey Cheah AO is the founder and chairman of Sunway Group as well as the founder and trustee of the Jeffrey Cheah Foundation (JCF). His commitment to the sustainability agenda is summarised in the company's vision statement, "to be Asia's model corporation in sustainable development, innovating to enrich lives for a better tomorrow."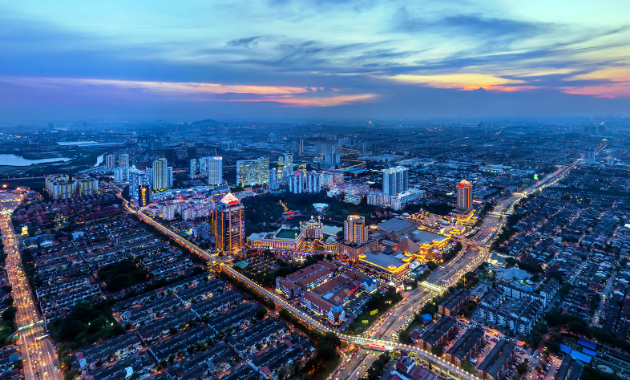 Aerial view of Sunway City Kuala Lumpur

Sunway Group was founded on the concept of sustainable development, and the journey began with the construction of Sunway City Kuala Lumpur. This tin-mining wasteland was transformed into an integrated, smart and sustainable township.
Sunway City Kuala Lumpur
The company rehabilitated the abandoned mining pools and built an integrated township that houses educational institutions, commercial entities, a medical centre, retail and leisure outlets, and a residential neighbourhood for more than 200,000 people. Its flagship smart, sustainable city township – Sunway City Kuala Lumpur – is now Malaysia's most dynamic living laboratory and a test bed for researchers, experts and academia to generate sustainable real-world solutions for the prosperity and progress of the people and the planet.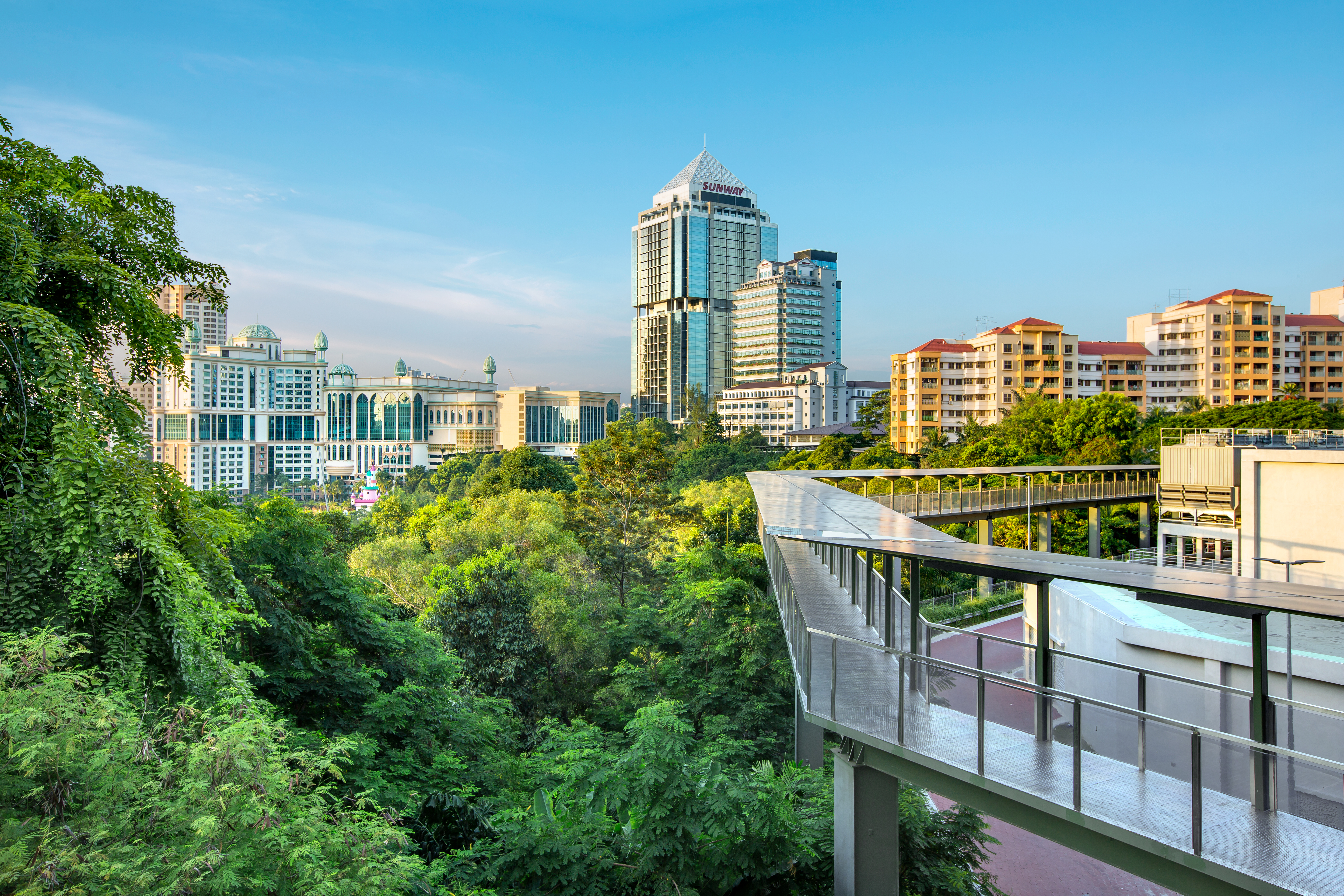 Sunway City Kuala Lumpur Eco Walk

Sunway recently established the Health Innovation Hub, the first of its kind in Malaysia. This joint initiative by Sunway iLabs and Astra Zeneca aims to construct a network of partnerships that will work to solve, scale and showcase innovative and holistic health solutions across the region.
Sunway believes that corporate responsibility and profitability can go hand in hand, that it wins by rising to the call of supporting and protecting its stakeholders – customers, staff, suppliers, shareholders and the communities in which the company operates.
Its embrace of the sustainability agenda is not dependent on nor driven by external regulatory factors. It has seamlessly integrated the environmental, social and governance (ESG) framework into the company's culture, and its corporate goals and visions are aligned with the UN SDGs from the company's inception. Sunway views the ESG measurement and compliance framework as one of the more effective tools and a "means to an end" to achieve the UN SDGs.
Education and research
By channelling funds into JCF, Tan Sri advances his causes to champion and advocate quality education and world-class research. Adopting a social enterprise model, the Foundation is the largest of its kind in promoting education in Malaysia. The Foundation has disbursed more than 618 million Malaysian ringgit (US$184.6 million) in scholarships as of 2022, and it is Tan Sri's goal to give out more than RM1 billion in his lifetime.
Tan Sri, through the Foundation, gifted a total of US$20 million to the United Nations Sustainable Development Solutions Network (UN SDSN), headed by the renowned Professor Jeffrey Sachs. The first tranche of the gift, totalling US$10 million, was disbursed between 2016 and 2021. A significant portion of the funds was used to establish the Jeffrey Sachs Center on Sustainable Development at Sunway University. The centre, chaired by Professor Jeffrey Sachs himself, is the only such entity in the region.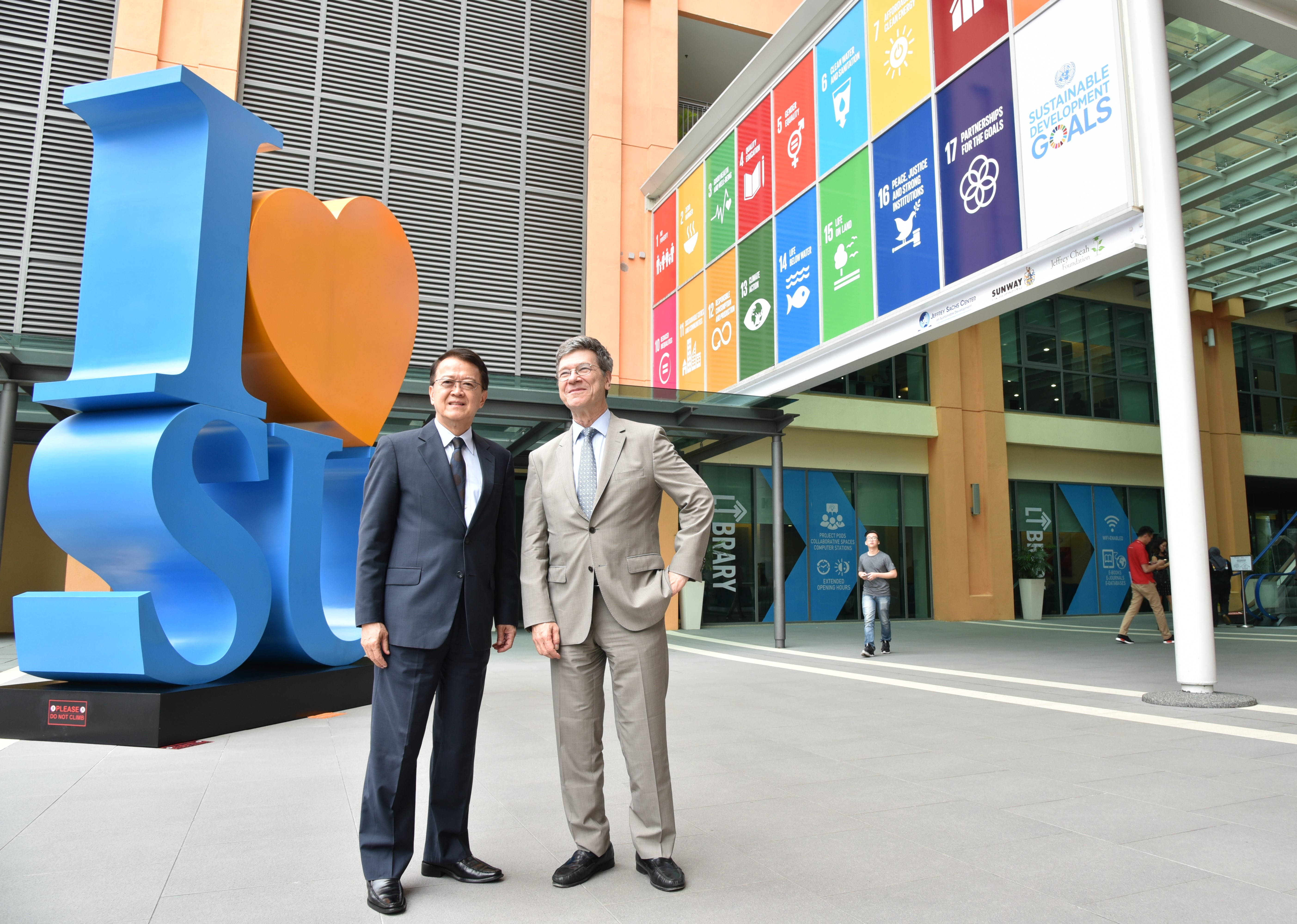 Tan Sri Dr Jeffrey Cheah AO with Professor Jeffrey Sachs

In 2020, the Foundation committed another US$10 million to the UN SDSN. The gift is being used to establish and fund the operations of the Asian headquarters of the UN SDSN at Sunway University, making it one of only three such global centres tasked with continent-wide sustainability initiatives. The other centres are in Paris, which oversees Europe and Africa, and New York City, which oversees the Americas.
In the latest sustainability initiative, the Foundation established the Sunway Centre for Planetary Health at Sunway University. The centre is working with the other institutions at Sunway University to advance the sustainability agenda in the region.
Net-zero commitment
Taking its commitment to the sustainability agenda one step further, Sunway has pledged to achieve net-zero carbon emissions by 2050. This is in line with the Malaysian government's commitment to carbon neutrality by 2050, as outlined in the Twelfth Malaysia Plan.
Sunway Group is the first corporation in Malaysia and among the first in Southeast Asia to introduce a carbon pricing framework into its businesses. Sunway's business divisions will work towards their decarbonisation targets. Business divisions that fail to meet these targets will be penalised by deducting an amount from their bonus pool. Between 2022 and 2024, prices will be set at RM15 per ton of carbon dioxide above a pre-defined threshold. This carbon price will be recalibrated progressively in subsequent years, sending a message to its internal stakeholders that they need to find solutions to cut carbon emissions – or pay the price.
To drive progress towards net zero by 2050, Sunway has set an interim target to halve emissions by 2030 (from 2010 as the base year, as per the United Nations Intergovernmental Panel on Climate Change's recommendations). From now until 2030, Sunway's focus is to reduce residual emissions by improving efficiency and using energy substitution. However, to reach net zero by 2050, it plans to focus on using carbon offsets, such as carbon storage and capture, and investing in large-scale renewable energy. Sunway partnered with the Massachusetts Institute of Technology in 2017 to research carbon capture, utilisation and storage technology (CCUS) to make it commercially viable.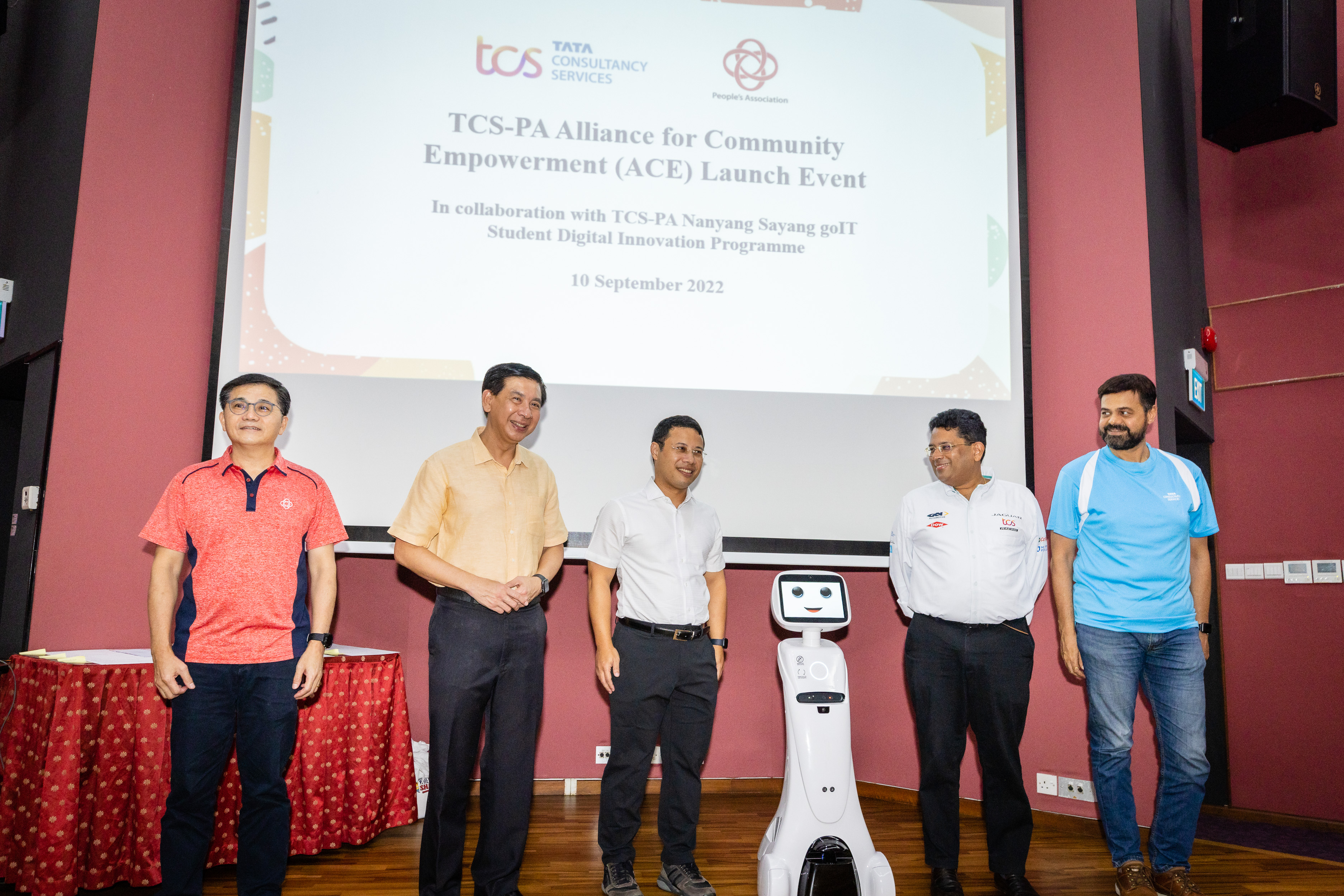 Enabling communities through technology
Tata Consultancy Services
Tata Consultancy Services (TCS)'s purpose and values are aligned with that of its parent, the Tata Group, and both entities collaborate closely with their customers on social and community initiatives. As a technology company, TCS is constantly revisiting how technology can better enable communities and how the company can help through technology. A holistic approach is taken towards sustainability and focuses on four issues:
Acceleration towards net zero
Influencing and enabling future generations
Partnering with customers for more sustainable outcomes
Empowering employees to lead the change
These values align with the four values of the Steward Leadership Compass© (interdependence, long-term view, ownership mentality, creative resilience), outlining TCS' stewardship purpose.
A four-horizon journey with an ecosystem-based approach is used to address the company's sustainability challenges:
Enterprise ecosystem: Enable businesses to be sustainable, agile and resilient while innovating sustainable products and services
Value chain ecosystem: Enable sustainable supply chains through collaborative industry ecosystems
Cross-industry ecosystem: Enable sustainable life experiences through multi-industry, cross-sector ecosystems
Cross-sector ecosystem: Nurture bio-regional economies that enable self-reliant, local communities
Improving digital access and literacy
TCS's community initiatives focus on improving digital access and literacy in communities, including seniors and underprivileged students. The progress and impact of these programmes are constantly tracked to ensure that targets are met. For instance, TCS' CareSeniors Programme has invested more than 6 million Singapore dollars (US$4.4 million) in senior care solutions. TCS also contributed more than S$40,000 worth of laptops and wi-fi connections to underprivileged students to relieve Covid-19 challenges, benefitting more than 150 students in Singapore.
In September 2022, TCS announced the launch of the Alliance for Community Empowerment, or ACE, along with its partner, the People's Association (PA). ACE aims to foster greater digital fluency and preparedness for underprivileged youths, families and the elderly in Singapore through curated digital programmes and initiatives, allowing them to be equipped with the right skills and knowledge to thrive in an increasingly digitalised world.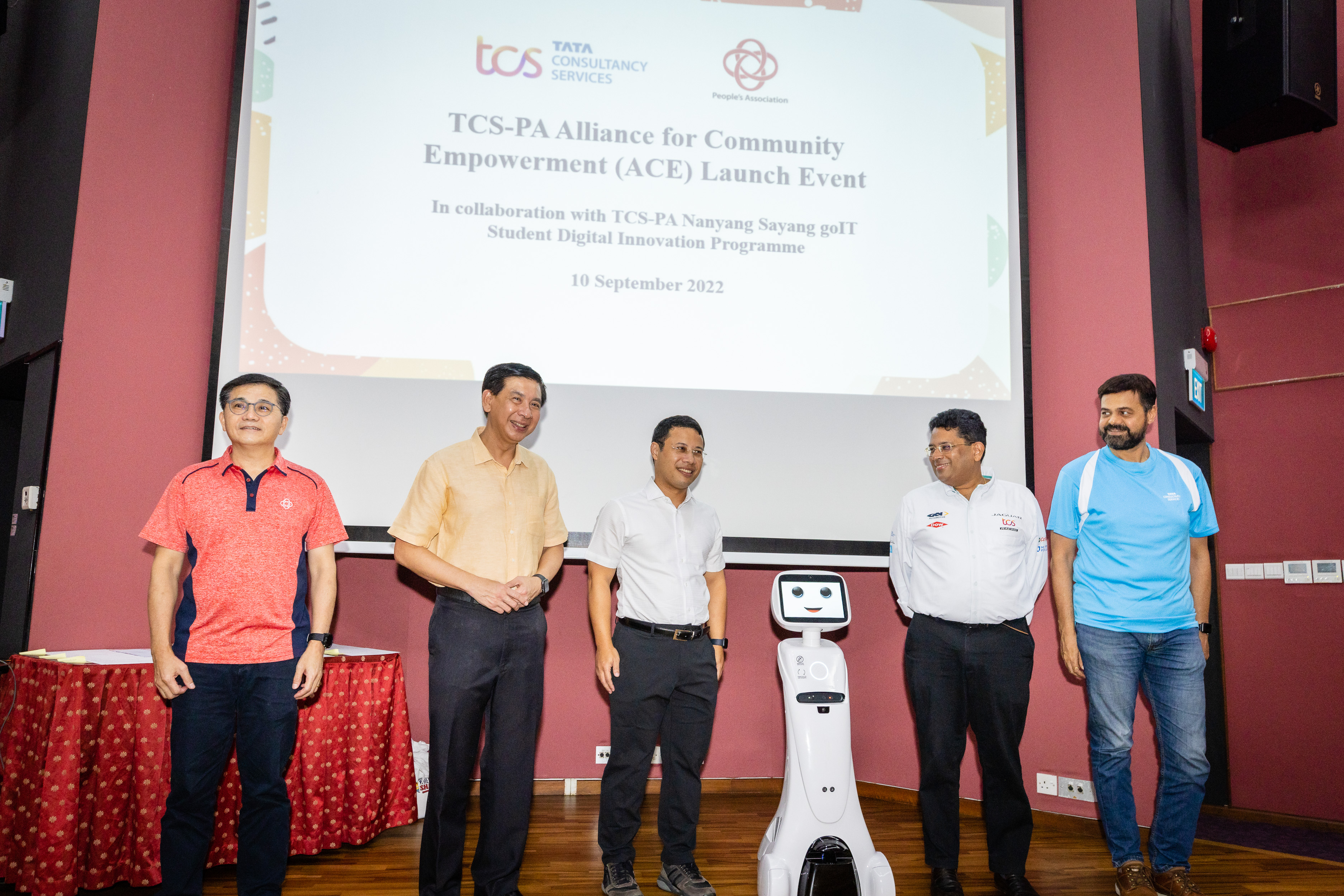 Leveraging TCS' deep expertise in technology and digital innovation and PA's extensive grassroots network, ACE will empower communities through two core pillars – education, which focuses on upskilling and reskilling, and innovation, which involves collaborative partnerships and collective ideation between TCS and government agencies to co-create solutions for local community challenges.
One of the anchor initiatives powered by ACE is the TCS-PA Nanyang Sayang goIT programme. goIT is one of TCS' corporate social responsibility flagship programmes, implemented in more than 150 cities and impacting more than 100,000 students worldwide since 2009. It is a student engagement digital innovation programme which teaches design thinking skills to students from underrepresented groups and applies a human-centric tech approach to solve real-world problems.
Under this initiative, which was held at Nanyang Community Club, TCS professionals conducted pro-bono workshops with mentors from the Nanyang Youth Network. These mentors, comprising junior college and university students, were taught skills such as design thinking and User Interface/User Experience, which they then imparted to seven- to fourteen-year-olds from low-income households. Moving forward, TCS-PA ACE will continue to expand the goIT programme to other divisions in the West Coast district, with plans to reach at least 70 student mentees by March 2023.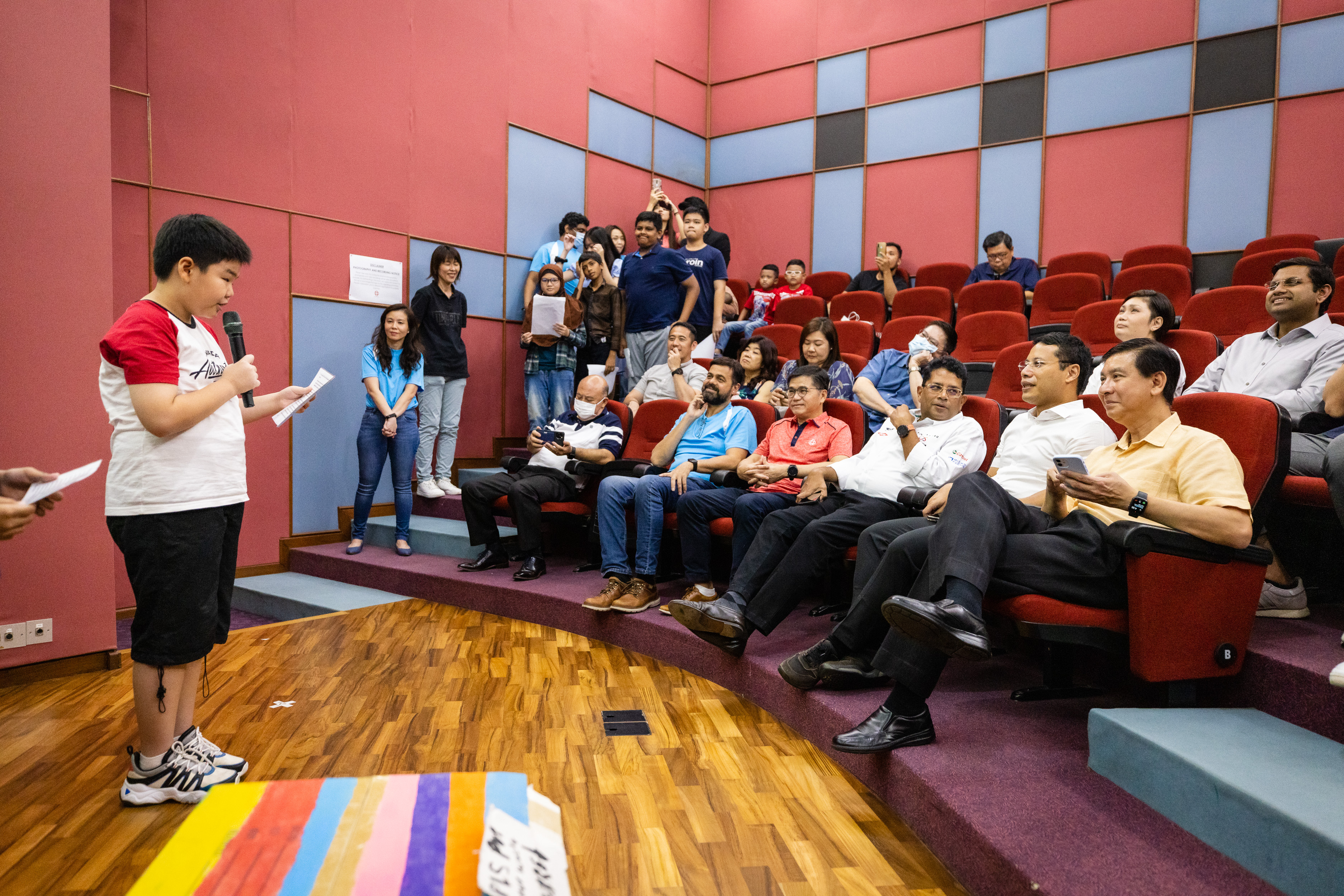 A mentee speaking at the launch of TCS-PA ACE

All initiatives under ACE are fully enabled by the TCS-PA Empowerment Fund, established in 2020 to alleviate Covid-19's impact on vulnerable communities. A total of close to S$70,000 was raised through an employee donation drive, matched dollar-for-dollar by TCS. Plans are also underway to introduce the goIT programme and anti-scam workshops to other constituencies around Singapore from 2023.
Over the past six years, TCS has made consistent and significant efforts to support local communities through different technology-focused initiatives. To date, the company has completed numerous milestone projects with PA that have benefitted more than 500,000 residents in Singapore. The total commercial value of these projects is estimated at more than 13,000 hours or S$550,000. The co-creation of ACE marks a further commitment by both organisations to make further strides in their partnership and provide targeted assistance to more communities.
Building on the core purpose
Organisations and businesses can be catalysts for change. To this end, TCS's core purpose is to connect people to opportunities in the digital economy, a mission central to how it operates as a business. Through innovation, partnership and collective knowledge, TCS believes it can lead positive change for all stakeholders. The company's deep understanding of digital transformation, technology, and its application helps to create a strong foundation for developing solutions to some of the world's most pressing problems at scale.
As the world continues to evolve rapidly, TCS will double down on its engagement model of leveraging the organisation's intellectual, technology, financial and human capital to impact the communities where it operates exponentially.

Creation of bioplastic through farm-led innovation
Thai Wah Public Company Limited
Since Thai Wah's inception in 1947, the company has incorporated innovative and climate‐focused strategies into all aspects of its business operations to achieve short‐ and long‐term goals while growing sustainably. These strategies include expanding its agronomist team, changing its energy sources, continually innovating its sustainability-oriented cultivation methods, and developing its ROSECO™ bioplastic.
Growing the agronomist team
Over the past few years, Thai Wah's agronomist team has grown to over 20 farm experts and technical personnel who work daily with more than 30,000 farmers across the region. Farmer involvement is essential for any innovative practice in the agricultural industry. The team helps farmers incorporate technological advancements and expand their knowledge of the types of agricultural inputs available. Only by working collectively can the company and the farmers build strength and overcome global challenges.


Thai Wah expands farmers' knowledge about various agricultural inputs and access to disease-free seedlings

Transitioning to sustainable energy sources
Transitioning to renewable energy sources was paramount to lowering greenhouse gas emissions at its factories. Since 2017, the company has been a pioneer in the waste‐to‐energy field, starting with identifying greenhouse gas emission sources to determine the best solutions to cut emissions across its entire value chain. In 2019, Thai Wah began harnessing solar power from solar panels installed on its factory rooftops and in 2021, the company developed biogas from the by‐product tapioca pulp. This culminated in a transition to solar power and biogas instead of coal and fossil fuels to run the company's factories. These initiatives, which are aligned with the company's 3T strategies of traceability, transition and transformation, had one important goal: to achieve the 2030 carbon neutrality targets set forth by the company and the United Nations Sustainable Development Goals.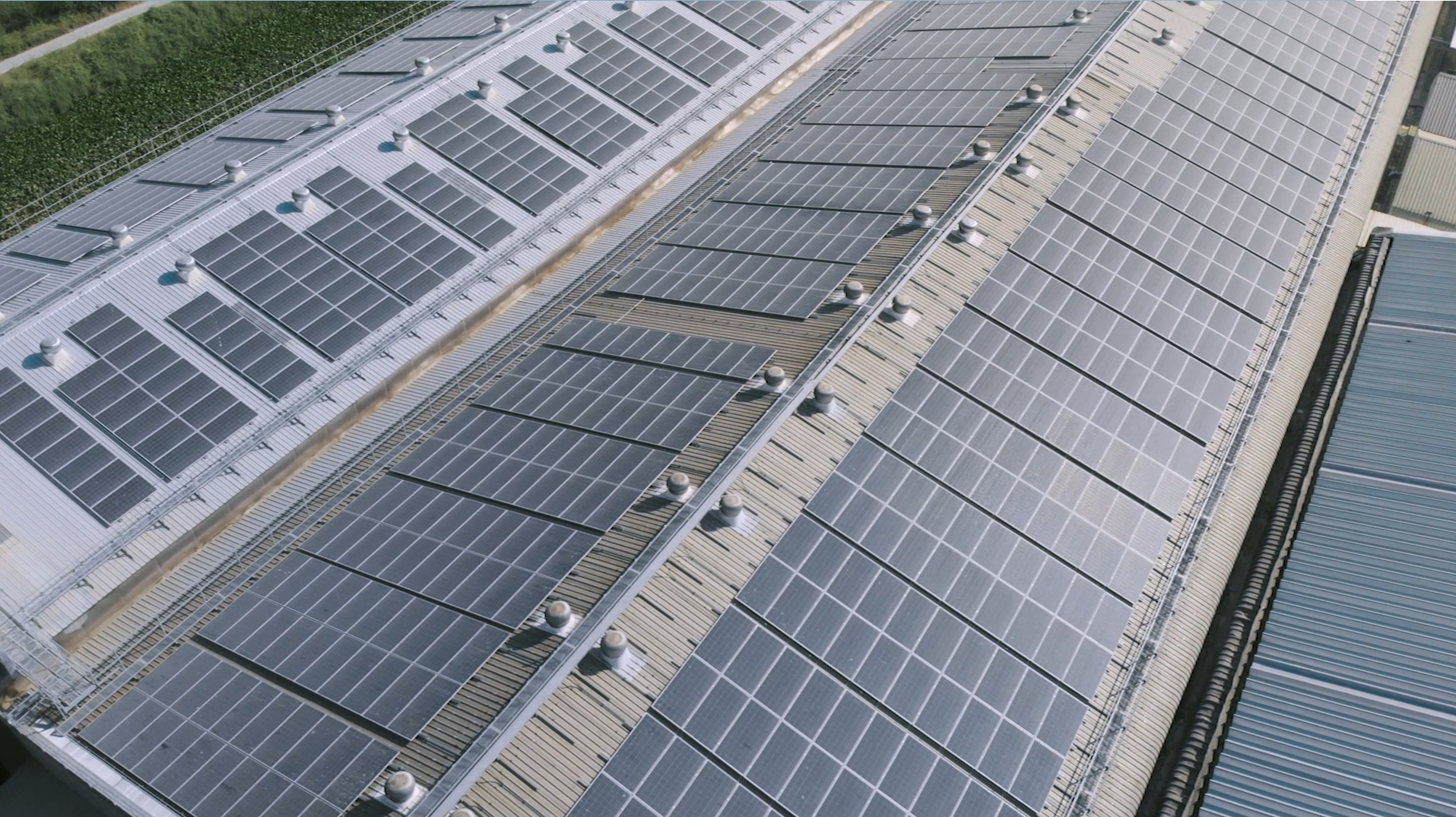 Thai Wah's factories transitioned to running renewable energies with solar rooftops in 2019

Culture of innovation
Consistent innovation is a critical driving force behind Thai Wah's business strategies. Beyond its products and services, the company's innovation is embedded in its operational structure. The company has a network of well‐versed personnel with core competencies compatible with its business direction. A culture of innovation has enabled the company to develop an extensive spectrum of in‐house solutions. Equipped with these innovations, Thai Wah handpicks solutions that best fit its customers, given the latter's available resources. This strategy allows Thai Wah and its customers to succeed amid increasingly competitive markets. The company's capabilities now span the areas of starch chemistry, food technology, materials science and bioengineering.
ROSECO™ bioplastic
Challenges create opportunities to explore new markets. After two years of hard work, Thai Wah launched ROSECO™, Southeast Asia's first tapioca‐based bioplastic in 2022. It was developed to address challenges in finding compostable and biodegradable solutions. The next few decades will see the long‐term challenge of combating the plastic waste crisis. As part of the 3Rs (Reuse, Reduce, Recycle) initiative to address this challenge, Thai Wah's bioplastic will help develop cost‐effective and innovative solutions for the future. Thai Wai's ROSECO™ business is expected to account for between 10 and 20 per cent of the group's total revenue, equivalent to US$100 million, in 3 to 5 years. Since 2021, Thai Wah has undertaken further research on the Life Cycle Analysis of different crops it uses and how recycled crops fit into new composting and biodegradable standards.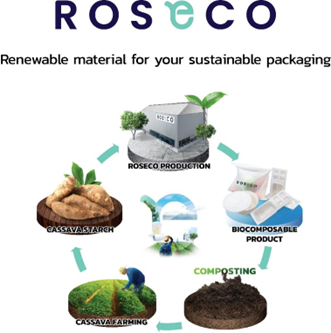 ROSECO™ exists to provide zero waste solutions for a better world

Towards an innovation-driven future
Core to Thai Wah's ethos on successful stewardship is to constantly grow by creating and scaling business platforms that are sustainable and enduring over time. The company plans to incrementally drive its value chain – Farmer, Factory, Family, and Food & Finished Goods – towards sustainability-oriented innovations and transformations, with the customer at the centre. The aim is to enable farmer-led agricultural innovation, greenhouse‐neutral factories, more sustainability‐conscious and innovation‐driven families, and more consumer‐centric finished goods. Thai Wah strongly believes it will take everyone working together – not one individual or one company – to realise sustainability and address climate change.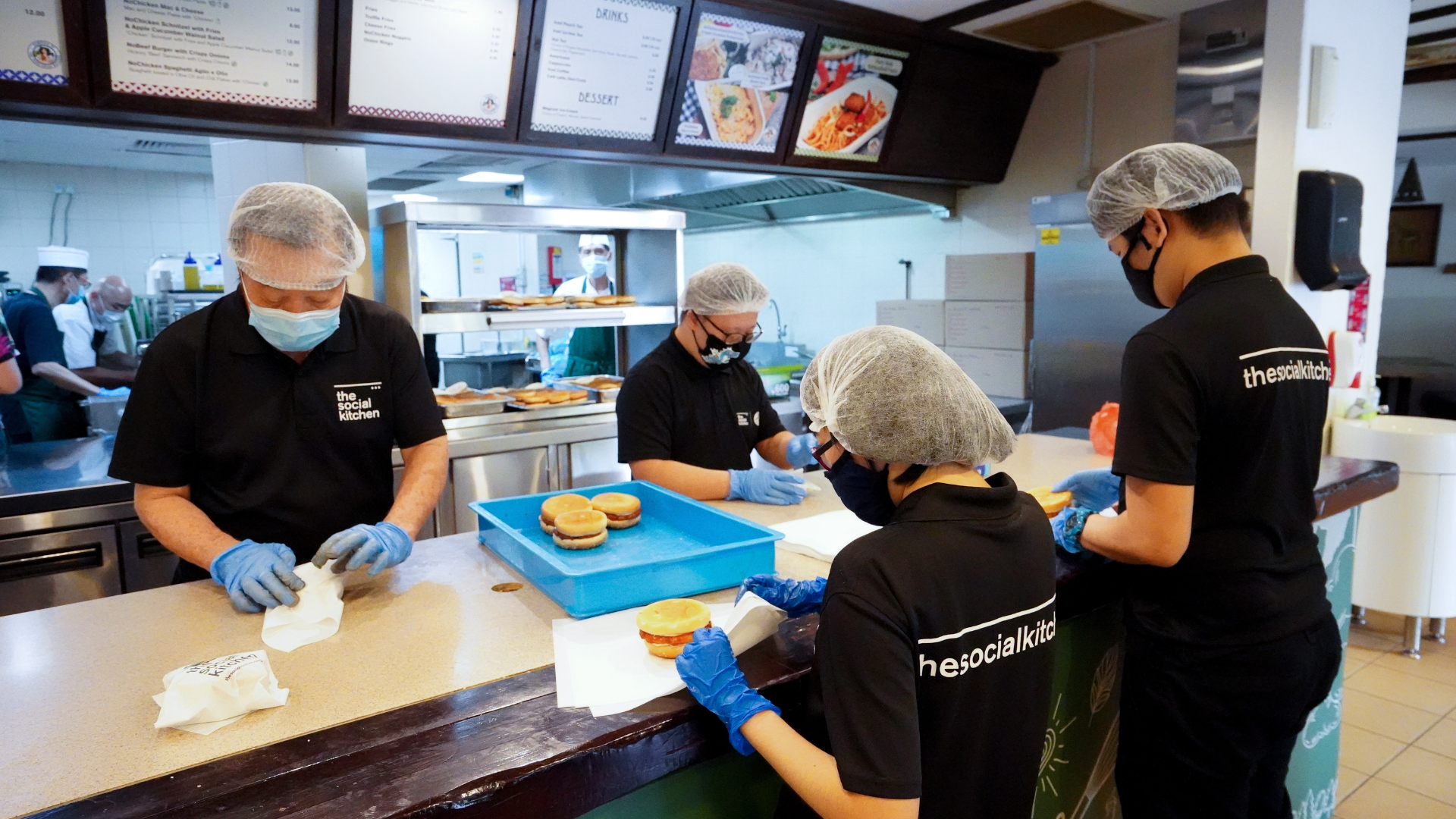 Creating plant-based food, PWD opportunities
The Social Kitchen Pte. Ltd.
The Social Kitchen Pte. Ltd.
The Social Kitchen (TSK) combines its social purpose of empowering vulnerable communities and its environmental aim of addressing climate change through its mission, "sustainable food powered by a sustainable workforce."
Promoting sustainable diets
In line with its goal of addressing climate change and resource depletion, TSK promotes plant-based diets and encourages environmentally friendly practices as part of its sustainable business model.
TSK's menu and retail activity revolve around the sale and production of plant-based food to raise awareness of the importance of sustainability. TSK recognises the common misconception that taste and nutrition are compromised in plant-based diets. To combat this fallacy, TSK collaborates with well-known food and beverage (F&B) brands, providing quality mid-tier to high-end dining options. For example, it partnered with Holland-based meat-substitute brand The Vegetarian Butcher for outlets at the Jurong Bird Park and Gardens by the Bay.
In setting up such "cloud kitchens," TSK also uses former under-utilised kitchens by reinventing these spaces for social and community purposes. This ensures that resources are not wasted in the development of a new space and makes use of resources already present.
At the same time, these cloud kitchens are attractive to many F&B operators who want to expand their footprint in Singapore without the hefty capital investment. By investing or partnering with TSK, these operators also do good by enabling TSK to hire more PWDs to work in these cloud kitchens.
Inclusive hiring programme
As part of its social cause, TSK aims to empower members of vulnerable communities through employment and integration with the wider community. To this end, TSK partners with community organisations to hire PWDs. TSK bases its training on the restaurant or retail environment where employees interact with the community at large. With such on-the-job training, employees can better integrate into society through day-to-day interactions and gain experience beyond technical skills. Under this task-oriented training programme, PWDs are trained at their own pace.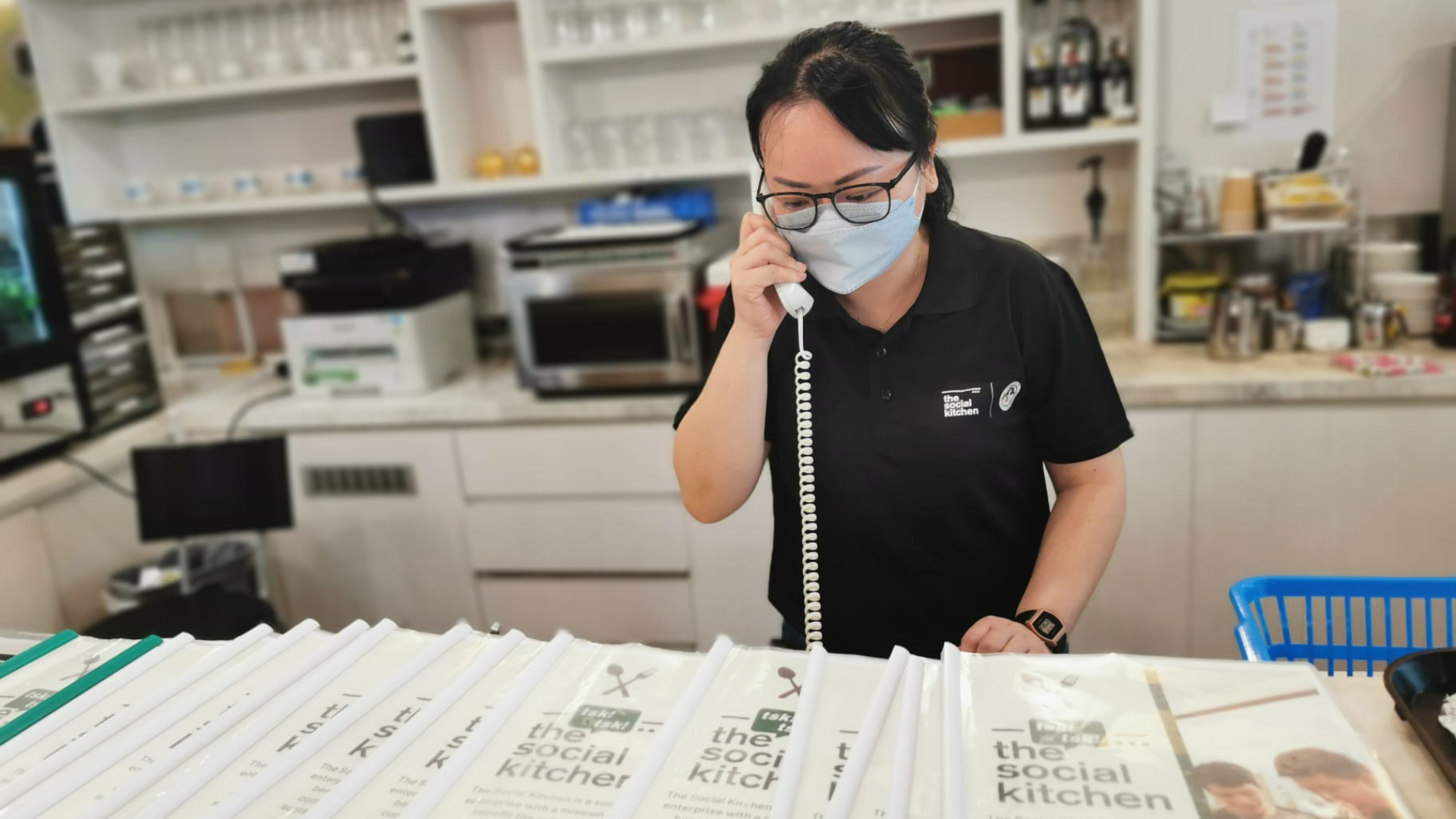 Since joining TSK, Esther has gained self-confidence and now manages the whole cafe herself.

TSK recognises that helping PWDs goes beyond providing employment and upskilling opportunities. Employees are also encouraged to participate in activities outside working hours, such as badminton and art classes. TSK strives to maintain a healthy relationship with its employees even after they leave the organisation.
Partnerships for mutually beneficial outcomes
TSK's current model allows it to provide a strong safety net that different community partners can tap on. This allows many businesses to employ and engage TSK's employees in a structured manner, allowing both organisations to be a meaningful force for good. TSK partners with businesses that want to participate in corporate social responsibility activities but lack a platform to do so.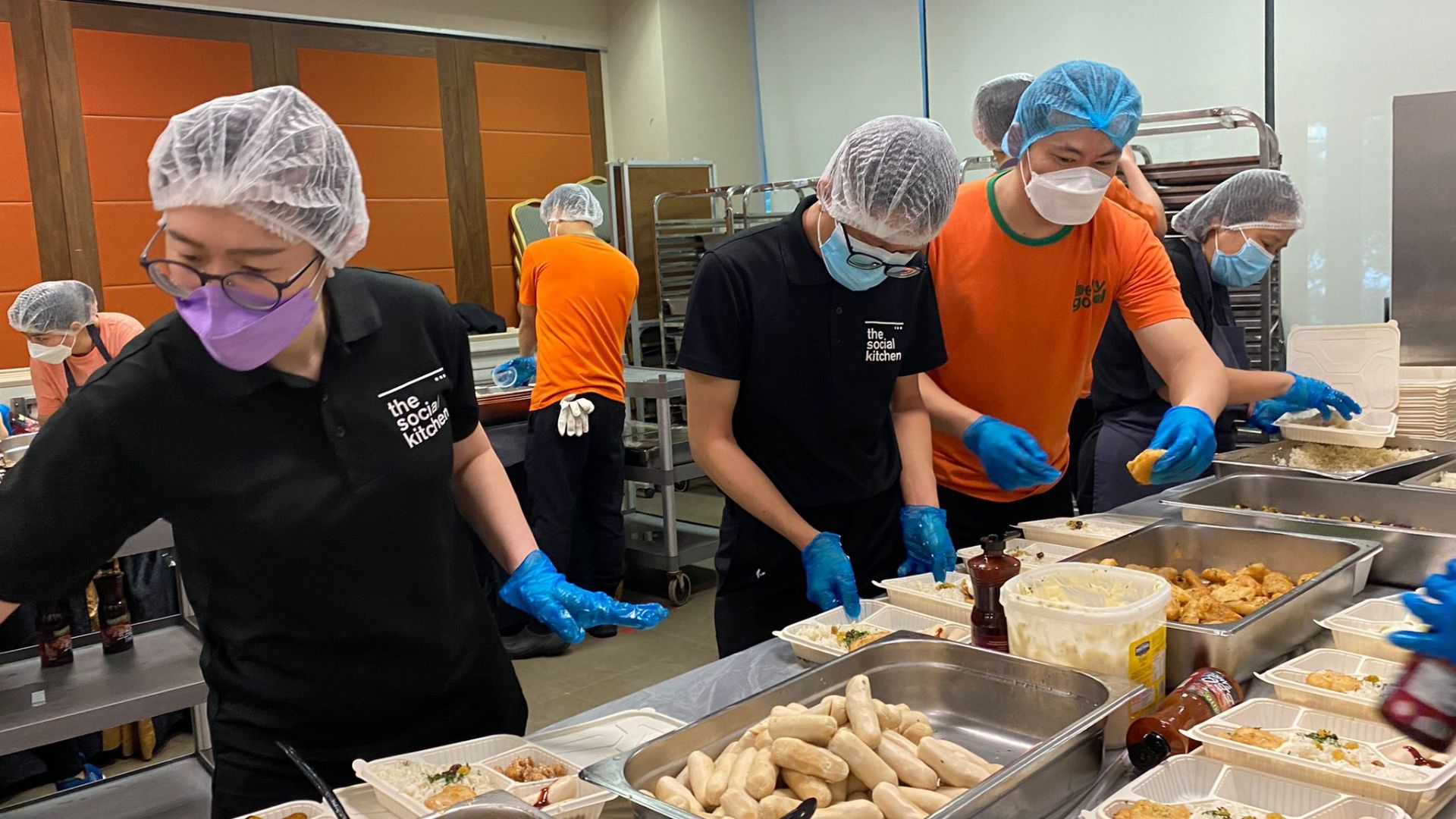 Packing bento meals to donate to needy families

Given its human resources and network with other social organisations, TSK offers corporates collaboration opportunities to do good together. For example, TSK launched the "BOX-ING GOOD" campaign, encouraging companies to work with it to pack and deliver bento boxes to vulnerable communities. Similarly, the "Sacrifice Nothing" campaign was launched in June 2021, where a multinational corporation donated plant-based burger patties and a bakery heavily subsidised the cost of burgers. Together, the three organisations produced and distributed 50,000 plant-based burgers to frontline workers in appreciation of their hard work. Such campaigns created jobs for the PWDs and provided a source of income to support themselves and their family.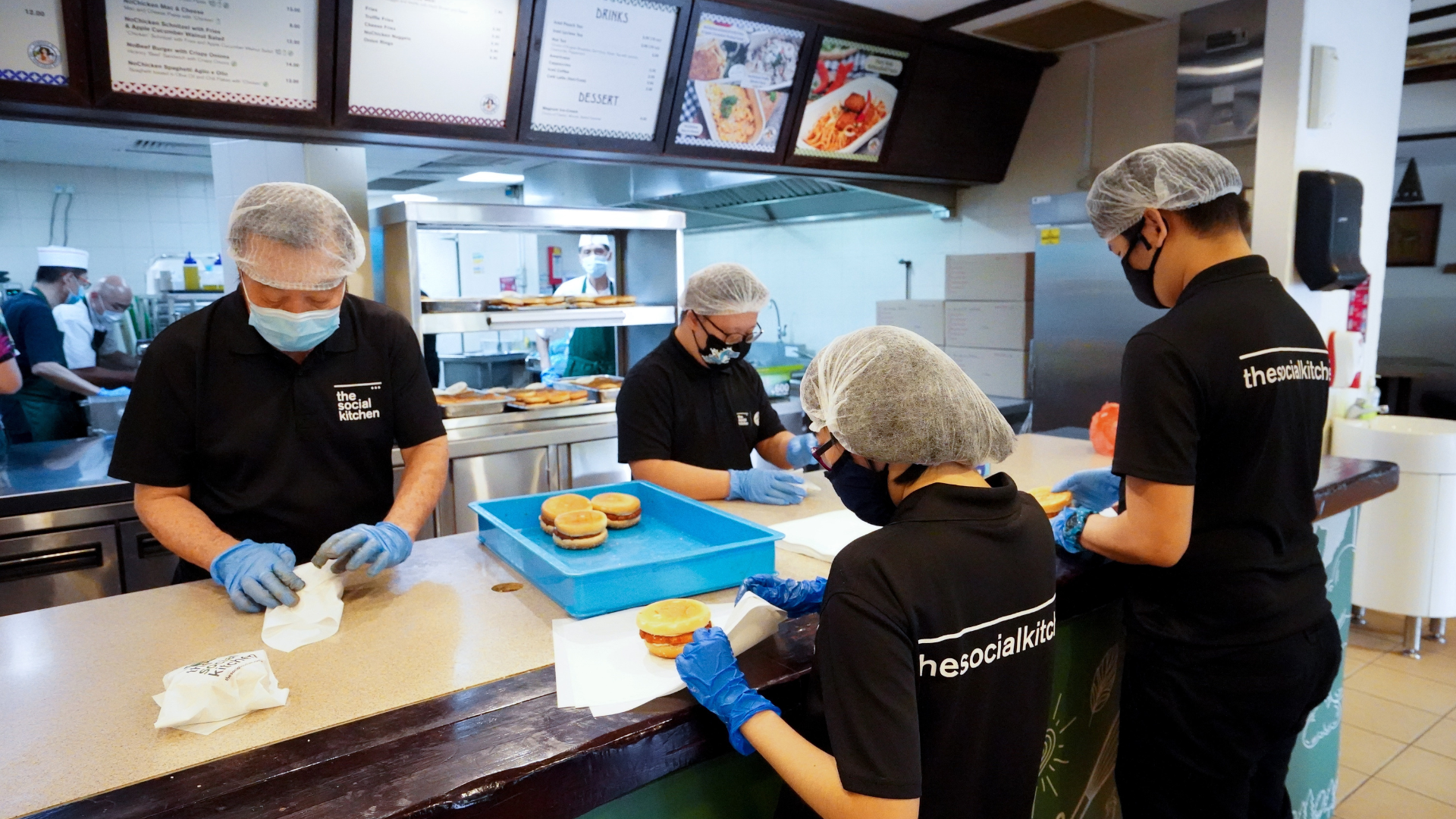 During the Covid-19 pandemic, TSK hired people from the vulnerable community to wrap 50,000 plant-based burgers.

Becoming the largest employer of PWDs
TSK is working towards becoming the largest employer of PWDs by expanding its number of outlets and hiring more PWDs. With 11 outlets in 2022, TSK is on the road to success. In the next five years, TSK hopes to have 50 outlets and a PWD staff strength of 500. Ultimately, TSK hopes to provide PWDs with sustainable jobs that will cultivate their independence and gradually reduce their reliance on the organisation.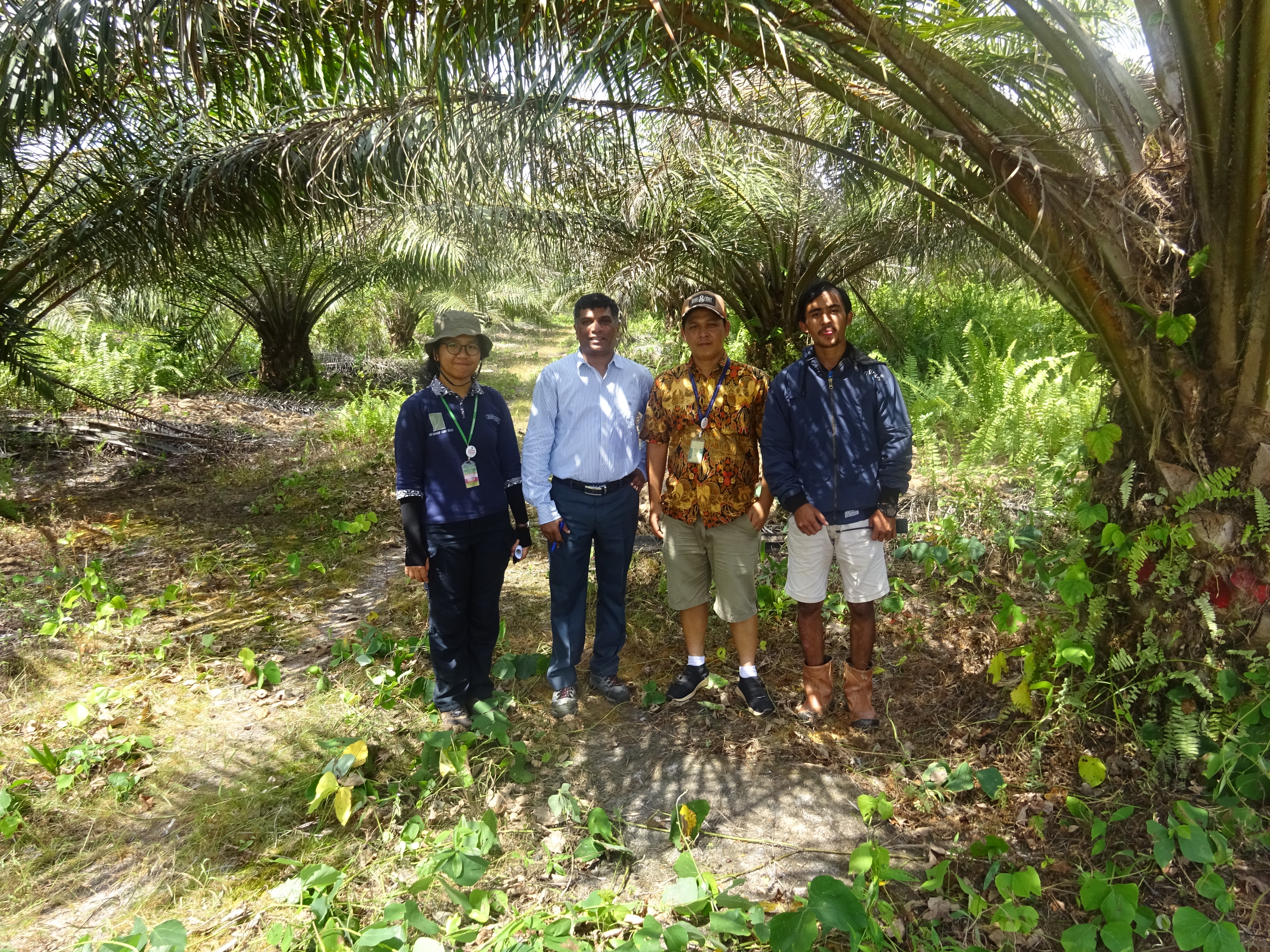 Bio-innovation for food security and sustainability
UAL Biotech Pte. Ltd.
UAL Biotech works towards providing a clean environment and safe, affordable organic food for all. With food production being heavily reliant on factors such as weather patterns and temperature, climate change is exacerbating the trade-off between high-yield food production and its greenhouse gas (GHG) emissions. Addressing this trade-off is key to creating a sustainable future for the next generation.
Public discourse on climate change often fails to acknowledge the impacts caused by nitrous oxide. Data shows that nitrous oxide has a significantly larger impact than carbon dioxide, with 1 metric ton of nitrous oxide equivalent to 300 metric tonnes of carbon dioxide emissions (IPCC 2014). The problem is aggravated by agricultural policies which subsidise chemical fertilisers, disincentivising newer technologies. Any viable solution to mitigate climate change must include an industry-wide reduction in nitrous oxide emissions.
Chemical-free alternative
To tackle the main source of GHG emissions in the agriculture business, UAL developed a bio-solution as an alternative to chemical fertiliser farming without compromising cost and yield. For certain crops, UAL has achieved results where cost is lower and yield is higher compared to chemical fertiliser farming.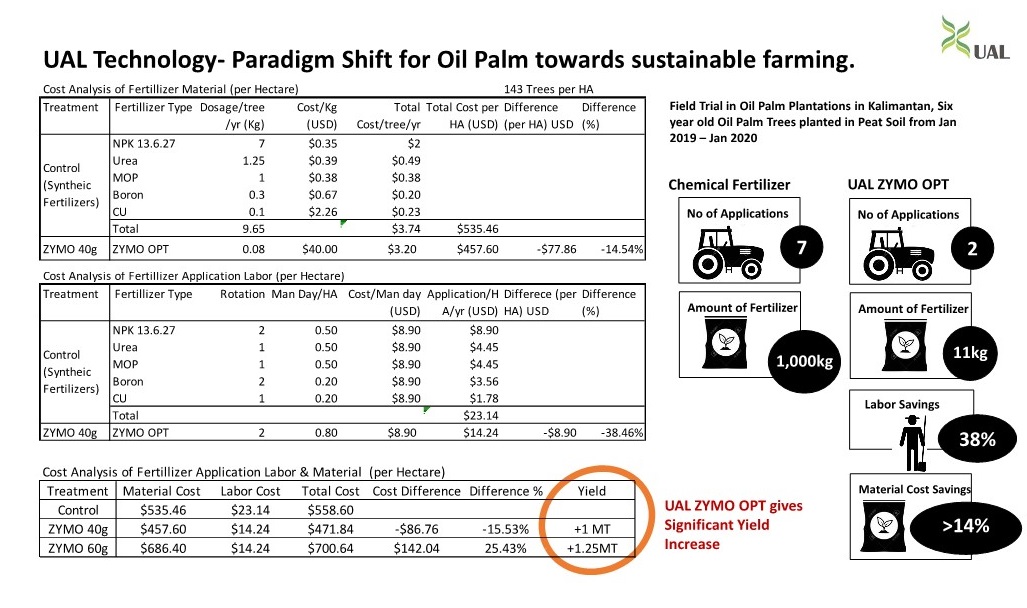 UAL Technology: Paradigm shift for oil palm towards sustainable farming

UAL has since completed various toxicology and bio-efficacy trials in agronomically different locations in India, Indonesia and the Philippines and commercialised the technology, becoming profitable in 2020. UAL now looks to scale up both production and revenue in its chosen markets.
Collaboration with PT Triputra Agro Persada Group
In 2019, UAL collaborated with PT Triputra Agro Persada Group, one of Indonesia's largest agricultural players, to help the latter transition from chemical to sustainable organic farming.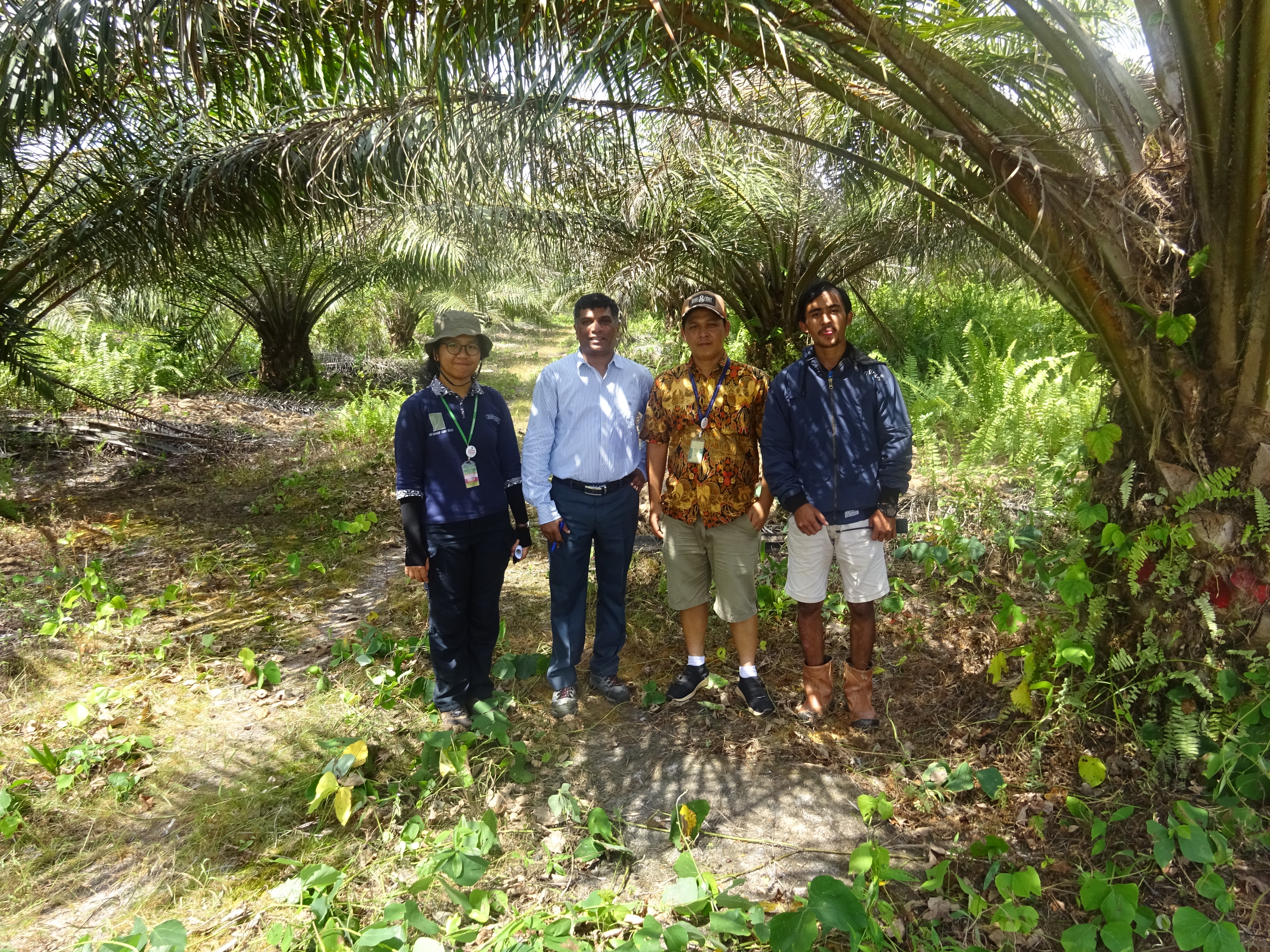 Under this initiative, UAL aimed to convert 25,000 acres of conventional palm plantations using chemical fertilisers to sustainable scalable organic farms while maintaining input price and output yield. This would translate to the removal of 40,000 metric tonnes of e-carbon equivalent reduction in GHGs.
Beyond environmental benefits
Food produced using UAL products are chemical-free and organic. This means that using UAL products resolves the following issues caused by chemical fertilisers and pesticides:
GHG emissions
nitrogen and phosphorus leaching
soil and biodiversity degradation
In essence, harmful chemical fertilisers and pesticides have been removed from the farming process. This ensures that water and other resources washed away in the agricultural process break down without contaminating water bodies and the life in them.
Removing chemical fertilisers from agricultural practices also benefits the supply chain, from workers to consumers. Chemical-free products eliminate workers' exposure to harmful chemicals and their known and unknown short- and long-term side effects.
Current practices used in the farm to produce organic products are costly and yield much less than non-organic products. By matching the cost of farming organic products with that of non-organic products, consumers have access to both options at the same price. Consumers are thus enabled to choose climate-friendly organic food without additional financial constraints.
Going digital
UAL is developing a digital platform to connect farmers using UAL technology with the market. The platform looks to enable: (a) traceability of inputs used in the farm, (b) aggregation of small farmers to access carbon credits, and (c) delivery of chemical-free produce to the end customer, ensuring affordable and sustainable safe produce to the average consumer.
UAL also aims to increase its production capacity ten-fold and targets to convert 2.5 million acres by 2028, resulting in the removal of over 4 million metric tonnes of e-carbon equivalent greenhouse gases, making it one of the global leaders in sustainability.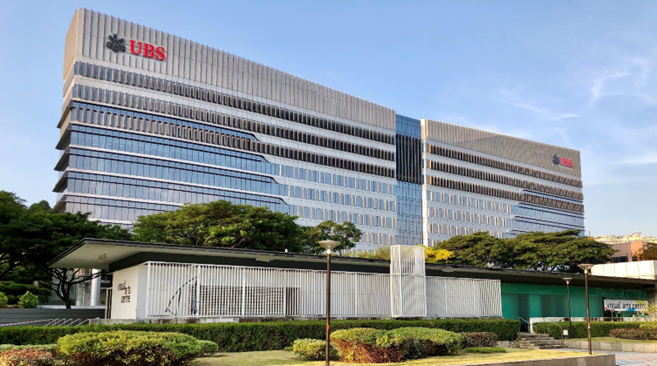 Directing capital towards UN SDGs
UBS AG
UBS focuses on the three key areas of Planet, People and Partnerships to maximise impact and drive stewardship:
Planet: make climate a clear priority as the world shifts towards a low-carbon future
People: address societal challenges through client and corporate philanthropy as well as employee engagement
Partnerships: work with other thought leaders to achieve impact on a global scale
As a global financial institution, UBS understands that it has a role in tackling the United Nations Sustainable Development Goals (UN SDGs) by directing capital to where it is most needed. UBS does this through thought leadership, collaborative industry initiatives, its investment process and a focus on stewardship.
Sustainable investments as the preferred solution
UBS believes it has the scale, connections and commitment necessary to make a decisive difference in creating a more sustainable future for all. In September 2020, UBS became the first major global financial institution to make sustainable investments the preferred solution for private clients investing globally.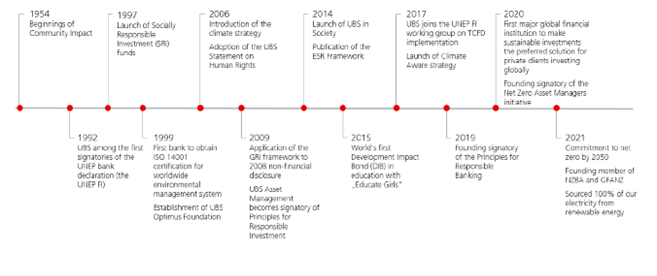 UBS aims to promote well-functioning markets by taking a long-term view and driving performance excellence while influencing positive change

Working with clients, UBS delivered a wide range of sustainable finance offerings in 2021:
Held US$251 billion in sustainability-focused and impact investments, an increase of 78 per cent yearly
Supported 103 green, social, sustainability or sustainability-linked bond transactions and has been active in sustainable bond issuance with sovereigns such as the Philippines, Indonesia and Hong Kong
Expanded the UBS Climate Aware suite of products and grew Climate Aware strategies to US$23.4 billion
Supported more than 320 philanthropy programmes in over 60 countries and reached 4.6 million beneficiaries worldwide through UBS Optimus Foundation activities
Development Impact Bonds
UBS also implemented innovative financing mechanisms for social impact, such as the Development Impact Bonds (DIB). UBS developed the world's first and largest DIB for education and the world's first DIB in maternal and child health. In 2021, UBS launched an initiative to invest US$100 million in SDG-aligned outcomes-based programmes. Investors will receive returns based on verified social and environmental impact. The initiative is based on an innovative blended finance structure with philanthropic first-loss funding to unlock additional socially motivated private capital. Since 2020, UBS has supported over 30 innovative programmes on nature-based solutions and conservation financing.
As investors and stewards of client assets, UBS also strives to engage with companies it invests in to positively influence their sustainability practices. Discussions with company boards and corporate management enable UBS to share its expectations and encourage business practices which enhance long-term value. In 2021, UBS conducted 430 engagement meetings with companies, of which almost 40 per cent were with C-suite members. UBS speaks with companies on a wide range of topics, including corporate governance, climate change, board diversity, capital management and social issues.
Stewarding sustainable practices at the office
Internally, to engage its employees in its sustainability strategy, all UBS employees in Singapore and Hong Kong have completed sustainable investing and sustainability training programmes. UBS is further building tiered sustainability training for all staff globally. UBS creates ownership within the company through internal upskilling and enables employees to empower their clients.
To mitigate the environmental impact of its offices, UBS endeavours to achieve LEED (Leadership in Energy and Environmental Design) certification for all its new regional offices. For instance, LEED Platinum was awarded for its Guangzhou site, the highest-rated LEED office in the Guangdong province.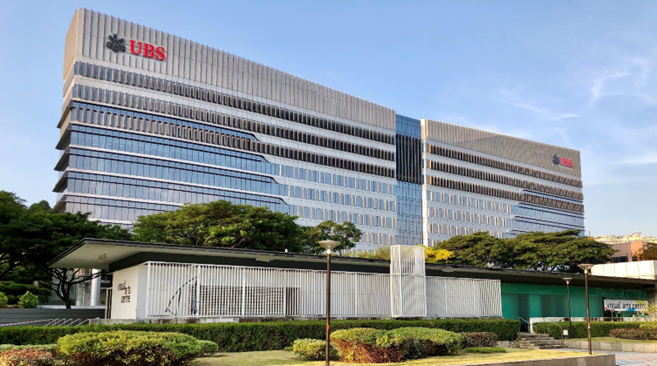 As the largest LEED Platinum project in Southeast Asia, 9 Penang Road (9PR) in Singapore is a symbol of UBS' environmental commitment.

Planning the stewardship roadmap ahead
Moving forward, UBS is broadening its stewardship activities to cover human rights, biodiversity, health and well-being, and the circular economy, while expanding existing climate engagement activities by 2025:
Sustainable finance: dedicate US$400 billion of invested assets to sustainable investments
Planet: net-zero energy emissions resulting from UBS' operations
People: raise US$1 billion in donations and impact 25 million beneficiaries through client philanthropy
Partnerships: contribute best-in-class sustainability thought leadership and an expert forum to engage clients and standard setters in discussion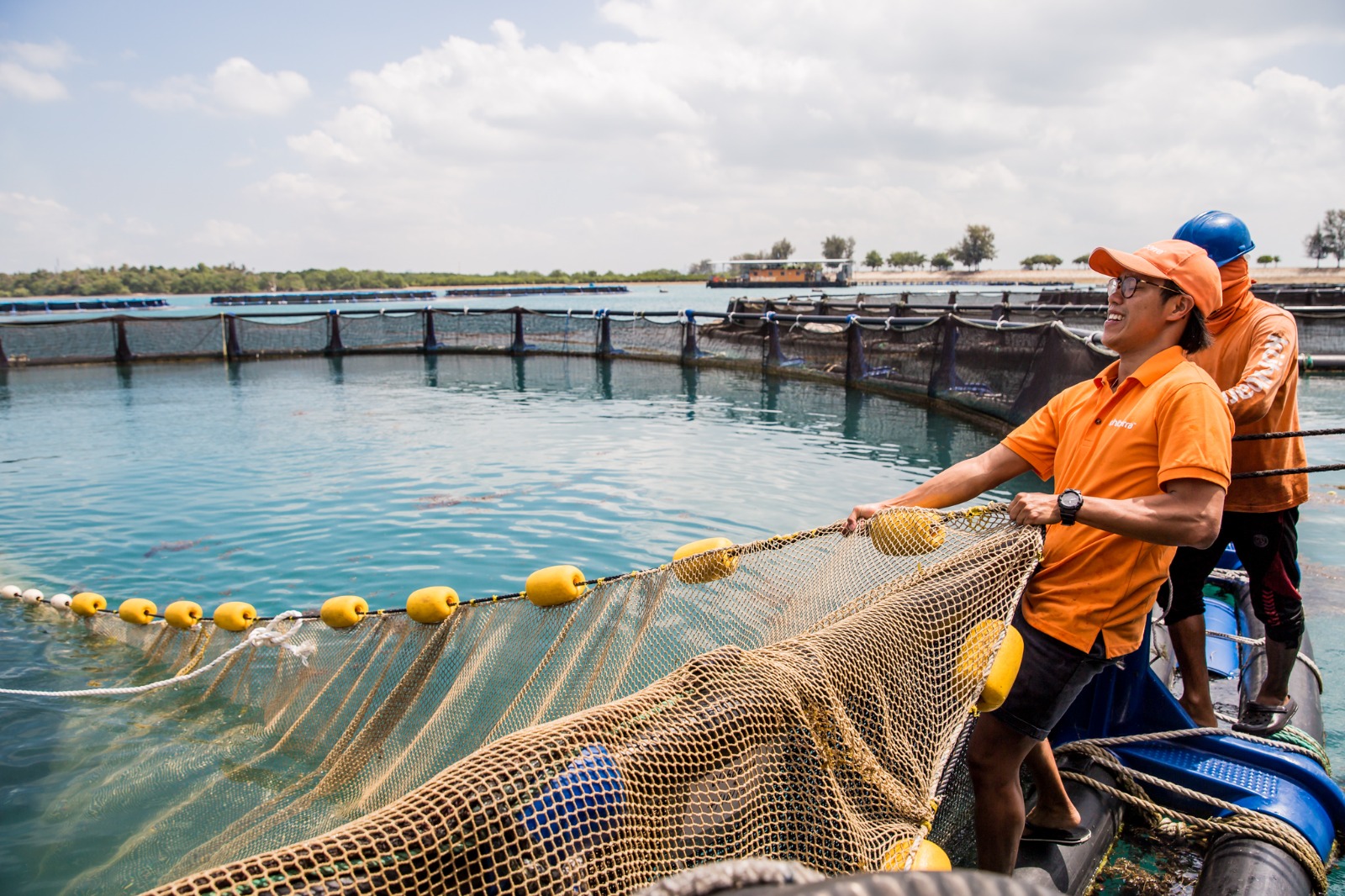 Collaborating to drive a sustainable ASEAN
United Overseas Bank Limited
Holding up to its brand promise "Right by You," UOB, a leading Singapore financial institution, works with governments, businesses, investors and individuals to change business practices and lifestyles for the greater good. UOB's values of Honour, Enterprise, Unity and Commitment form its sustainability strategy's guiding principles embedded in its everyday operations. The four pillars of its sustainability strategy are:
Drive growth sustainably
Keep customers at the centre
Develop professionals of principle
Uphold corporate responsibility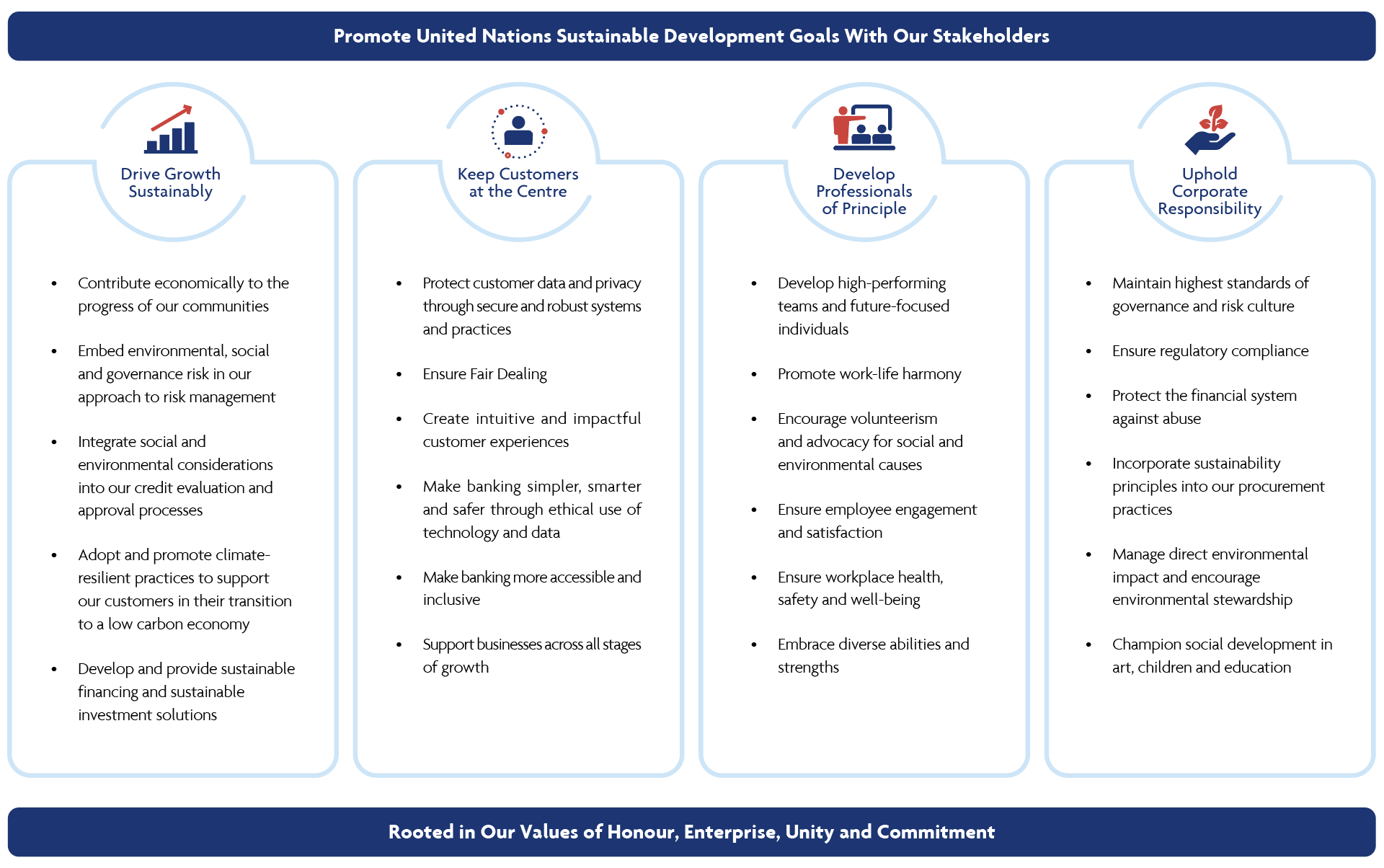 These four pillars reflect UOB's expertise, the responsibilities it holds and the role it can play in supporting its stakeholders in their sustainability journeys, forging a sustainable future for ASEAN. UOB's holistic sustainability approach extends across the region and aligns with all 17 United Nations Sustainable Development Goals (UN SDGs).


Employee involvement in driving sustainability
With its sustainability strategy embedded throughout the bank's business, all employees drive the sustainability agenda. The Group Sustainability Framework supports UOB's business decision‐making at all levels and provides employees with guidance on managing sustainability-related risks and business opportunities, including direct and indirect impacts on the environment, society and the economy.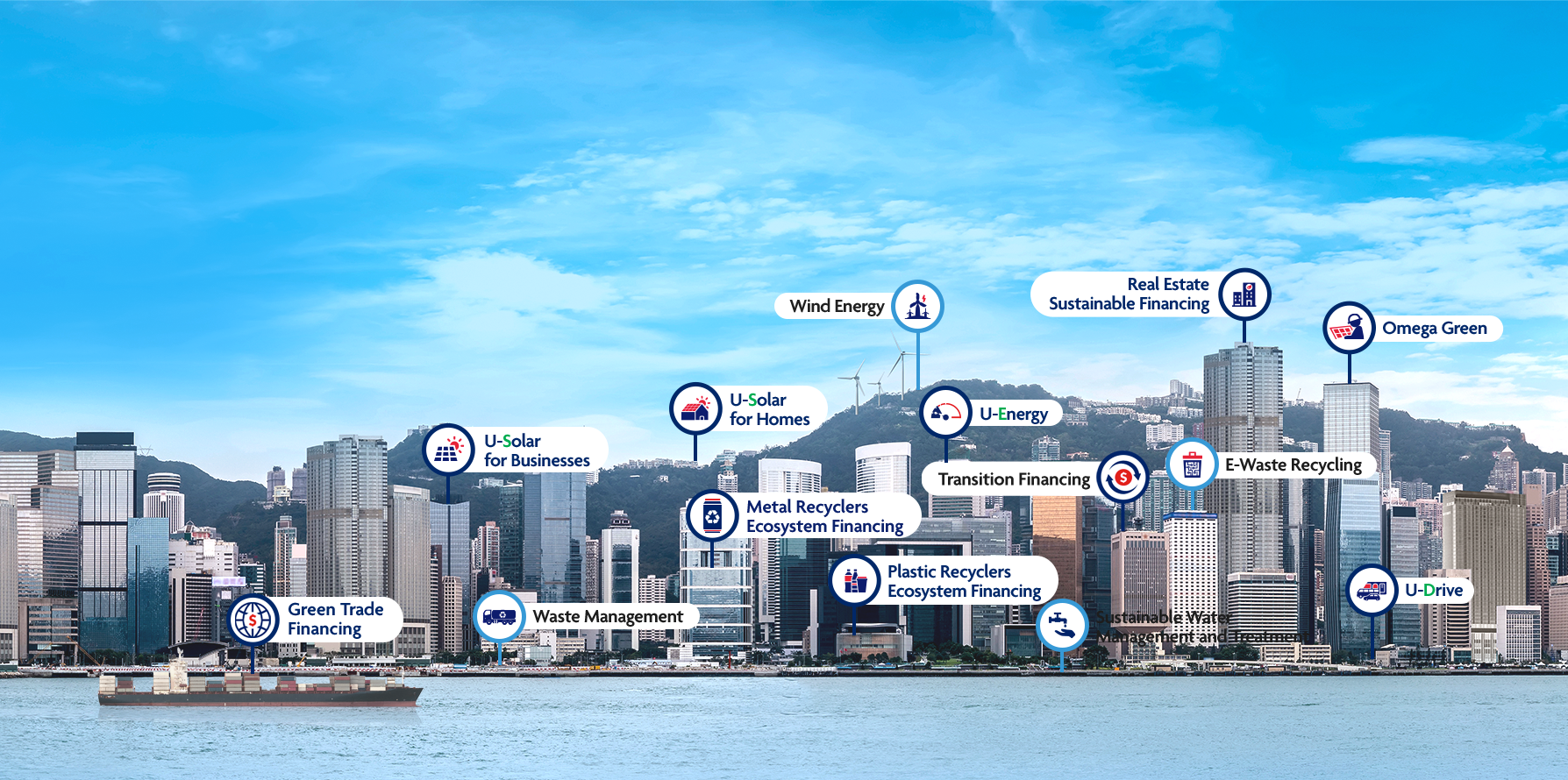 Integrating sustainability into business strategies, models and practices can be complex, which is why UOB's sustainability approach simplifies sustainability for businesses.

UOB runs various sustainability training programmes to equip its employees with the right skillsets. Across its network, UOB also shares sustainability-related updates on its intranet, MyUOB, to keep its employees abreast of market developments and that of the bank. In addition, the Corporate Sustainability Office site on MyUOB houses all sustainability‐related content and news across the group, which employees can access easily.
Carbon neutrality achievement
In 2021, UOB became the first Singapore bank to achieve operational carbon neutrality for its Scope 1, Scope 2 and Scope 3 emissions. UOB is committed to maintaining carbon neutrality through the following:
switching to more renewable energy sources
incorporating more energy-efficient features and systems
using carbon offsets for hard-to-abate emissions
UOB also aims to reduce its electricity use and Scope 2 emissions intensities by 14 per cent and achieve green building certifications for all key wholly owned UOB buildings by 2030. It also targets to achieve the BCA-HPB Green Mark for Healthier Workplaces certification for all new and renovated commercial offices by 2025. The BCA‐HPB Green Mark for Healthier Workplaces is a collaboration between the Singapore Building and Construction Authority and the Health Promotion Board.
Inclusive finance to help the marginalised
UOB's private equity arm, UOB Venture Management, established the Asia Impact Investment Funds (AIIF) to invest in growth companies across Southeast Asia and China to support people living on US$3,000 or less a year. With inclusive finance as a key focus, the AIIF has been investing in microfinance institutions in Southeast Asia that help improve the livelihoods and income resilience of marginalised groups, such as low-income individuals and women micro-entrepreneurs. With the efforts of AIIF's portfolio companies, more than 1.23 million low‐income individuals have gained better access to finance to build or invest in agricultural activities or small businesses. As of the end of 2021, the AIIF's investment portfolio companies' efforts have benefitted close to 19 million low‐income individuals.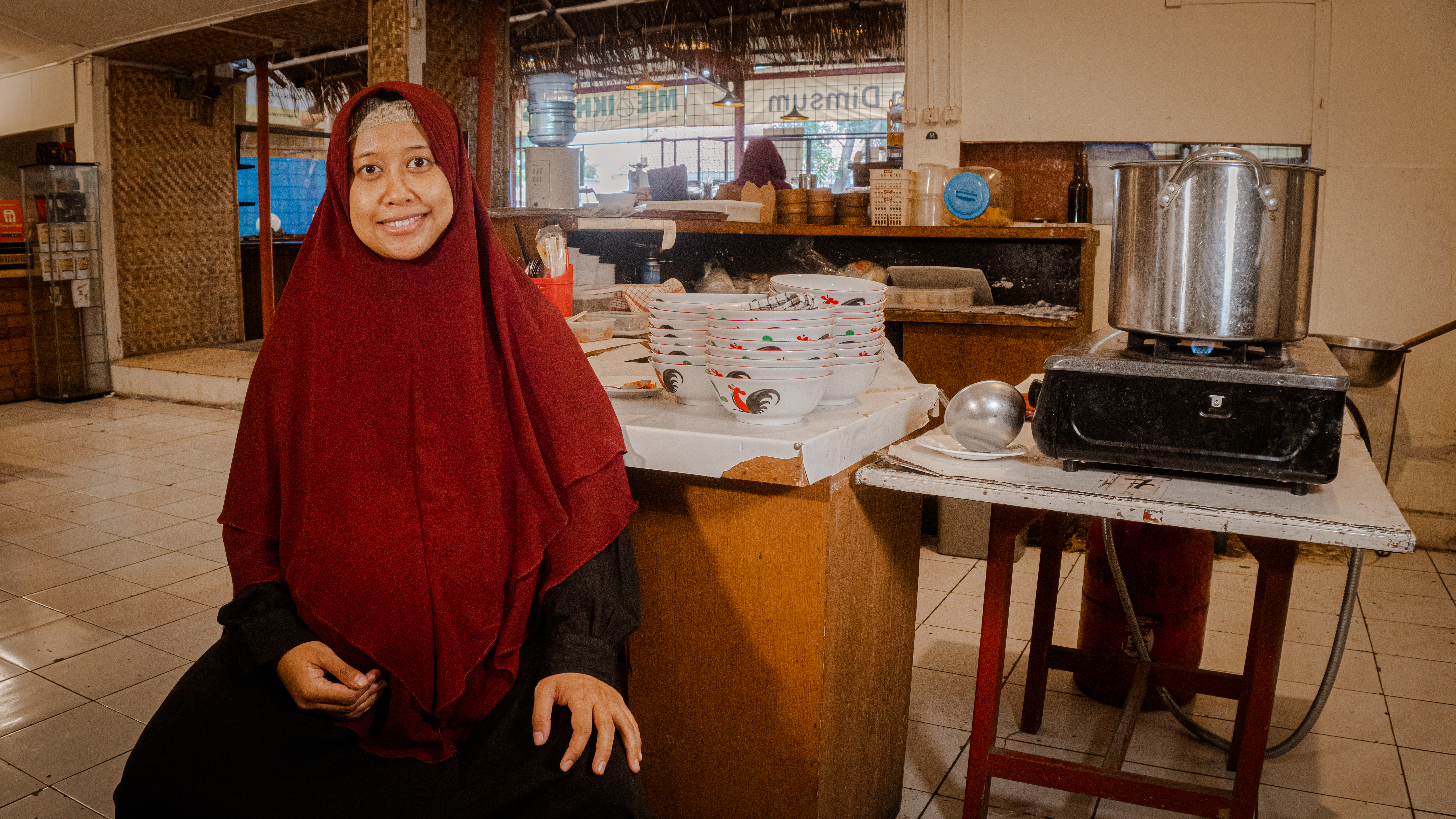 The AAIF invests selectively in portfolio companies that seek to improve the livelihoods and well-being of low-income communities and overcome the challenges they face.

Working with stakeholders
Sustainability is increasingly important for various stakeholders – governments, regulators, investors and consumers – and it is an ongoing journey to which UOB is committed, alongside its stakeholders. UOB acts as a catalyst and enabler, working closely with customers, colleagues and the wider community to create a multiplier effect in sensibly managing sustainability risks and opportunities. This ensures that the organisation's collective impact is positive and meaningful in the long term.
For example, UOB's key sustainable finance solutions bring together ecosystem players and the power of industry collaboration to promote the switch to renewable energy, more energy efficiency projects, and the adoption of electric vehicles: U-Solar, U-Energy and U-Drive.
Supporting a net-zero future for ASEAN
UOB is committed to forging a net-zero future in collaboration with its stakeholders, especially in Southeast Asia, one of the most vulnerable regions to the effects of climate change. As the region comprises diverse economies with different social and economic needs, UOB believes that environmental commitments must incorporate energy security and socioeconomic equity and equality to ensure that lives and livelihoods can continue to improve.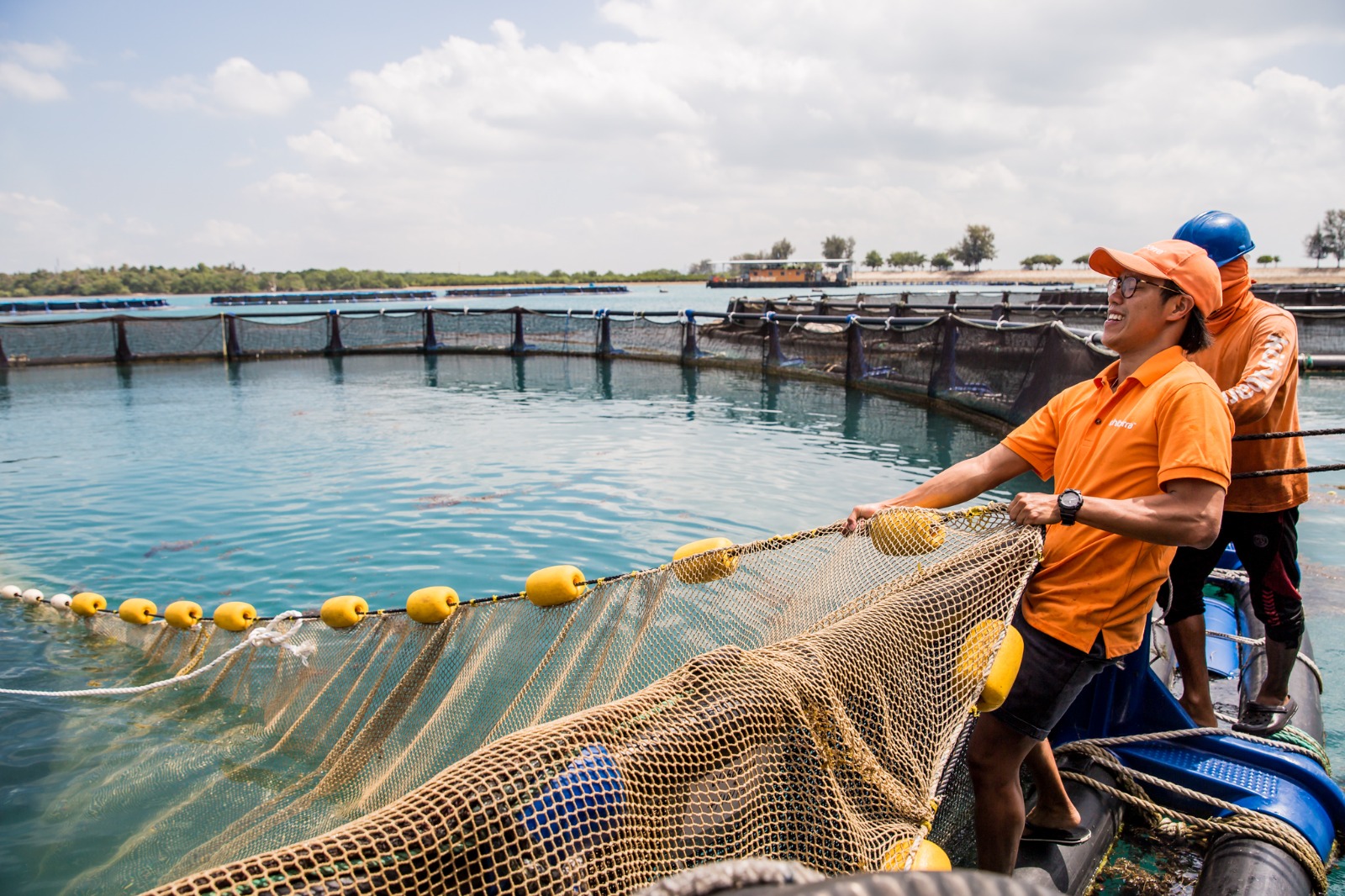 In 2021, UOB provided green trade and working capital facilities to Barramundi Group – a pioneer in sustainable aquaculture – to support greater resilience and security in the seafood ecosystem.

In this regard, UOB based its sectoral targets on regional pathways aligned with global net-zero goals using internationally recognised climate science models. This approach reflects the bank's strong belief in a just transition across Southeast Asia that continues to support economic growth and improve energy security.
Time is running out for climate action, and UOB is committed to connecting with ASEAN and playing its part in forging a sustainable future for the people and businesses within the region so that future generations can continue to thrive.
Disclaimer
The SL25 partners – Stewardship Asia Centre, the INSEAD Hoffmann Global Institute for Business and Society, WTW and The Straits Times – are not responsible for the statements and opinions expressed by the organisations behind the SL25 initiatives. These organisations are responsible for the truthfulness, accuracy and completeness of their content in their nominations as well as those presented on this site, which are not guaranteed by the SL25 partners. All information on this site reflects the submissions received as of 30 June 2022, the closing nomination date for SL25. Inclusion to the SL25 list is based on the particular initiative(s) described in the nomination form. SL25 is not intended as a blanket endorsement of the organisation as a whole.